Synchronous Online Tutoring: Tips And Tools To Start Your Own Program (Part 1)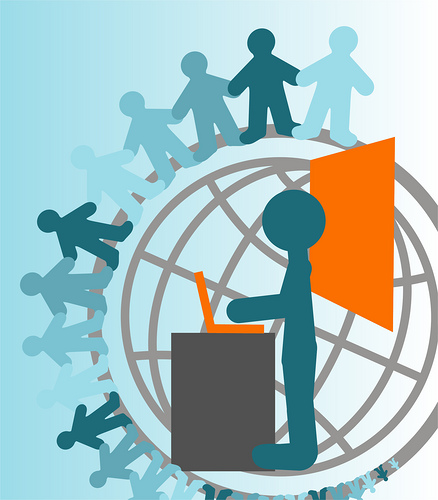 This is the first article of a three-part series on synchronous online tutoring. This article focuses on the logistics of online tutoring, the second will focus on free or low-cost tools that can be used for online tutoring, and the third will focus on explaining the most relevant aspects of the tools.
With a growing number of online students, evening students, and traditional students working to pay their tuition, it can become increasingly difficult for students to seek and receive the help they need from the tutoring center on their university's campus. Colleges and universities can help close this gap by offering students online tutoring services, which allow students to receive help from anywhere they can access a phone and a computer with internet.
There are two types of online tutoring services: synchronous and asynchronous. In synchronous tutoring, the tutor and student are simultaneously present; in asynchronous tutoring, the tutor responds to a student's request for help, often within 24-48 hours. Many schools who haven't ventured into the synchronous online tutoring world may have used asynchronous online tutoring services for writing assistance.
Communication
When offering synchronous online tutoring, one of the more important factors to consider is how the tutor and student will communicate. The three basic options are chatting (some form of instant messaging [IM]), talking on the phone, and video chatting. They should also be connected through a collaborative website so that both can view and edit a document or image.
In my experience, using a regular phone to communicate is the easiest. For example, IM can be confusing: a question asked several lines ago could be answered after the discussion has already veered in a different direction. Then, the tutor and student have to spend valuable tutoring time sorting through the non-linear discussion. It also requires the tutor and student to be connected to the same IM subscriber. If they do not use a common IM subscriber, either the tutor or student has to download one.
Regular phone communication is more convenient than video chatting because most video chatting software or websites require downloads. Downloads should generally be avoided. That said, video chatting is probably the most effective form of communication between a tutor and student during online tutoring. It makes the sessions more personal and intimate, and because of nonverbal communication, the tutor and student can minimize miscommunication.
Appointments
Students need to schedule appointments so they know when they can meet their tutors online. Although a call or email to the tutoring center is workable, an online scheduling system is an effective way for students to know immediately who is available to tutor which subjects when. Students need the ability to schedule appointments whenever they can, regardless of when the tutoring center is open, so they can schedule the best tutoring time available. The scheduling process can also take much longer when other systems are used.
Tutor Training
The way tutors are trained should generally remain the same, but online tutors should receive additional training, particularly in how to work with students over the phone and how to use the technology for tutoring. It's important for tutors to understand that tutoring dynamics change when tutoring is moved online. The way they normally approach a student might not work when the student isn't a couple feet away, observing the tutor's body language and recognizing aspects of the tutor's personality. However, training related to learning styles, student behaviors, and tutoring approaches are still applicable.
Tutor and Tutoring Center Flexibility
Online tutoring means that tutors don't have to work traditional 9-5 hours, or whatever the hours look like at a particular tutoring center. They can work from home, at night, and on weekends – all things that may not be possible for face-to-face tutoring. If there is demand for evening and weekend tutoring, which isn't currently offered, synchronous online tutoring can be a potential solution.
Conclusion
If synchronous online tutoring is an endeavor a tutoring center has considered, I hope this has provided some foundational understanding of needs and options. If a tutoring center has never considered it, I hope this has sparked an interest. Like any new endeavor, synchronous online tutoring requires administrators to understand the basics so they can move forward with offering the service in their tutoring centers, and I hope that with this three-part series, administrators gain the knowledge to kick-start their own program.
Author Perspective: Educator
You Might Also Like