Authentic Learning: H.O.T. through Video Creation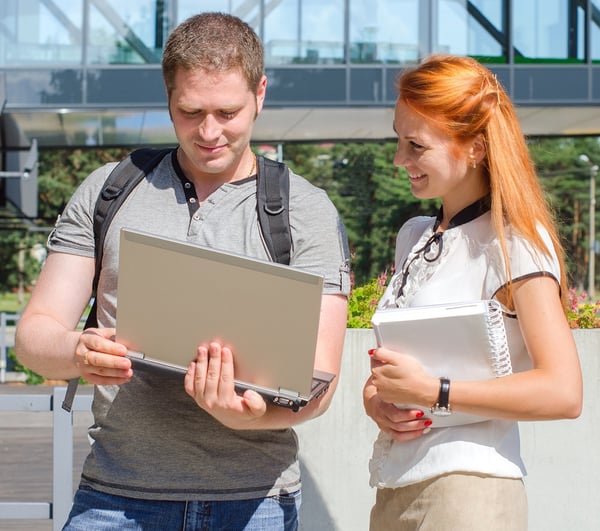 Assignments requiring students to create multimedia are steadily becoming more common in both K-12 and higher education settings. There are many benefits to integrating this type of assignment into the classroom, namely because they tap into several Higher Order Thinking (H.O.T) skills that are essential to authentic learning. Video creation is a form of multimedia that lends itself particularly well to getting students to think critically, use technology, communicate ideas, delve into their creativity, and develop team skills. When compared to other learning activities, such as writing a research paper, there is a whole new skill set and processes involved that need to be thought out by the faculty or administrators who support this type of learning activity.
The basic process of creating a video is: script writing, storyboarding, collecting and/or researching content to use (e.g., images, music), editing the video, audio, and images together, and finally producing and sharing the video. It is important to walk students through each step in order to help guide them through these higher order thinking skills. In most cases, it is more effective to introduce such assignments early into a course and then scaffold the components into smaller assignments that lead to the final product.
For example, in teaching methods courses, preservice teachers are often required to create lesson plans, which they often write out in meticulous detail. One thing that can be lost in this process is the student teacher's thought process. This thought process can be captured by having them create a video. The students would describe the lesson, show examples of activities, and provide justification for the lesson. The development of the video process could then be broken down into smaller assignments, such as planning the lesson, writing a script, and eventually lead up to the final product. The student teachers will have had to think out the lesson in more detail since they are planning a video, and they have an added bonus of learning how to create video for their future classrooms.
Considerations for Educators
As an instructor, integrating video creation into the classroom requires preparation on your part. For example, how comfortable are you with the available technology? Do you have time to learn it? If not, how do you expect your students to learn it? You have to become comfortable using the video creation technologies so you can help students conceptualize the assignment. You will need to help students see the relevance of the assignment and answer basic troubleshooting questions. Some other questions you need to reflect upon include:
How simple or elaborate is the required assignment? The more elaborate the assignment, the more time, support and equipment is necessary.
What are the equipment requirements? The equipment is more than just the camera. It's also the smallwares such as tripods and microphones as well as converter software, editing software, workstations and space.
Is the equipment readily available? Can students or faculty just get it when they want or need it? Do they have to schedule it? How much lead time is necessary? What happens if students cannot get the equipment despite "following the rules"?
Considerations for Administrators
From an administrative perspective, video creation brings forth a number of issues that require careful consideration. It is necessary to support the instructors to take a new initiative like video creation. This extends beyond moral support; there are fiscal and human resource implications behind this type of learning activity. Some questions to consider:
Can the institution afford equipment? This is not just the cost of purchase, but also support which requires additional manpower, maintenance to keep the equipment in good working order, repair for items that can be fixed or perhaps need simple updates, replacement of damaged or lost equipment and updating equipment as it becomes outdated.
Does the institution have multiples of the most commonly used equipment? Think about if many faculty want to enable students to do these types of assignments, can the institution afford the purchase and the support?
How do students and instructors learn how to use the technologies involved? Many times students go to the IT Helpdesk, but is that really the right place? Think about who on your campus can really support your students—librarians, instructional technologists, educational technologists. Faculty also need support in using or understanding the technology and to determine if this is the right type of assignment for the content. Instructional designers can really help in assessing if this is the right type of assignment, and can help with technology support. Librarians with an instructional design background as well as instructional and educational technologists are good choices.
These lists are far from exhaustive; however, they should be considered as conversation starters at your institution. There are many layers to this type of activity, but the payoff at the end is truly beneficial for promoting authentic learning. Remember, the beauty of implementing authentic learning practices is that it should happen incrementally and organically based on what's feasible and comfortable for you.
This is the fifth installment of an ongoing series by Theresa Gilliard-Cook and Brandon West discussing different facets of authentic learning. To read the series introduction, and to see the other posts in the series, please click here.
If you would like to receive reminders about future posts, please click below.
Next installment coming soon
Author Perspective: Educator
You Might Also Like