Leveraging Higher Education for Employee Benefits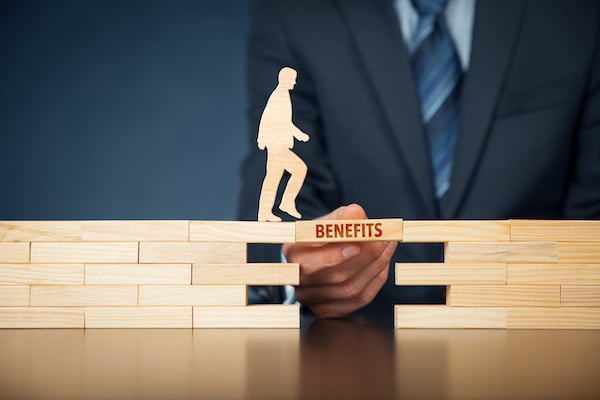 With increasing competition in the job market, employers are looking for ways to keep their talent, help them upskill and attract even more talent, which means integrating education into their benefits for prospective and current employees. In this interview, Jill Buban discusses the importance of employers looking at non-credit and credit programming, closing the talent gap and the strategy behind this approach.
The EvoLLLution (Evo): Why are no-cost degrees becoming increasingly popular, especially when it comes to employee educational benefits?
Jill Buban (JB): We've been so focused on the frontline worker since the onset of the pandemic, which illustrated the high need for workers in frontline and entry-level roles and how difficult it is to fill these roles across industries. The no-cost degree option not only makes it easier for companies to recruit workers, it also allows employees to pursue educational opportunities with no out-of-pocket costs. That helps break down one of the main barriers associated with going back to school: financing an education.
Evo: Why is it important for employers to look into credit and non-credit programming when it comes to upskilling and reskilling?
JB: There are many high-demand jobs right now that can be filled through skills-based, short-form learning. These can be short-form courses, boot camps, certifications or certificate programs. These types of benefits help nurture and grow an existing employee base, giving the employer the opportunity to fill positions more quickly. For some employees, there can be a lot of hesitancy about going back to school; there may be a reason they haven't tried to go back to pursue additional education. So, skills-based learning is a good way for employees to dip a toe back in the water while opening up new career opportunities.
Upskilling and reskilling open up different trajectories for employers as well. Rather than pursuing candidates who fit the exact job openings an employer needs, reskilling and upskilling can allow existing employees to build new skills and fill high-demand job openings. Over the past few years, EdAssist has created 16 career pathways in high-need areas. When we create these pathways, we pepper in non-credit offerings to allow for upskilling. Employers need to be able to retain and grow good talent, and career pathways can help with that.
Evo: What are some strategies to help market these educational benefits to current and prospective employees?
JB: Funding, time and confidence are top barriers for adults furthering their education. If we can take away that financial burden, that's phenomenal. EdAssist encourages employers to promote the fact that these programs they're offering have zero out-of-pocket cost for employees, making it a whole lot easier to go back to school. We also recommend employers include advising and coaching in their education benefits programs. Making sure the employee knows they'll have a guide on their side helping to support their success and that they're able to access quality programs through top schools that know how to serve adult learners is key. It takes away some of those burdens to help workers better balance life, work and their education.
Evo: How can employers and institutions work closer together to close that talent gap?
JB: EdAssist is the conduit between institutions and employers, and we work closely with institutions to try to close this gap. We have relationships with over 200 institutions across the country, and we have an in-depth understanding of their programs, meaning we can identify what programs best meet current industry needs. Our Workforce Education Network is especially unique in that it's not only a group of high-quality adult-serving institutions, but these institutions are also willing to collaborate, learn from each other and identify high-impact solutions that address real workforce challenges. EdAssist is very committed to working closely and collaboratively with our partners and clients, and we pride ourselves on anticipating trends to stay one step ahead—or at least in lockstep with our clients' needs.
Evo: What are the challenges in bridging that gap?
JB: Our clients are extremely savvy and able to tell us their needs when it comes to educating their current and future workforce. Our work is to find the programs and credentials that meet those needs.
Across the board, but in healthcare especially, we've seen great results with our career pathways program. Clients have been receptive, and few have asked for additional customization. Clients want the quality solution that fits their workforce's needs now and in the future, which is exactly what we help them find. We're continuing to research and think ahead to meet clients' needs.
The success of our pathways programs shows the importance of comprehensive education benefits. It's not only about offering no-cost degrees or tuition reimbursement but also about showing our clients that these programs are high quality. Employees will have the best chance of completion with education programs specifically designed for working learners.
Evo: What are some trends you expect to see when it comes to educational benefits, especially in this competitive landscape?
JB: We will continue to see an emphasis on career paths. Paths to degrees, starting with high school and ELL offerings, help employees visualize their journey and see what sparks their interest. In this way, career pathways are an effective tool to engage the workforce and help employees see what's possible.
While many companies will continue to focus on ways to attract and retain the frontline worker, the education sector is looking at a demographic cliff. If institutions want to stay ahead, they need to focus on the adult learner. So, we'll continue to see this growth with the no-cost degree. But we've also seen an average of 41% of learners seeking graduate-level education. So, while there's buzz around the undergraduate degree and going back to school, we can't forget the importance of graduate learning and post-bachelor degree-level skills in further extending people's degrees and knowledge.
Evo: Is there anything else you'd like to add about no-cost degrees and educational benefits?
JB: We saw a huge spike in no-cost degrees in 2022, especially in healthcare. Right now, we're developing dozens of career pathways for healthcare clients. It's a great way to attract, retain and fill their talent needs. Going back to the financial barrier, offering student loan repayment is another great attraction tool for talent, especially for the younger generations: 74% of Millennials and 66% of Gen Z-ers report they would choose to work for an employer that offered student loan debt benefits over one that did not.
This interview was edited for length and clarity.
You Might Also Like