Ideals Made Real: CAEL's Annual Award Winners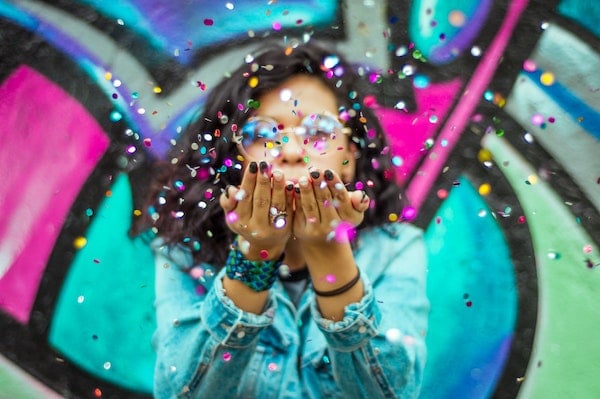 There were plenty of reasons to celebrate at CAEL's annual conference in November. It was our 47th – a testament to the enduring relevance and unifying power of our mission to link learning and work. It's also a sign of how committed the CAEL community is to that mission. The conference marked our first hybrid model, allowing attendees to choose a fully virtual experience or participate in our first in-person gathering since the pandemic shifted us to an online-only format last year. And it was our most supported conference ever: the event included more than 150 workshops across eight learning tracks, and nearly 1,000 members of the CAEL community purchased registrations.
But as grateful as I am for these impressive numbers, once again, it was the people and stories behind those numbers – and at the center of our shared mission – that were the highlight of the event. Our four annual awards may highlight individual achievements, but they also exemplify the drive and determination that are hallmarks of adult learning, whether from a student, a member of faculty or staff, or an institution.
Learner of the Year Award: Javier Garcia
As anyone who works with adult learners can attest, there's no better reminder of why we do what we do than seeing its impact manifested in the lives of real people. Our Learner of the Year Award recognizes someone who has done what so many adult learners must: overcome multiple barriers in pursuit of higher learning. Because while it's important to focus on those barriers, it's also important to celebrate those who overcome them.
Javier Garcia has indeed overcome barriers in his successful pursuit of learning and career. When he was 29, he left his home country, Cuba, to pursue a new life in the United States. When he arrived, in 2000, he spoke little English. But in 2008, he became a U.S. citizen and determined to become a police officer, a career he would begin a year later.
While serving in that role, Javier met Denney Coarsey, a former detective sergeant with Javier's police department. Denney, who taught at Union University, would act as a mentor to Javier, encouraging him to pursue a bachelor of science in organizational leadership.
In 2014, Javier enrolled at Union University while still working full-time as a police officer – and raising two children. In 2019, he graduated summa cum laude and received an academic medal of excellence. He was promoted to the rank of detective, where he continues to serve the Hendersonville community and support his family.
Unfortunately, Sergeant Coarsey did not get to celebrate Javier's graduation and promotion, as he passed away shortly before Javier finished his studies. But I know he would be proud of all that Javier has accomplished and join us in congratulating him for receiving CAEL's Learner of the Year Award.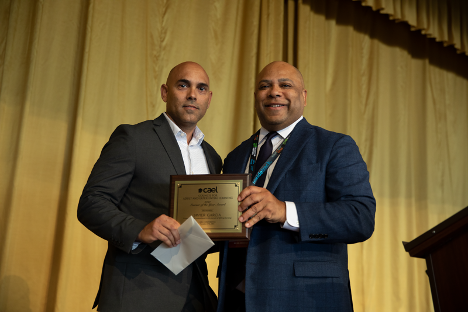 Adult Learner Impact Award – the University of Nebraska at Omaha
CAEL's Adult Learner Impact Award recognizes CAEL member institutions and other organizations that have provided outstanding programs and services for adult learners. This year, that award went to the University of Nebraska at Omaha for the groundbreaking work its Division of Continuing Studies, or DCS, has done for adult learners not just within the division but throughout the university.
The DCS degree program, a bachelor in multidisciplinary studies, was developed specifically with the diverse, multigenerational learner in mind. Through flexible transfer credit policies and the ability for students to develop plans of study that are uniquely their own, the DCS has exemplified meeting students where they are. To further shorten the distance to their degree-completion goals, it also offers them credit for their prior learning.
Since its inception more than 70 years ago, the DCS has graduated more than 35,000 students. The university has continually built upon that legacy. In 2018, it completed an academic program review, making significant enhancements to the B.M.S. degree structure and to DCS policies. For example, based on CAEL's own Standards for Assessing Learning, policy and associated practice have provided greater opportunities for students to apply credit for prior learning (CPL) credits to their degree program.
Today, the DCS enrolls more than 1,200 adult and contemporary learners yearly, making the B.M.S. the second-largest undergraduate program at the university. The diverse, multigenerational learners enrolled in the B.M.S. program are 50 percent nontraditional and 25 percent military connected. They span the age continuum, from the 19-year-old active-duty military member to the 80-year-old degree completer.
As we often see with adult learning programs, DCS initiatives have proliferated to extend benefits throughout the campus. Examples include an assigned caseload model of academic advising, onboarding new students through a "warm handoff" model, implementation of concierge, high-touch services to learners enrolled through corporate partnership programs, and the adoption of military- and contemporary learner-inclusive language on websites and marketing collateral. Online programs at the university were piloted and expanded from the DCS. The Office of Military and Veterans Affairs was established thanks to its efforts. In addition, the DCS has taken the lead in the realization of a program for incarcerated students, underwriting and supporting the delivery of credit-bearing courses in the Omaha Correctional Center.
The DCS has accomplished all of this despite not having its own full-time faculty. Instead, faculty across campus willingly volunteer to serve on the DCS Faculty Academic Advisory Committee, to be faculty fellows and assessment committee members, and teach courses for adult learners. Their work clearly pays off. Each year, B.M.S. students are recognized at campus-wide honors events – receiving dean's awards, chancellor's awards, and in 2021, a Fulbright scholarship award. Program alumni are state senators, organizational leaders, and change makers.
In short, they are the reason the DCS is known across campus as the unit committed to "fulfilling the institutional promise" and why the university was recognized with the Adult Learner Impact Award. Dr. Christine Billings, director of the division of continuing studies, accepted the Adult Learner Impact Award on behalf of the university.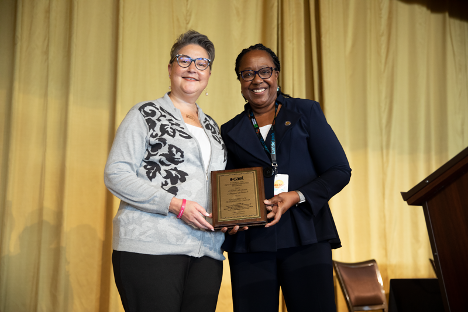 Morris T. Keeton Award: Marcia Anderson
CAEL established this award in 1989 to recognize those whose work, commitment, and ideals exemplify and amplify the values that CAEL Founding President Morris Keeton championed. Dr. Keeton made innovation and improvement in education his life's work. He was a firm believer that the time and place to pursue learning is anytime and anyplace.
Marcia Anderson has advocated for adult learners and other underrepresented groups at seemingly every time and at every place one possibly could throughout her time at Metropolitan State University, which began when she was a student of the institution. Since then, she's served as an admissions counselor, academic advisor, faculty member, student-directed learning advisor, and director of the credit for prior learning assessment network, to name just a few of her roles.
Whether teaching, advising, or coordinating programs, Marcia has always centered the needs of traditionally underserved students. As a champion of experiential learning, Marcia maintained and expanded the university's historic and contemporary role as a leader in competency-based assessment of prior learning. She is an innovator in formats such as student-designed independent study and theory seminars. These approaches create opportunities for students with non-collegiate learning to have their learning assessed and credited, saving them time and money. They also recognize learning from diverse backgrounds, including communities of color, ethnic communities, and limited-income individuals.
Marcia has promoted alternative learning and assessment at campus, system, and national levels. She drafted a proposal for Metropolitan State to organize and lead a network of partner campuses to serve students seeking CPL across the system and offer professional development about CPL to system faculty and staff, aiming for improved quality and consistency through a shared community of practice. The system funded Metro State to develop and manage the systemwide Credit for Prior Learning Assessment Network (C-PLAN) in May 2018, which Marcia led as interim director through its planning and launch in 2019.
The common thread among Marica's many accomplishments is her commitment to diversity, equity, and inclusion. Marcia frames alternative learning and assessment as tools to reconstruct traditional educational systems and practices, open access to under-served students, and recognize learning beyond traditional subjects and disciplines, including learning from communities of color, immigrant/refugee communities, low-income families and communities, the workplace, and more.
Although she retired earlier this year from her full-time position at Metropolitan State, Marcia continues to work to expand adult, student-directed, and lifelong-learning opportunities for all and to promote academic assessment and recognition of learning from diverse settings, experiences, communities, and cultures.
Pamela Tate Rise Award: Dr. Su Jin Gatlin Jez
This award is inspired by the legacy of Pamela Tate, who served as CAEL's CEO from 1990 until her retirement in 2018. Since then, the award that bears her name has evoked her tireless commitment to linking learning and work in ways that enhance the wellbeing of adult learners and the nation's workforce.
And that's exactly what Dr. Su Jin Gatlin Jez does. Serving as executive director of California Competes, Dr. Jez leads the development of practical, nonpartisan approaches for improving higher education and workforce policies and practices throughout the state of California.
That work puts Dr. Jez at the intersection of higher education, equity, and the economy. She uses rigorous research to address California's thorniest social and economic issues and has devoted her career to helping students earn postsecondary credentials that open access to the quality jobs that help communities thrive.
Dr. Jez recognizes the greater importance these opportunities take on for first generation, low-income, and other underserved groups who don't have the privilege of tapping into existing networks when they graduate. To that end, she emphasizes rigorous education and workforce policy research and engagement with business groups to tackle persistent social and economic challenges.
Dr. Jez provides expert guidance and leadership to many prominent efforts, including serving on the Adult Learners Working Group of the Governor's Recover with Equity Task Force, co-leading the Meaningful Career Pathways Work Group for the California Forward Economic Summit as part of the organization's prioritization of education-to-employment pathways, co-chairing the Biden-Harris Campaign's higher education policy committee, and serving on the Cal Grant Modernization Workgroup. Her leadership has advanced reforms to the country's largest state financial aid program, affording adult learners the same entitlement grant aid as younger students. Dr. Jez was also appointed to California's new Cradle-to-Career Data System's governing board, where she will advance evidence-based policymaking and increased efficiency in the delivery of programs and services.
A recent example of how Dr. Jez's work leads to innovation in connecting students to pathways to well-paying jobs is a policy recommendation to enlist nursing and other health students to work in the state's COVID-19 vaccination hubs, where they can concurrently earn clinical hours while serving hard-hit communities. Her policy work also includes garnering critical support from the state's largest business advocacy group for an effort to improve racial and gender equity in higher education. She also provides regular guidance to legislators on bills connecting higher education and workforce development and engages the most influential business organizations across the state in postsecondary issues.
I'm sure these stories resonated with some of the challenges and opportunities you've experienced in your own work with adult learners. Every day, countless students, faculty, staff, and thought leaders are forging their own adult learning success stories. We'd love to share yours in a future EvoLLLution article, CAEL blog – and maybe through an award at next year's CAEL conference. Please contact cael@cael.org to get in touch.
Did you miss the conference? CAEL members can get on-demand access to all conference video content for only $100 ($300 for non-members for access through Feb. 15). For more information, click here.
You Might Also Like