Going Off The Grid: Creating A Fully Online, Workforce-Focused Community College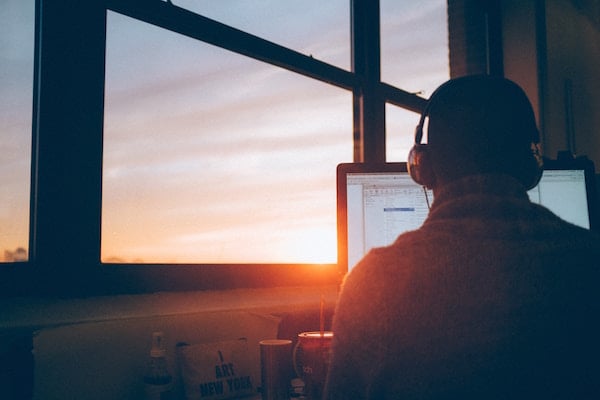 In 2019, the California Community Colleges System will launch a fully online community college. This new, competency-based online college will focus primarily on offering sub-degree credentials and skills training that working learners will need to improve their social and economic mobility in a constantly shifting workforce. In this interview, Eloy Ortiz Oakley discusses the vision behind the online community college, and shares his thoughts on some of the broader changes facing California's workforce.
Evo: At its core, what is the goal of an exclusively online public community college in California?
Eloy Ortiz Oakley (EOO): The goal is to reach out to and better engage with working adult learners in California—people who are in the workforce or who may have had to drop out of the workforce and are struggling to gain a foothold in the economy.
There are several million Californians who are economically "stranded," meaning that they have no access to high-quality, affordable education. Often, this comes down to timing and distance; they simply don't have the bandwidth in their day-to-day lives to attend one of our traditional brick-and-mortar college institutions. In most cases, this lack of educational opportunity translates into lost economic opportunity down the road.
Our aim is to provide these individuals with access to high-quality, affordable education that will empower them to gain the skills necessary to better compete in the workforce.
By creating a fully online college, we're rethinking how we deliver education to working learners. As time goes on, we will continue to expand into other models of delivering education so that we can create as many opportunities to support Californians as possible.
Evo: So, it's not just about taking a degree program and putting it online. It's about creating new educational pathways to ensure that people get the skills they need, on their time, to succeed in the workforce.
EOO: Exactly. We already have a number of excellent educational opportunities throughout our 114 colleges, which offer high-level credentials such as career certificates, associates degrees and transfer pathways. While we plan to continue expanding those offerings, we recognized that we were missing an element of educational delivery in today's economy: the sub-associate degree level credential. The online community college seeks to remedy that.
With our online college, we're not offering the traditional online college associate degree and transfer level courses. We're exclusively focusing on sub-associate credentials.
Many colleges within our system do provide the kind of skills training offered by sub-associate credentials on a local basis, but most of these programs are non-credit, and they're not developed at scale. Rather, they're designed in partnership with local employers who are looking to provide employees with skills upgrades. Yes, those programs are pertinent to the employer in question, but they could offer valuable skills to adult learners more broadly.
Our initial goal is to target the population of workers that need these sub-associate skill sets in order for them to qualify for economic mobility, promotion and wage gain, then build from there.
Evo: Any time an academic system has a conversation about creating new modalities to serve students, the fear of cannibalization comes up. What impact do you expect the online college to have on enrollments in degree and non-degree programs across California's 114 community college campuses?
EOO: That has been one of our initial major concerns, but the question, "How does this impact our enrollment?" is the wrong one to ask. In doing so, we're considering our own needs before those of our students. The important question, in all the decisions we make as a college system, is: "How does this impact Californians?"
While our bricks-and-mortar universities currently serve over two million students, there are nearly six million Californians in the workforce who lack a college credential. Our 114 community colleges are doing great work in reaching students in their regions, but they're doing so within a traditional academic structure and calendar that a stranded adult worker cannot easily participate in. These individuals simply can't play by "our rules" and engage with our colleges over an 18- to 24-month period to gain that higher-level credential they need to progress in their chosen field—they have jobs and families to support.
With our online college, we're going to be filling a gap in our system by creating a space that specializes in non-traditional programming that will allow more Californians to access education and, hopefully, empower them to progress to higher-level credentials throughout our 114 traditional colleges. If we do this right, we will be expanding, not cannibalizing, enrollment throughout our entire system.
Evo: I understand that the California Community College System has an Online Education Initiative team that's supporting the development of online programming across the system's traditional campuses. How will the move to launch a fully online community college impact the work done by that group, and, more broadly, impact the online efforts being made by the individual campuses themselves?
EOO: The fact of the matter is that we can execute on multiple solutions for the educational challenges Californians face. The Online Education Initiative, which you're referring to, is doing a great job of bringing online content and traditional academic coursework together onto a robust online platform, and in empowering students to navigate a program of study completely online. We should and will continue to support and expand their efforts.
The online college is a different model altogether. With this, we're developing a competency-based, education delivery model focused on job skills. It's not going to be awarding higher-level degrees and transfer pathways, so its overlap with the Online Education Initiative is minimal. We see the online college as an additional tool in our toolbox, and as technology continues to advance it will give us more opportunities to serve a wider spectrum of Californians through our California Community Colleges.
We know that there are other players in this space, including for-profit and private non-profit institutions, who are targeting the millions of Californians that can't access our traditional colleges. We feel it is our responsibility to provide a public solution, and the online college is that solution. It very much complements the online education initiative and in no way undermines it.
Evo: As you begin to develop the roadmap for launching this fully online college, what are some of the fundamental challenges that you foresee arising, and how are you positioning the system team to overcome them?
EOO: Our greatest challenge lies in introducing something that doesn't yet exist. It's difficult for people to imagine a fully online college when there isn't a model to point to. We need to help them understand that there are Californians our current system isn't supporting and that there are models we are willing to experiment with to develop something that meets their needs. We need to have the confidence to adapt and adjust as we create this online college.
The second obstacle will be reaching the adult learners that this college is intended to serve. It's critical that we partner with employers, industry sector associations and representatives in regions throughout the state, and that we form partnerships with labor organizations that represent the kinds of workers we want to target. These institutions will help us find our future students and identify the skills they need to get the kind of economic mobility that we're hoping to deliver to them.
Everything else—deploying technologies, finding talent, creating capacity—is logistics, but those first two obstacles are going to be our greatest challenges. We're spending a lot of time right now trying to overcome them.
Evo: Fundamentally, the goal of community colleges is to create access to education and economic mobility. As a secondary goal, do you expect this online college to be a revenue-generator for the community college system?
EOO: I take great pride in the fact that the California Community Colleges System serves the public good. It has been heavily invested in by the people of California, so our first priority is to create more solutions and more opportunities for Californians. If the online model that we create allows for additional revenue to come into the system, that's a net positive.
Just as with any new endeavour, we understand that there's going to be a period of time where the online college will rely on support from the state and the system, but I do expect that, over time, this new college will allow us to generate additional resources for the entire system. Given the reach of the technology that we will deploy and the number of adult learners that are in the workforce, we think that the online college model will provide the system with an additional source of support for the programs that we offer throughout the entire 114 college system.
Evo: Is there anything else you'd like to add about the potential for the online college, and the value of this non-degree credential that the college will be focusing on?
EOO: Community colleges were designed specifically to be flexible, adaptable and respond to changes in the workforce.
Globalization, artificial intelligence and automation are creating significant economic change and displacing Americans from the workforce. The economy is responding to these changes by demanding more of its workers, and the premium for skills credentials is growing every day.
Incidentally, California's workforce is becoming predominantly people of colour—the least represented group in higher education—so the need for an educational solution to this problem is doubly important.
This isn't an issue where we're trying to predict the future: The future is upon us, and it's a critical turning point for the entire community college system. Either we respond to these changes, or we allow millions of Californians to suffer and significantly undermine the future of California's workforce.
Community colleges were designed specifically to be flexible, adaptable and respond to changes in the workforce. We have to have the confidence to adapt to these changes in a way that puts all Californians at the centre of our work. The online community college is our solution to this changing reality.
This interview has been edited for length and clarity.
You Might Also Like