Sharing Alumni Stories to Attract and Convert Prospective Learners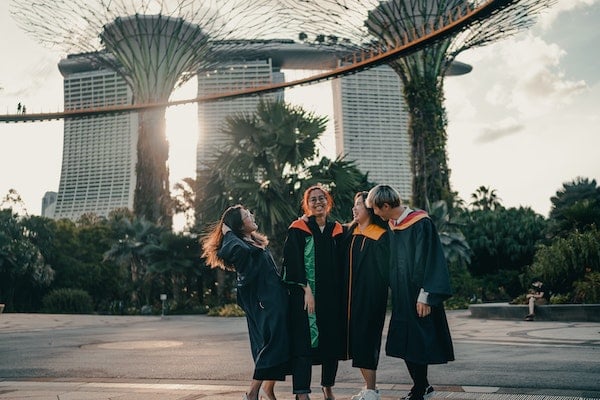 Continuing education is highly competitive, so how do you find ways to stand out and attract new students? One effective method is reaching out to your alumni and asking them to share their success stories with your prospects.
Prospective learners haven't immersed themselves in your brand and educational programs yet. With similar programs offered across many Continuing Education units, they want to feel confident they have made the right choice for their learning investment. That's where your alumni come in.
By sharing their success stories, alumni help inform and guide prospective learners in their decision-making process. Alumni know the quality and value of their experience with your Continuing Education brand and can share first-hand its outcomes and impacts on their learning goals. Their third-party perspective offers insight and context from an unbiased source. Alumni success stories endorse your programs, build credibility and instill trust in your brand. These powerful stories can convert a prospect into a student in a way that other marketing efforts cannot.
Alumni Advocates
Not all alumni stories are created equal. Each alumnus experiences your brand differently, and it's up to you to identify those willing to advocate on your behalf. Some alumni will come forward and offer to share their stories, but you can be proactive and employ a variety of methods to discover and build a pool of alumni advocates, including:
Reaching out directly or asking staff and instructors to name potential candidates
Creating alumni surveys that pinpoint advocates and enable them to volunteer to share their stories
Listening across your social media platforms to locate your top promoters
Utilizing Customer Relationship Management (CRM) software to design scoring models that recognize alumni with high satisfaction levels
With your pool of alumni advocates identified, you can create and share meaningful stories through various marketing and communication mediums to reach prospective learners.
Testimonials
Consumers will trust what a customer says about an organization more than what an organization says about itself. Customer testimonials are unbiased and establish credibility. Alumni testimonials are a reliable source of information for prospective learners and will have a stronger weight and greater influence on converting prospects into students than other marketing avenues.
Alumni testimonials about Continuing Education and its professional impact can be shared in many formats, ranging from written articles to videos–long and short–depending on the medium, platform and target audience.
Unsure about the best testimonial format for your website – video or written? You may want to consider a blend of the two. Videos are highly engaging and strong lead attractors, while written testimonials are effective in Search Engine Optimization (SEO). Finding the right balance for your CE unit will come down to some trial and error.
Social media is another effective method for sharing alumni advocate stories. These stories can be shared in the form of posts, takeovers and hosted events. You may also be able to identify alumni advocates who can offer influencer opportunities to spread the word about your organization to their network.
Reviewing your current suite of marketing mediums and campaigns and considering how to integrate testimonials into the mix will add a layer of validation and influence that otherwise could not be achieved.
Online Rating and Reviews
Online review sites have become a go-to for customers to rate and review their interactions with businesses. These reviews help prospective consumers learn more about companies and their products or services before making purchasing decisions. Review sites such as Google My Business, Facebook, Yelp and Reddit permit customers to give advice or read about past customer experiences. These practices are also occurring in the Continuing Education sector.
While alumni are free to post reviews at any time, proactively reaching out to your pool of advocates and asking them to share their feedback is an effective way to boost your rating score. Their reviews will offer transparency and build brand confidence. Online ratings and reviews can also impact your website's SEO and click-through rates (CTRs), making them an important channel and powerful social proof that can strongly influence potential learners.
Referral Programs
Word-of-mouth marketing is one of the largest drivers of customer acquisition and business growth; however, it is often elusive and hard to sustain. Creating an alumni referral program is a great endorsement strategy for your Continuing Education department. Potential learners who encounter alumni success stories are more likely to become enrolled students because of the high trust they place in the referral source. Word-of-mouth marketing creates a more qualified lead and presents greater conversion opportunities. Layering in an incentive program, such as a discount or reward, provides further encouragement for alumni advocates to spread the word about the value your brand provides.
Surveys
Alumni have a wealth of stories and insights that can help your unit attract new prospects. Surveying alumni about their experiences allows you to understand what's working well and where there are opportunities for improvement. Survey questions can address a wide range of topics, including the learning experience, operations, marketing, programming and course delivery. Survey findings can inform and prioritize business decisions that focus on improvements and optimization from a student-first perspective.
Conducting surveys and research on an ongoing basis keeps student needs top of mind. This is especially important as continuing education responds to rapid changes and new trends, shifts in operations and technology advancements in a crowded marketplace. In addition, leveraging alumni insights can strongly contribute to your position as an innovator and leader.
Ongoing Optimization
Alumni advocates are some of Continuing Education's most valuable assets. They help brands break through the clutter of a competitive and ever-evolving marketplace. The key to building your alumni strategy is nurturing these relationships and knowing that the alumni bond never breaks. Diligently staying connected to your alumni and creating moments of delight will help you sustain positive, authentic, top-of-mind brand awareness that will attract prospective learners and convert them into new students for years to come.
Disclaimer: Embedded links in articles don't represent author endorsement, but aim to provide readers with additional context and service.
Author Perspective: Administrator
You Might Also Like