Engaging New Students through Customized Contract Training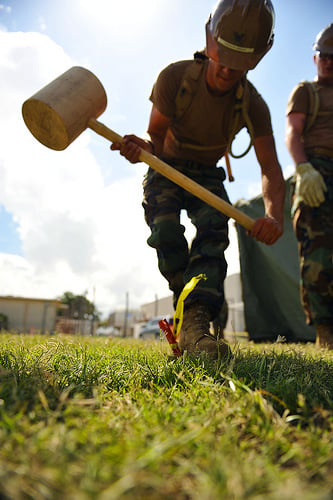 When James W. Marshall discovered gold in Sutter's Creek in 1849, he started the great Gold Rush in California. From all corners of this great country, people came to find their own treasure, a massive migration that produced fortunes for many. It is striking to know that less than 40 years later, the body of a penniless miner was found in an abandoned mine. It was that of James W. Marshall. How, we ask, could the same man who set in motion a significant economic revolution, die poor? The answer: because he had never taken the time to stake his own claim.
As we emerge fully into a knowledge-based economy, continuing educators recognize the urgency to find our niche, and stake a claim for specific areas of workforce training needed in our locales. With scores of for-profit, online and free high-quality courses, the competition appears formidable.
I would posit this: the one who can best meet local needs is the one who develops the trusted partnerships, does the real work of market research, and responds fully to accurately identified needs. Our responses need to include a strong portfolio of services and training providers that provide real customized solutions and contribute to business success.
Fly-by-night trainers cannot do this. Stand-alone distance training programs cannot do this. In-house training programs are often handicapped by a limited vision. To rise above the competition, consider staking a greater claim in customized contract training, utilizing best practices to develop new business in this arena.
Often businesses and government agencies have not fully realized the potential they can develop with customized training in key areas of their organizations. Here are some ways to break through to new business and customers in customized training:
Start with secondary research data. This data can help you identify the top employers in your locale, incoming industry, and businesses undergoing large-scale change and development. Look to your state's economic development websites, Department of Labor, employment assistance agencies, the national Bureau of Labor Statistics, and the publications and reports of specific industries in your area. Visit your university libraries and economic research departments for resources. Read a variety of online materials and the references they provide for further reading.
Begin to identify specific training needs in target markets. Connect with or join your local workforce boards, chambers of commerce and industry-specific communities of practice. Link into online chats that discuss local business and industry needs.
Consider primary market research. You may opt to contract out for this service or engage in some preliminary quality research through focus groups, customer visits, online surveys, phone surveys or questionnaires. As you do this, consider how you can strengthen communication and messaging with your clientele.
Communicate your desire to help. Develop the initial marketing messages with the viewpoint of helping a customer develop the potential to become infinitely more than they are now. Start with an understanding of the current state and help them envision the future, with the resources training can provide. Provide examples of successful work with other companies, and illustrate the quality of your instructors, and results-oriented curriculum. Use client testimonials in your marketing materials. Develop and use custom tailored packets of materials relevant to the training you are proposing to provide. Utilize subject matter experts and curriculum specialists to hone the sales approach, as well as develop the curriculum.
Have an approach to networking. When you go to business mixers, hand out more than a business card. Provide a succinct handout with a discount offer that invites further conversation. Collect business cards of others and get business contacts in a pipeline for follow-up contact. Use social networks such as Linked-In to stay connected. Develop display materials for table-top marketing events and collect and follow up on contacts developed at those events. Keep your contacts in a contact management database, such as Salesforce or Outlook.
Once you land a contract, deliver quality and results beyond expectations. This will help you ensure repeat business and strong recommendations to future customers.
Keep your customers engaged. Do this with an online newsletter, by inviting them to mixers, coffee and lunch conversations, and through focus groups. Send them an occasional email message, special offer or holiday card. Cultivate the relationship to build trust, meaningful feedback to improve your programs, and future business.
With a grander vision, we can become infinitely more than what we are now. In fact, the greatest limitations we will ever face will be those we place on ourselves. Let's not limit our potential by failing to stake our claim with our potential to better serve local customers.
Author Perspective: Administrator
You Might Also Like