Author Profile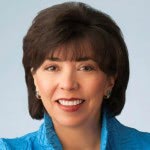 Rita Martinez-Purson | Dean of Continuing Education and Community Services, University of New Mexico
Current Position and Past Experience
Dr. Rita Martinez-Purson is the Dean of Continuing Education and Community Services at the University of New Mexico, a post she has held since 2003. While in that role she spent a year doing double-duty, serving as the university's Interim Vice President for Equity and Inclusion.

As the Human Resources Group Leader at Los Alamos National Laboratory from 2002-2003, she led organizational development and human resources efforts for the largest directorate of the laboratory.

Prior to her position at Los Alamos National Laboratory, Martinez-Purson served for nearly 20 years as the Dean of Continuing Education at Santa Fe Community College. She also served as the college's Interim President between 1997 and 1998.

Education, Honors and Achievements
Martinez-Purson earned her Doctorate in Education and Administration and Supervision from UNM in 1994; her master's degree in public administration from UNM in 1983; and a bachelor's degree with honors in sociology and anthropology from the University of Arizona in 1976.

Martinez-Purson was named the 2001 Business Woman of the Year by the Professional Business Women of New Mexico and the 1997 recipient of the UNM School of Public Administration's Distinguished Alumnus Award.
Articles by this author: