Collision and Cooperation between Continuing Education and Schools of Management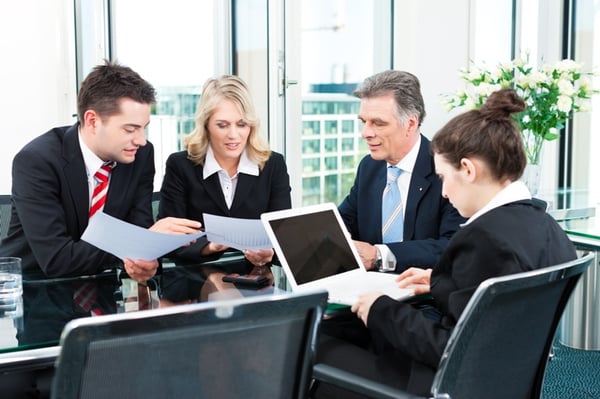 Who owns management education on America's college campuses? This might seem obvious to most: their business schools. Certainly, the Association to Advance Collegiate Schools of Business (AACSB) believes no matter where management education might be taught at a university, its business school has ultimate accountability for ensuring accreditation standards are met. But the reality might not be quite so straightforward.
Few business schools seek out all of the opportunities at their disposal. It is tempting for continuing education enterprises to try to fill this void; in fact, they cannot do their jobs effectively without some management programs. Lost opportunities cost institutions both revenue and enrollment. Sensitive to this, those more entrepreneurial units on campus try to carve out some means of being more responsive. An inevitable power struggle ensues within many universities for how to define a détente between the business school and continuing education unit.
Business schools generally have the upper hand, as well they should. These schools have the subject matter expertise, the powerful voice of mainstream, full-time faculty, the strategic primacy within their institutions and the clout of their alumni and accreditors. The business school can claim to be inherently invested in part-time adult learners, especially through graduate and executive education. These schools can make the case that they are the legitimate full-service provider of management education for their institutions. They can also claim other management programs at the same institution will only confuse the marketplace and potentially compromise quality and reputation.
However, those universities that assume schools of management represent the full menu of possibilities often stifle potentially important opportunities: imaginative and responsive academic degrees in specialized fields and emerging professions, outreach to post-traditional adult learners, corporate alliances and creative ways to attract international students. Major metropolitan areas have become fertile territory for for-profit schools benefiting from the vacuum created by local, traditional business schools that are unresponsive to the needs of older, part-time students. Further, management degrees have become standardized and stultifying one-size-fits-all commodities, where there otherwise might be a world of possibilities for industry-specific areas and specialized skills.
To unleash some of these opportunities, numerous creative attempts have emerged over the past few decades to allow schools of management and continuing education to co-exist:
Some divide turf between credit and non-credit offerings, or academic degrees and certificates. And, within that, between "executive" programs and other non-credit offerings for the general public.




Some continuing education enterprises sidestep the AACSB by creating degrees with creative titles that suggest management, and by constructing their curricula to be careful not to cross established AACSB thresholds of business management coursework.




Some schools of continuing education even venture into mainstream management education by addressing accreditation standards, employing adequate numbers of full-time faculty and carefully differentiating their degrees from those offered at their campus business school.




Some continuing education enterprises are satisfied to serve as the less overt back-office infrastructure so the brand remains in the hands of the business school. These support services include managing business degrees on satellite campuses, helping to develop online courses, marketing programs, advising students and negotiating corporate relations.
Other deans of continuing education simply rationalize their own paralysis by presuming all inroads into management education will be torpedoed by their business school counterparts. Or they might bravely negotiate solutions that help their institutions progress. Here are a few suggestions for them:
Politely question, test assertions and debunk myths about the AACSB. This organization is not nearly as restrictive and close-minded as conveniently portrayed by business school leaders.




Seek out evidence of successful, permissible paths at other universities and use these to argue the case.




Respect the business school's right of first refusal, and offer your blessings and support. But don't confuse first dibs with veto power.




Clarify the divisions of labor. Establish what belongs to each entity and how to articulate these differences internally and externally. Carefully craft the public message and scrupulously respect boundaries.




Deepen ongoing interpersonal networks on campus and look for every opportunity to engage those in the two colleges in working and informal relationships. (One way is by appointing members of each other's colleges to standing and ad hoc committees.) It is difficult to demonize those with whom you have frequent face-to-face contact.




Demonstrate a genuine generosity of spirit on campus. Articulate your goals based on what is best for the institution, not what accentuates separate silos.




Develop a reputation for an unrelenting concern for academic integrity.




Celebrate achievement, innovation and community engagement. Make the business school — and others — aware, appreciative and even envious of your success, agility and creativity.




Become a bully pulpit for exciting and accessible opportunities, unmet educational needs within the community and ways of advancing your institution.
Much of what has occurred at major universities over the past two decades can be characterized by their lack of responsiveness to the pragmatic needs of their public and their willingness to cede important opportunities to upstart institutions. More recently, this has come back to haunt those schools now trying frantically to catch up in online learning, adult part-time education, revenue generation and new program options. Many on American campuses enjoy pointing out the glib irony that business school faculty can seem anti-entrepreneurial — that they fail to practice what they preach — but this has been an excuse for premature capitulation. The very real challenge for innovation is to confront potential hard-headedness and resistance with persuasive arguments, empathy, flexibility, confidence and collegiality, as well as a mutual appreciation of common goals for the institution.
Author Perspective: Administrator
You Might Also Like