Overcoming Online Persistence Challenges With The Trojan Café (Part 2)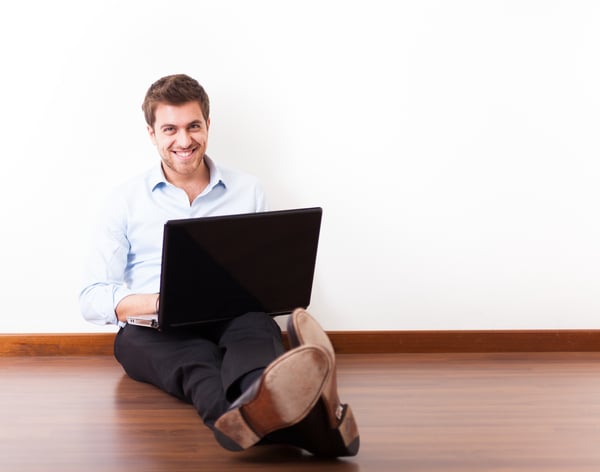 This is the conclusion of a two-part series by Glynn Cavin and Amanda Smothers discussing the challenges of serving and retaining non-traditional, online students and sharing how their Trojan Café concept has allowed them to accomplish these twin goals.
One of the first ideas that came out of the planning phase was to create student forums that would allow interaction between users. Students were already utilizing Blackboard discussion boards to meet course requirements, therefore the infrastructure was ideal for hosting casual student forums. Forums are moderated by staff and have been a significant attraction for students desiring feedback on a wide range of topics from selecting the best instructor, to time management suggestions, and even buying and selling textbooks. The Student Forums contain several "rooms" including General Chat, a Military Student room, a forum for getting quick answers to questions about university policies and administrative concerns, and a room for contests and giveaways, allowing students the opportunity to win university memorabilia. The most fulfilling function of the student forums has been the exchange of support and encouragement shared between users. Students often express apprehension about returning to school after being out for many years, or concern about being able to devote adequate time to studies while also managing a family, or stress about how to get used to the online format. These fears are quickly met with rapid replies from students with whom they can identify, offering reassuring words of hope. These kinds of exchanges were not possible prior to Trojan Café.
The Student Spotlight page allows Trojan Café to feature articles written about individual students who possess the grit and determination needed to complete a degree while fulfilling the many other obligations outside of college life. Students can read about the single mom who worked two jobs and studied at night to reach her lifelong goal. They can read about the military student who completed his assignments in a tent and gained encouragement from family members via Skype. Students with adaptive needs, first generation college students, and older adults have all been inspiring subject matter. The Student Spotlight is written by students, about students, who are true examples of Trojan Warriors and who possess the character strengths that are needed to be achievers.
The Online Writing Center, accessible in Trojan Café, exists to provide writing help to online students. Tutors provide feedback (within 48 hours) on paper drafts that students upload electronically. Video tutorials, handouts focused on writing skills, answers to frequently asked questions, and helpful links are provided to aid in improving the fundamental skill of writing. The Online Writing Center provided 285 tutoring sessions to TROY students in 2014. It also has an active student forum where Writing Center staff regularly answer student question posts.
Additionally, Trojan Café houses Career Connections, an outreach program to provide professional development tools and career services. Students are provided information about how to prepare for job interviews, how to dress for presentations, how to utilize social media for networking, and can access inventories for exploring interests related to choosing a major. Trojan Link is provided as a network designed to connect students with thousands of companies looking for new hires, while also providing resume reviews that can then be uploaded into an extensive circuit of employers.
Troy University's motto has long been to "educate the mind to think, the heart to feel, the body to act." With a holistic vision of student success in mind, the Trojan Café planning team—comprised of Glynn Cavin, Donna Brown, Shannon Carolipio, Brandon Langford and I—wanted to extend the effort to encompass material that would focus on overall student health. The Wellness section produces information about maintaining healthy social relationships and choosing a proper diet. Educational presentations on suicide prevention, stress management, and related content align with the efforts of the office of Student Counseling Services, the College of Education, and the College of Health and Human Services. Faculty, staff and students contribute written articles and video intended to bring an awareness of issues that improve learning outcomes and promote student well being.
A Student Resources page serves to corral numerous helpful links and material into one convenient location. This area operates as a knowledge database containing tutorials on how to learn online, reset passwords, post to a discussion board, view grades, understand the language of financial aid, and much more. Students are able to submit an electronic ticket for online support, can access a flipbook about online learning connections, review academic catalogs, learn how to set up a proctored exam, and browse through student expectation documents. Education Technology staff maintain Student Resources and make it easily accessed on the Trojan Café landing page.
Trojan Café was made available on August 11, 2014 to the entire TROY student population and is updated with new enrollments as they enter through the admission and registration processes. Students from all locations and campuses are able to interact and take advantage of Trojan Café as a virtual student union and resource center. In March 2015, the university recognized Trojan Café as TROY's Online Student Community and it is now marketed with that tagline.
Student response to the online student success center has been categorically enthusiastic. Trojan Café received 10,171 user sessions between August 2014 and January 2015 representing 7,494 users. An average of 500 sessions per week take place in Trojan Cafe. Students are eager to participate in online events like contests and giveaways. They often contribute writings that staff produce as feature articles, containing advice on how to improve study habits or how to prepare for graduate school. Students respond with pride when Trojan Café shares their accomplishments on social media, reflected in rapidly growing followers on Facebook and Twitter. Requests for feedback yield a rich supply of complimentary remarks and suggestions of which we've actively pursued. Students regularly voice appreciation about the priority Trojan Café staff place on gathering their ideas and state their intention to frequent Trojan Café all throughout their degree program.
We continually explore the best way to market the Café to more students and faculty. Visually appealing emails are routinely sent to students to build awareness. The strategic use of social media platforms to draw interest and participation is paramount to Trojan Café success, as social media has become a revolutionary communication and marketing tool worldwide. Flyer cards are produced and mailed along with all new student packets. Online orientation classes require students to review and submit feedback on the site and indicate how they might utilize the elements there during their studies. Recruiting team members hand out materials on site at college fairs. Trojan Café team members frequently participate in on-campus events, including new student orientation and browse sessions. Serving on various campus committees helps to advocate for the inclusion of online and non-traditional students in opportunities and events previously out of reach to them. The Trojan Café Advisory Committee meets bi-monthly to collaborate with departmental experts who provide professional critique, experience, direction and resources.
Trojan Cafe is the result of a massive group effort drawn from the expertise of many university minds working together. We continually assess program effectiveness. We seek feedback from students, faculty and administrators, and we stay abreast of current technological developments and research in order to be informed of what enhancements are needed. The Trojan Café staff encourage students to take greater ownership of the site and to use it as a platform for sharing and receiving support and information.
We believe the anecdotal evidence indicates the Trojan Café is a success. We are optimistic that the Café offers an opportunity for virtual social integration, support and engagement, and therefore positively affects retention. After all, isn't that why we are here?
Author Perspective: Administrator
You Might Also Like