Changing Course: Five Trends in Enrollment Management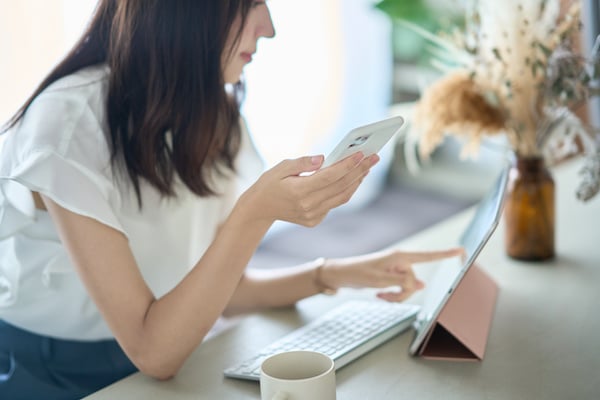 "A smooth sea never made a skilled sailor." When he spoke these words, Franklin D. Roosevelt wasn't talking about enrollment management, but his words ring true for us today. After decades of doing things the same old way in admissions, we are in rough seas, forced to find new approaches, new ideas and fresh solutions.
First, a reality check. Several factors have come together to form a perfect storm for enrollment management: birth declines, a surge in test-optional admissions, elimination of the National Association for College Admission Counseling (NACAC)'s Statement of Principles of Good Practice (the "SPGP"), increasing diversity in the college-bound population and a stubborn global pandemic with a lasting impact on how we all study, travel, learn and choose a college home.
Examining the impact of these factors, notably hitting a crest in fall 2020, we see that between 2010 and 2020, total enrollment at degree-granting institutions fell more than 9.6%.[1] Paring back to just undergraduate enrollment trends among these same institutions, that number jumps to more than 12.3%.[2] Those are powerful headwinds.
Remember when predictability was a given in any enrollment cycle? How about the accuracy of using three-year rolling averages? Or the way we searched similar profiles among prospects year to year? That's all gone and in the past. Today's students have evolved, reflecting a more diverse and savvy population—a population that applies to more schools, is more debt-averse, finds ways to engage both virtually and in person, and waits increasingly later to commit.
As the leader for enrollment strategy for Adelphi University, a private, medium-sized, tuition-dependent, emerging Hispanic-Serving Institution just outside New York City, I have accumulated an unusually long list of midyear pivots to meet these new challenges and steer us straight.
Examining the evolving landscape, I see five enrollment trends on the horizon. Each one will force us to change course, cut through the noise and stand out among the tidal wave of cold marketing emails.
1. Content marketing and conversation marketing are here to stay.
Repetitively telling someone to apply in an email isn't the answer anymore. We must gain our prospects' trust and show them why applying and enrolling is a good choice for them. Do you have student prospects interested in art? Share that mural project on campus. Prospects in STEM? Let them know about your current research projects and labs. Invite student-athletes to playoff games and theater students to performances. It's those student-specific reasons combined with your overall institutional message that will help your prospects find a college home. The right message and frequency will reflect each institution's personality. And when you have an opportunity to use a student's voice, do it. Relying on our growing student social media team, I find they are powerful weapons in reaching out authentically peer to peer.
2. Personalization isn't optional—it's mandatory.
Students spend time combing through websites that are chock full of information, but certainly not everything is relevant to their interests. So, how can you personalize their experience? Adelphi University recognized early on the power of a personalized experience, earning a national award in 2018 in recognition of efforts to pair each student and family with a one-to-one professional enrollment coach during the admissions process, guiding them through content relative to their captured points of interest. As that process has evolved and scaled, personalization remains critical. Try mini-sites, student portals, topic videos, interest-based messaging or inviting students to campus lectures in their field. That way, students are hearing messages crafted just for them and reflective of their cares and concerns—an important step to recognize and celebrate their individuality.
3. Though online has boomed, the campus visit is still critically important.
Between 2012 and 2019, the number of hybrid and distance-only students at traditional universities increased by 36%. The circumstances of the COVID-19 pandemic in 2020 rapidly accelerated that growth by an additional 92%.[3] Amidst that, it seemed like the campus visit would be replaced entirely by virtual information sessions and online open houses. But we've found just the opposite. While the demand for convenient and hybrid learning styles has increased, the cravings for in-person visit opportunities have surged post COVID. Striking the right balance between accessible, virtual introductory sessions and welcoming, in-person showcase events is not an easy feat. But when done right, students will find themselves drawn to an institution that recognizes both the convenience of online learning and the need for real-life experiences. In the end, no Zoom session can give students the "I belong here" feeling like a campus visit does, but you likely need virtual messaging to get them there.
4. Invest in mentoring because mentoring supports success
In 2014, Adelphi University launched its award-winning mentoring program, designed to nurture students through the University's life-changing opportunities and help them reach their full potential. That program has since grown from 10 to 100 students annually, guided by an equal number of volunteer mentors from faculty and staff. The program boasts a 100% graduation rate. And remarkably, as mentoring participation in the past five years has grown, retention among students of color has jumped from 78% to 83%—an increase of 5 full percentage points. Thoughtful, well-designed mentoring programs dismantle many major barriers for students and are key to finding success in progression rates as we look to the future.
5. Prioritize students' well-being to boost and stabilize retention
Student wellness can no longer be siloed to the campus clinic. Today's students have been dramatically impacted—both academically and mentally—by the global pandemic. We cannot underestimate the effects this has had on their academic readiness and ability to achieve success. It is an institution's responsibility to support students as whole people, working to find the right mix of touchpoints as they progress toward degree completion. As Adelphi has seen this shift firsthand, we've responded with greater proactive engagement and outreach from our Student Counseling Center, the creation of a Mindfulness Center, the implementation of free tools like the Headspace mindfulness app and the development of a state-of-the-art comprehensive Health and Wellness Center, set to open in 2023.
Embracing these five trends, and coming up with inventive new solutions, will make skilled sailors of us all. Enrollment managers can support students and advance their success while building stability for their colleges—if we learn the new skills these challenging times demand.
References
[1] NCES Table 303.10, Total fall enrollment in degree-granting postsecondary institutions, by attendance status, sex of student, and control of institution: Selected years, 1947 through 2030
[2] NCES Table 303.70, Total undergraduate fall enrollment in degree-granting postsecondary institutions, by attendance status, sex of student, and control and level of institution: Selected years, 1970 through 2030
[3] McKinsey and Company, Demand for Online Education is Growing. Are Providers Ready?, July 20, 2022
You Might Also Like