Shifting to a Shorter Semester Model in the Wake of the Pandemic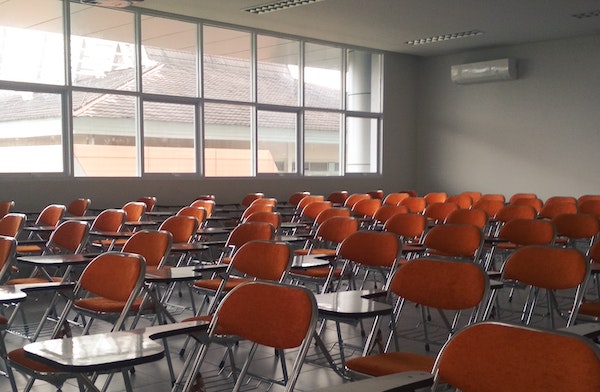 The disruption the pandemic caused put higher education in a sink-or-swim moment. Institutions had to adapt to meet the needs of learners, while shifting to a remote environment. In this interview, Anne Houtman discusses Earlham College's shift to a shorter semester model, the impact this shift had on enrollment and retention rate, and how to create a more flexible model moving forward.
The EvoLLLution (Evo): Why did you and your team begin exploring the idea of shifting to a shorter semester model?
Anne Houtman (AH): Early into COVID, we knew so little about what was happening or what was going to happen, but we knew it was an infectious disease. I was especially worried about our faculty because they're older than our students. So, the idea of the seven-week terms was really more about teaching two classes at a time; class students take two classes at a time, so faculty only teach one or two. That basically cuts in half the number of student interactions. And the same with student-to-student interactions. Seven weeks, two classes—it was a very simple schedule because everyone was stressed out of their mind.
That had a couple of benefits. One was minimizing infection risk, and that worked quite well. And the other was the idea that if we had to go back online, we could pivot easier if we just had one or two classes. It was very stressful for students in March 2020, when we went online almost overnight. Juggling four or five things in the middle of a global pandemic was just a bit much for everyone.
We also built it so they did their finals just two days before the start of the next term. The idea behind that was that they wouldn't go home, pick up COVID and come back. That also allowed us to finish before Thanksgiving because we correctly expected the virus would get worse during the winter. So, students were off campus from Thanksgiving until February 1st. We did offer a January term, but that was completely online.
Evo: What were your retention rates like?
AH: We had a bit of a dip for a few reasons. We found about 15% of students stayed at home in fall 2020 and took classes from there. About 20 to 25% of our students are international, so getting them home was very challenging. And in fact, we had almost 200 students live on campus for over a year because they couldn't get across the border. And then others went home and couldn't get back.
Our faculty were amazing. They were teaching in-person, synchronous, hybrid with students at home, in our time zone or one close by. But with students in more than 30 countries, many were in a different time zone where that didn't work. So, we provided asynchronous teaching for them.
Evo: What are some of the other obstacles that come with pivoting to that short semester model?
AH: Some faculty weren't thrilled with it. In the sciences, you go from one lab a week to two. Now, people do this in other parts of the country—Colorado College is the best known. They do it on a four-week model. But your students didn't sign up for that, and that's not what you signed up for. And you must all of a sudden work at that kind of pace. It's much harder to recover from being sick for a short period of time, or if one of your kids is sick, something like that. So, that was definitely a challenge.
Evo: Are you keeping this shorter model now, or have you shifted back to what you did before?
AH: We're keeping the short model this term; we're doing these two mini-semesters rather than a full semester. I believe we're going to be keeping the January term, then we're moving back to a regular semester because of those concerns.
Evo: What are some best practices to delivering a more flexible and accessible experience for students?
AH: One of the things we learned from COVID was just how flexible we could be. Earlham has been in this business since 1847, so you feel like you've seen everything. We had the Spanish flu, but we didn't get hit as hard by it here as we have with COVID. We did learn that we could pivot on a dime, which is great because higher ed institutions don't tend to be highly flexible. But we've seen that—not just at Earlham but all over the country—you can think more broadly.
We have a broad diversity of students—some are homeless or are low-income. So, when we sent them home during the pandemic, they weren't able to continue their learning. We're built on a residential undergraduate education model. We're big believers in that, but we really saw how powerful it is to offer a residential aspect, especially if you're trying to reach a broader part of the population with your education,. So, we felt good about that.
Many parents and kids wanted to be closer to home, so that's something we've started thinking about. I came from the California State University System, where you feel a sense of responsibility for your region. And sometimes when you have a national or international reputation as Earlham does, it's easy to focus on that rather than your roots are. So, we're definitely focusing on growing where we're planted and trying to be a resource for the people right here in Wayne County, Richmond, Indiana.
Evo: What impact do the shorter semesters have on the student experience?
AH: The majority of students were unhappy with it. Some students absolutely loved it. I got letters from students and parents saying, "Please keep this. We love this so much. You can really focus." It's so much easier to focus when you've just got two courses rather than four or five to think about. But for others, the global pandemic was a kind of downfall. And the quick pace of the shorter semester was a bit much for some.
People also had concerns around language courses. You can't easily say, "Okay, today I'm going to learn Japanese. Go." It's something you build over time, so that was challenging.
Evo: Is there anything that you'd like to add about delivering that shorter, more accessible model for students?
AH: I'm a big fan of the short semester model. I've taught in four, five, eight, ten and 15-week terms. God didn't say, "Thou shalt teach in 15-week terms." So, I liked that we had an opportunity to try a few things out. We got to try out online learning. We're going to continue offering online courses during the January term, then possibly in the summer. We can reach a wider audience that way. But still, everyone is very excited to be going back to a regular semester.
This interview was edited for length and clarity.
Disclaimer: Embedded links in articles don't represent author endorsement, but aim to provide readers with additional context and service.
Author Perspective: Administrator
You Might Also Like