What We Can Learn From Continuing Education About Innovation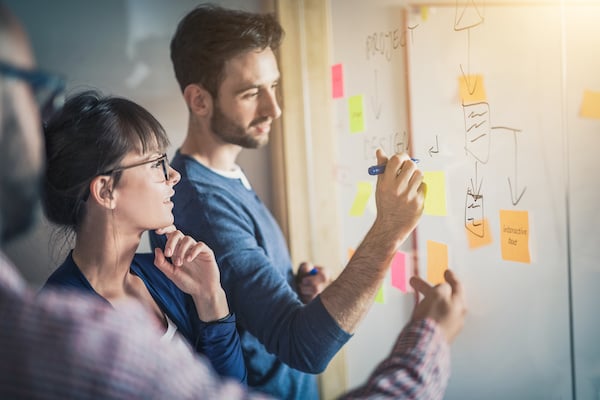 Traditionally, colleges and universities have a natural segmentation to them—but they don't have to stay that way. With stronger collaboration across the institution, departments can leverage colleagues' skills and help where they can to better serve their learners. In this interview, Saira Cooper discusses the segmentation of higher education, the challenges of siloing CE and how to leverage CE to drive innovation and succeed in this new era of higher ed.
The EvoLLLution (Evo): Why have CE units historically been siloed?
Saira Cooper (SC): As we look at the origin of Continuing Education, it was created to offer continuing education for working professionals to fit into their already busy schedules. It was in the 90s when CE programs started to take root, and universities started to offer industry-specific continuing education to those seeking career-based training. That theme continued through to today.
Our university systems naturally create a segmentation of areas of study by discipline, which automatically puts CE units into a bucket of its own. Some universities may offer certificates and other credentials through these disciplines, but for many, alternative credentials are offered through the continuing education unit. The workforce skills gap and technological advancement are pushing higher education to redefine its CE units and strategically examine the positioning of these units.
Evo: What are the key qualities that make CE stand out within a traditional structure?
SC: One key quality that makes the CE unit stand out is being an innovation hub for the university. They can create just-in-time program offerings that can help bridge the workforce skills gap caused by technological advances. We often hear that college graduates aren't job-ready after graduation; since CE units already provide curricula specific to job training and other skill-based training, universities can leverage these offerings and weave them into degree programs.
CE units also have the infrastructure to be a test lab, whether testing pedagogical enhancements, modular curricula, or testing technology for teaching and learning; before investing in the long-term, universities can collect data on these aspects to show value. CE units are a transformative arm of the university that can provide outreach to the community and lifelong learning and help to establish relationships between businesses and higher education.
Evo: What are some challenges that come with CE units sitting outside the institution's overall strategy?
SC: If a university is going to have a CE unit sit outside of the institution's overall strategy, then that unit should be given autonomy to make decisions and offer credit-based and non-credit based offerings. Allow the CE unit to work with other disciplines to establish a pipeline for non-credit to credit-based offerings.
It is important that the CE unit has a seat at the table when the university is establishing its overall strategy. If the CE unit is not part of the strategy, the university and the CE unit will face challenges when operationalizing those strategies. Universities end up creating competing units and then cannot provide adequate funding to all these units. To generate revenue, CE units end up partnering with non-university partners to create and market their program offerings, which in turn only adds to the competition of providing learning to non-traditional learners.
As the higher education landscape is changing, it is imperative that universities take the needs of non-traditional adult learners into consideration and establish strategies that help to expand internal capacity to keep up with added players, such as private and technology companies that are offering programs to adult learners.
Evo: What are some best practices for CE to get a seat at the table to define the institution's broader strategy?
SC: Telling our story is important, as is using data to help show our impact. Most universities' focus stays on undergraduate and graduate students; it is the responsibility of the CE unit to represent the non-traditional adult learner and ensuring the university understands their needs as they establish the broader strategy. Testing and providing data on pedagogical and technological innovations to help move the university forward. Situating itself to become the bridge between the university and the local community.
Evo: What are some other ways that CE can help better position the institution for success?
SC: We're nicely positioned, and have the infrastructure, to create a pathway from one class to a non-degree to a degree or offer alternative credentials. Providing today's learners the freedom to take classes to stay relevant to help them earn a degree or certificate that fits their needs. The flexibility to choose their own path will help us create lifelong learners.
Evo: Is there anything you'd like to add about Continuing Education driving the institution toward success?
SC: Again, having a seat at the table is very important. Making sure that the CE unit is capturing and telling the story of how it's impacting the lives of our learners and the community at large.
This interview was edited for length and clarity.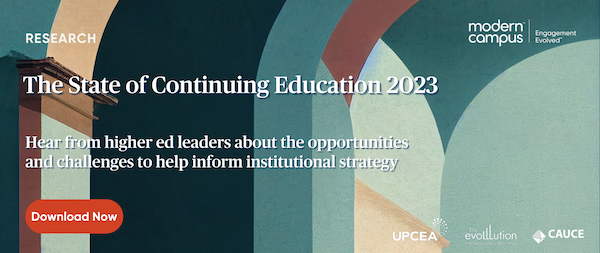 Author Perspective: Administrator
You Might Also Like