Providing an "Open" Pathway for Non-Traditional Learners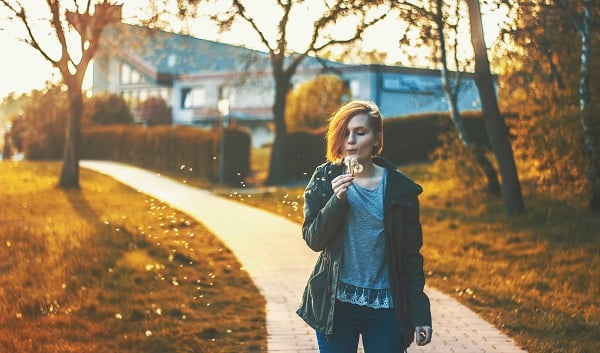 Most followers of higher education should be well aware of the fact that the demographics of college students have been changing. While we often still find ourselves referring to adult working students who are just starting, or coming back to college, as non-traditional, the truth of the matter is that this segment of the population is quickly making up the majority of degree-seeking students.
However, this growing population of non-traditional learners is finding itself at the whims of a higher education system that is simultaneously entrenched in traditional policies and models, while also trying to adapt to 21st century needs and trends. The result is often a system that ends up leaving these students behind, creating a gap in who actually receives equitable access to education and reaps the rewards inherent to it.
Why the Accessibility and Achievement Gap?
There are a number of reasons why traditional providers of higher education do not, and perhaps cannot, fully meet the needs of an adult, working population of students. I will address just two of those reasons here.
Cost and Access to Federal Financial Aid
A US college degree is not cheap. That is (sadly) perhaps the most obvious statement I've yet made this year. Unfortunately, that fact is a very important roadblock for non-traditional learners, and one that our current system of federal financial aid does not provide much of a helping hand in overcoming. As defined by The National Center for Education Statistics, non-traditional students are defined by AASCU as those "meeting one of seven characteristics: delayed enrollment into postsecondary education; attends college part-time; works full time; is financially independent for financial aid purposes; has dependents other than a spouse; is a single parent; or does not have a high school diploma." At least four of those characteristics are likely to impact the amount of time that a non-traditional student is reasonably able to devote to their pursuit of a higher education. And in fact, as the data in the following two graphs does show, adults over the age of 25 are much less likely to attend college full time.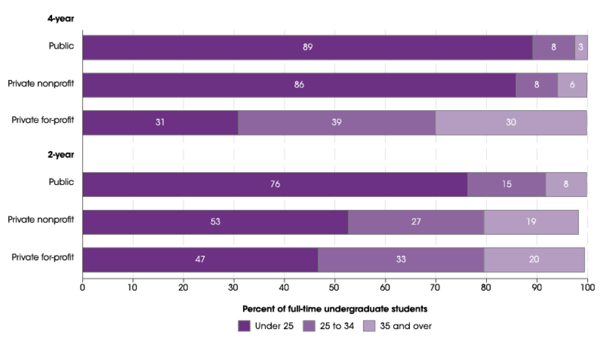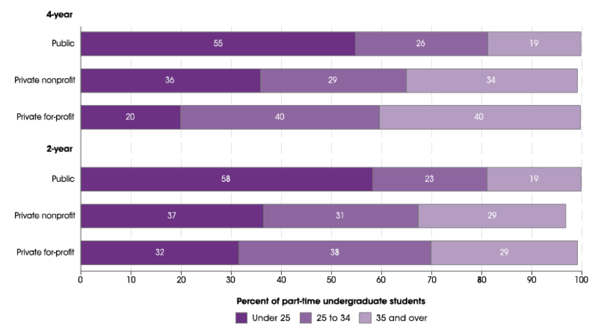 Many would probably argue that this trend alone could affect the ultimate completion rates for non-traditional students, as the intermittency of taking classes could lead to challenges in retention and completion. While that may or may not be a reality (I think it probably is), what I'm quite sure of is the fact that there are financial implications and barriers as a result of being a part-time college student.
Specifically, when that part-time enrollment in a Title IV-eligible program actually dips below half-time, which can be a likely reality for many non-traditional students, it directly impacts their access to federal financial aid resources, as both Stafford and PLUS Loans (which themselves may not actually cover the full costs of a degree) are only available to students who are enrolled in college at least half-time. Similarly, subsidized federal loans are only available for a limited period of time. For instance, a student who is enrolled half-time throughout the full duration of their studies would not be able to receive a subsidized federal loan for the final 25 percent of their enrollment. And while this fact has pushed many schools and organizations to encourage full-time enrollment, that is simply not a realistic possibility for those students who do need to both work and attend school in order to provide for themselves and their families.
Without access to Federal Financial Aid, in the form of lower-interest loans, non-traditional students are often left with the option to either pay out of pocket, or instead seek high-interest loans, either of which option is costly and can ultimately lead to students not being able to afford, and therefore not being able to access, higher education.
It should be noted of course that addressing this specific federal loan issue would really only bring non-traditional students up to par with traditional students, in terms of access to aid. And as Sara Goldrick-Rab has shown in her research, that will still leave many, many students with tough decisions about how to actually afford the cost of a degree.
Digital Literacy and Comfort
More and more students are switching over to online education, and this of course includes non-traditional students. In many ways the model of online education, which can allow for more flexibility in scheduling study time and does not require commute to campus, is a great benefit to non-traditional learners who are juggling other commitments. It is no surprise that as this population of learners grows, so would the amount of schools that offer these online distance programs.
However, online education is not always the easiest mode of education, particularly for the adult population of non-traditional learners. As the Pew Research Center has reported, 52 percent of adults are "relatively hesitant" when it comes to using digital tools for learning, and are less likely to be familiar with new trends in educational technology. As more and more adults find themselves needing to turn to online education as their only or best option for attending college, they will be putting themselves in a situation where needs outweigh comfort.
On a positive note, as digital skills becomes more and more necessary for everyday life, and the use of technology continues to become more ubiquitous, this hesitancy and digital literacy gap is likely to decline. But until that trend has fully taken hold, the learning curve and frustration among non-traditional students that may accompany a return to school (in an online rather than face-to-face format), can and likely will have direct negative results when it comes to succeeding in a traditional online learning environment.
Closing the Gap with Open Online Education
Given the previous point about digital literacy, suggesting open online education (which for the purposes of this article I will define as free, self-paced, asynchronous, online courseware) as a solution for closing the access and achievement gap for non-traditional learners, would rightly seem rather counterproductive. However, there are some unique aspects to a truly open online education that can in fact help meet the needs of non-traditional students.
First and foremost, the free nature of open online courses means that students can have 24/7 access to education in a low-risk environment. Even when these educational options are more informal and may not lead to credit or a degree, they can still help to prepare non-traditional students for future enrollment in more formal online courses. By providing learners with free and unlimited access to, and practice with, online learning systems, digital texts and learning resources, and other digital tools in a structured, college-level format, open online courses provide students with a unique opportunity to learn how to learn in a digital environment.
More recently, open online education has also begun to lead to tangible opportunities to earn college credit, and can be an integral part of a student's path to a degree. This development can be particularly beneficial to non-traditional students. By removing the barrier of time that is associated with more formal online offerings, credit-aligned open online courses can prove to be even more flexible for those adults seeking to earn a degree while also working full time or raising a family. Likewise, the fact that these courses are free means that non-traditional students do not have to worry as much about a lack of access to federal aid as a result of their only being able to take courses part time.
So long as providers continually improve and update their offerings, are willing to work with students to overcome hesitations that they might have about learning online (not to mention asynchronously), and strive to make the process of transferring college credit as easy and transparent as possible, then there does seem to be a great opportunity for non-traditional students to benefit from this emerging sector of open education.
From June 21-22, the Saylor Academy is hosting the Saylor Higher Education Summit in Washington DC. The event, Looking at the Degree and Beyond: Lowering Cost, Increasing Access, Exploring Alternatives will feature panels, sessions and workshops on a variety of topics focused around transforming the postsecondary space. To learn more, please click here.
Author Perspective: Administrator
You Might Also Like