How Higher Education Can Meet Student-Parents Where They Are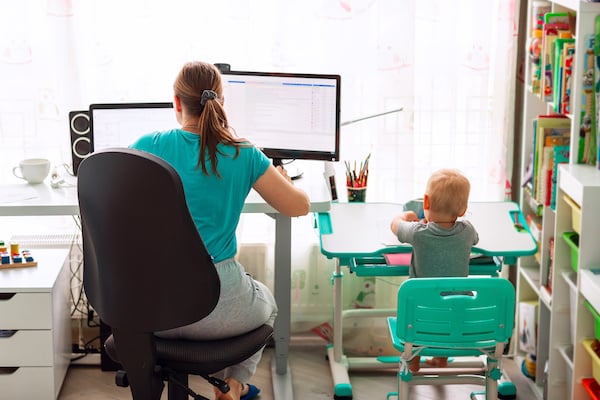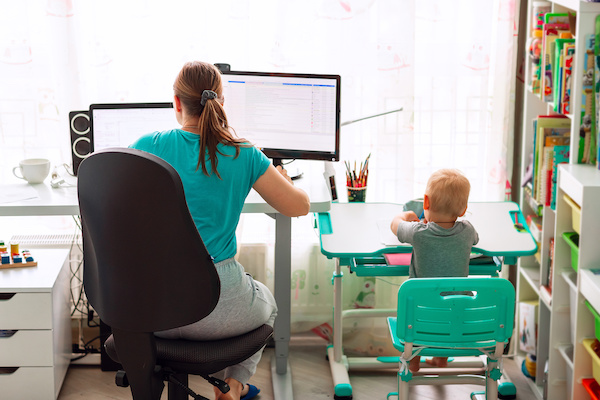 About 4 million, or one in five, college students are parents, but an alarming number of them never earn a degree. Lacking the support they need to juggle their academic, work and caregiving responsibilities, over half of student-parents leave college without graduating.
With the majority of student-parents being women and living at or near the poverty line, better supporting these learners is an equity imperative. Most are first-generation college students or students of color. Over 40% of student-parents—or 2 million learners—are single mothers, with just over a quarter of them ever earning a degree or credential. The COVID-19 pandemic has exacerbated the difficulties these learners face, with a Lumina Foundation-Gallup study finding that student caregivers were significantly more likely to suspend their education during the pandemic than students who were not caregivers.
At the same time, the number of institutions offering on-campus childcare has dramatically declined in recent years. What childcare options are available are often prohibitively expensive and can have lengthy waitlists. Fully addressing the childcare challenge will require time, funding and policy changes at the state and federal levels. In the meantime, it's never been more urgent that colleges and universities invest in new ways to meet this fast-growing and oft-ignored student population's needs.
Chief among the barriers facing student-parents is time or lack thereof.
The available time parents have for studying and completing coursework is strikingly small. About half of students raising children also work full time. An Education Trust report shows that students in minimum wage jobs must work at least 50 hours a week on average to afford tuition and childcare. When paid work, housework and childcare are all accounted for, students caring for preschool-aged children have an average of ten hours remaining per day to squeeze in sleeping, eating and studying. All these obstacles affect the time it takes for them to achieve their goals. Student-parents are ten times less likely to complete a bachelor's degree within five years.
At the root of the challenge is a dearth of dedicated support and resources for student-parents. According to a study released last year by the Aspen Institute and The Jed Foundation, only 37% of student-parents felt their institution supported them and nearly 40% had considered dropping out of college within the previous month. Institutions can do far more for their parent learners by investing in on-demand wraparound support services available outside traditional working hours, providing more flexible learning options and designing faster pathways to a degree.
Since its inception, Rio Salado College has been hyper-focused on making education more easily accessible to working adults and parents. That journey began in the 1970s, with the college holding classes in community centers and shopping malls. By the 1990s, Rio Salado had embraced online learning. Today, the college offers 24/7 online access, flexible Monday starts and course terms, and learning pathways that empower students to complete programs on their time schedules. Most recently, Rio Salado partnered with Education Design Lab to create new microcredentials in advanced manufacturing and information technology, which help student-parents attain meaningful workforce skills and credentials in an accelerated timeframe.
Comprehensive wraparound services are also crucial. They require a holistic approach, addressing academic and personal challenges that may affect a student's progress and sharing resources to help them succeed. The college's Virtual Food Pantry, for example, provides free delivery services to students in need all across the country. Where there is food insecurity, there are likely other hurdles, and counselors are prepared to offer a variety of supports and resources.
Rio Salado is far from the only institution to recognize the importance of providing flexible learning that fits into busy working parents' lives. Baker College, a private school with multiple campuses in Michigan, and Grambling State University, a Historically Black University in Louisiana, have both created flexible pathways to help learners persist toward a degree. In 2016, Baker College began to offer prerequisite and general education courses in an online, asynchronous format, allowing students to start at any time and to complete them more quickly and at a lower cost. Over 90% of students who took at least one of those courses persisted at Baker. Meanwhile in 2020, Grambling State created the Grambling Global Academy, which offers affordable and flexible online courses to help re-engage students who previously stopped out of higher education. Within the first 18 months, nearly 200 students enrolled in the Academy and regained momentum toward a degree. It's critical that more institutions offer a similar level of flexibility, accessibility and support to help all learners, student-parents in particular, achieve their educational goals.
The central promise of higher education is to serve as a transformative lever for socioeconomic advancement. Institutional leaders have a responsibility to ensure that this promise becomes a reality for millions of student-parents and their families.

Rio Salado College and StraighterLine have partnered since 2015 to make education equitable and accessible for all. The Rio Readiness Academy is a program that allows incoming, current and stopped-out students to take competency-based StraighterLine courses that count for credit at Rio Salado College.
Author Perspective: Administrator
You Might Also Like