Student Veterans: Beginning With the End in Mind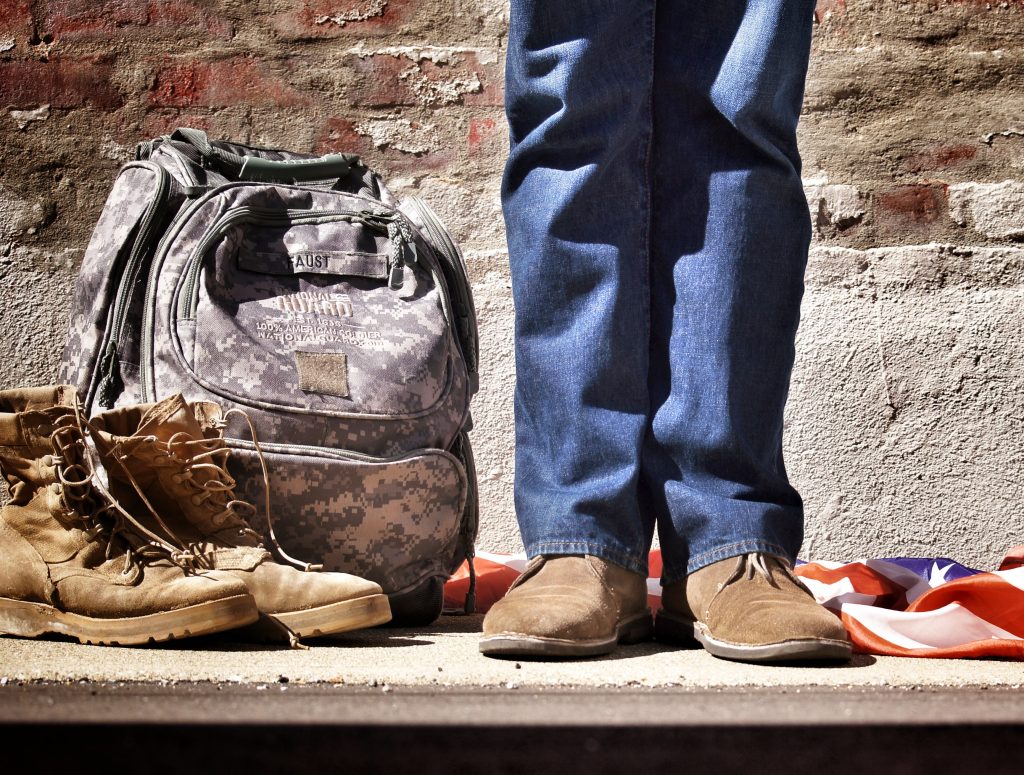 In May, I had the pleasure of hosting Dr. Amy Morys when she appeared on our Coffee With CAEL series. Coffee With CAEL events are virtual, 30-minute member gatherings where experts share their insights and welcome discussion about issues important in adult learning. Amy shared a lot of actionable guidance during her presentation, "Serving Your Student Veterans: Begin with the End in Mind." Theory and practice meld within Amy's experience and expertise in several compelling ways. That's why, although we had more than two hundred registrants for this member-only event, I wanted to summarize some of what Amy covered for the benefit of those who weren't able to participate.
Amy is a 20-year, twice-deployed member of the Illinois Air National Guard. She also has extensive administrative and teaching experience. Amy spent about 15 years as a university administrator in academic and student affairs. And, since 2009, she has served as a senior lecturer and adjunct faculty member in the business discipline for universities in the St. Louis and Chicago areas.
Amy also is the leader and facilitator of CAEL's Veterans Higher Education Affinity Group, or VHEAG, which we founded in 2011. VHEAG is made up of more than 30 member institutions. They include two- and four-year public and private colleges and universities which, through VHEAG, convene to share best practices on improving access to successful postsecondary education pathways for Chicagoland student veterans. Amy also leads the Alliance for Veterans in Higher Education (AVHE) group, which CAEL founded in 2020. AVHE complements the VHEAG mission with a focus on rural student veterans. It convenes veteran-serving higher education professionals from central and southern Illinois, along with veteran service organizations and state and local agencies. You can read about AVHE and VHEAG at cael.org.
If we want to "begin with the ending in mind," first we have to understand where our student veterans are coming from. That starts with a thoughtful consideration of who student veterans and military-affiliated students are. According to the Student Veterans of America, more than 100,000 service members transition from the military into colleges and universities every year. It's important not to treat them as a monolithic group. These students include officers, combat veterans, those who have deployed but not seen combat, and those who haven't deployed at all. And they include family members and caregivers of all of the above. That's why applications that simply ask, "Are you a veteran?" can needlessly limit your audience. Staying cognizant of these identities helps ensure admissions and matriculation materials are inclusive. Applications attuned to the diversity of military-affiliated populations also make it easier to match students with resources tailored to their needs.
When we look at the characteristics of student veterans, it's no wonder more institutions are including them in their recruiting strategies. Ingrained with a mission-oriented mindset, student veterans are more likely to persist and complete than their non- veteran peers. Along the way, they tend to outperform those peers. According to the Institute for Veterans and Military Families at Syracuse University, their average GPA is more than 13.5% higher than that of non-veteran. Enrolling veterans can also support efforts to improve engagement of underserved students. Nearly two thirds of student veterans are first-generation students.
But even as we acknowledge that student veterans excel at being students, it's important to regard the degrees they earn not as an end, but as a means to one. To begin with that end in mind, institutions must ensure their programs intersect with sustainable career paths and prepare students to navigate the on- and off-ramps that punctuate lifelong learning and meaningful work. Amy offered three broad strategies to accomplish this.
Plan the Work and Work the Plan
Proactive advising can help student veterans launch and sustain career trajectories. We know that about a quarter of student veterans go into a business discipline, and about another quarter go into health care or other STEM fields. The remaining half are spread throughout applied sciences or liberal arts disciplines. STEM disciplines tend to offer a fairly transparent career trajectory. But for other areas, it may not be as clear which industry roles connect with a program or how students can leverage military skills and learning within them. For example, some students may need to supplement their initial credentials with an advanced degree to achieve their career aspirations. Proactive, candid advising that paints a complete academic-to-career path allows students to craft a comprehensive degree plan and be more strategic about educational benefits they may be eligible for.
Credit for Prior Learning
Veteran students bring a wealth of knowledge, skills, and abilities from their military service. Credit for prior learning (CPL), also known as prior learning assessment (PLA), offers several avenues for honoring the veteran experience in a tangible way. From a practical standpoint, we know CPL shortens the distance between students and their goals by reducing the time and financial investments required to complete a degree. But a coordinated approach to CPL is needed to maximize its impact for student veterans. Ideally, faculty, advisors, transfer coordinators, and other academic professionals across campus will have a solid understanding of how ACE arrives at its credit recommendations. They will also understand how learning objectives articulated within a joint services transcript (JST) align with classroom-imparted learning outcomes.
However, especially for institutions just ramping up a CPL program, this can be overwhelming. Rather than striving to reinvent the wheel, institutions should rely on the robust CPL communities of practice that have developed over the past several decades. For example, CAEL members have access to a host of resources that capture and illustrate best practices in implementing CPL programs and serving student veterans. Effective state systems and the ACE military guide are additional sources of valuable information. Also, remember that you can offer CPL to student veterans even if you don't have an established method of evaluating prior learning from the JST. Student veterans have likely been responsible for millions of dollars in Department of Defense assets. They have been stationed around the nation or deployed globally with security clearances. The breadth and depth of their education and experience that they bring often lend themselves well to portfolio reviews and other general methods for assessing prior learning that you can strategically incorporate within student veteran programs.
Use the Force (Multipliers)
Collaboration across your institution is important if you want to work smarter, not harder. Think career services and student, faculty, and academic affairs. But it's also important that your thinking transcend the walls of your institution, especially in this era of pandemic-reduced institutional resources. Embrace community and regional opportunities to amplify student veteran support, especially when it comes to transitioning from classroom to career.
While it seems like a given that adult learners will face a complicated employment landscape, for student veterans, it can be downright complex. The broader population of adult learners typically engages postsecondary education to propel the next step along their career path. Less frequently, they enroll in order to completely retool. But we know that more than half of transitioning service members want a career that is completely different from what they did in the military.
Higher ed and the JST focus on learning outcomes. But employers focus on skills. It can be overwhelming to discern the crosswalks that connect them, especially for institutions with limited staff and other resources. One resource that helps make support more seamless is MilGears, a Department of Defense program that engages academic and career counselors, employers, and veterans alike. It creates more efficient and transparent guidance on how to apply military training to learning pathways. Students can enter their military skills and credentials along with their occupational objectives. MilGears then identifies the academic pathway and credentialing they'll need and paints a picture of likely regional career trajectories.
When it comes to helping student veterans manage some of the more personal challenges they may be facing, state and local veteran resource centers can be especially valuable. In fact, there are more than 40,000 veteran service organizations in the United States, and they, too, can multiply the impact of their missions by connecting with you.
Amy shared too much to capture in one article, but the good news is you can catch up with her at our annual conference. She'll be offering a preconference workshop called PLA and the Military-Connected Student. The full-day event will cover national and regional best practices for serving student veterans, how to become a student veteran advocate on your campus, strategies for assessing military prior learning for academic credit, understanding and evaluating the JST and Community College of the Air Force transcript, and navigating the ACE military guide. Whatever end you have in mind, we hope to help you forge new beginnings in November!
Author Perspective: Association
You Might Also Like