The Importance of Collaboration in Competency-Based Education Programs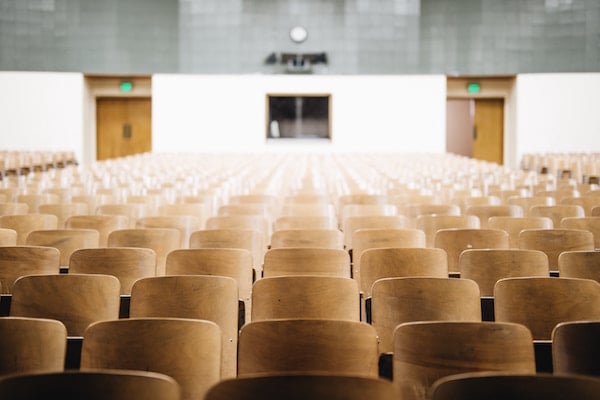 Call it self-paced. Call it time-fluid. The essential characteristic of competency-based education, or CBE, is that
learning
and its demonstration are prioritized over
time spent
learning. Whether the CBE program is course-based or direct assessment, what unifies CBE is that it gives learners greater control over their schedules while ensuring all required skills and knowledge areas are demonstrated.
Just because CBE learners need not adhere to calendar-driven assignment deadlines does not mean they are learning alone. Collaboration with peers and faculty is essential in any higher learning setting, and it can be done just as frequently and effectively in online learning environments. Yes—even in CBE or any self-paced online learning environment.
When describing CBE to the uninitiated, I try to bring their imaginations into a setting with which many are familiar: the brick-and-mortar classroom.
Imagine you're a student.
You walk into a classroom on the first day of the semester. You approach your chosen desk, and there sits a thick, sealed envelope. Looking around, you see that each desk has its own envelope.
Your professor approaches the podium and speaks.
"On your desks, in that envelope, you will find your syllabus along with all materials and assignments for the term. In it, you will even find your final exam. Since many of you are adult learners, we respect the fact that you are bringing a meaningful amount of life and workplace experience to this classroom. As such, you are free to begin these assignments whenever you'd like. We'll be meeting for classroom learning and discussion each week so you can ask the big questions and collaborate with your peers. You'll also have access to videos and other media to help you learn more whenever you'd like. Some of you may finish all of your work within a few weeks; for others, it may take you the whole term. In this class, we prioritize your learning and how it's measured more than the time spent. Show what you know, as soon as you know it."
This is competency-based education (CBE). Or, at least, one form of it.
Show what you know as soon as you know it. Not when the designated due date arrives; not when the calendar dictates; but when you—the learner—are ready.
Considering Student-Faculty Interaction
Now, imagine you're a faculty member.
All of this sounds great for the learner, but what is the experience like for the faculty member in this CBE class? How can you present new content, engage in rich group dialogue and assess learning when students are moving at their own pace? What if half of your class moves faster than the other half?
These are all tricky questions faculty are faced with. It's unsurprising that the common critique targeted by CBE skeptics has been a perceived loss of student-to-faculty and student-to-student interaction.
As the Competency-Based Education Network's Quality Principles and Standards for Competency-Based Education Programs state, CBE programs must be "sufficiently resourced with faculty and staff to meet the needs of the learner." Additionally, courses must provide students with "opportunities for engagement with peers, faculty, staff, and employers, who reflect the diversity of the learner population."
Within these parameters, schools are faced with implementing an effective program that serves the needs of students.
Student Data and Expansion to New Credentials
When Rasmussen College first launched its Flex Choice® CBE program model in 2016, we saw the potential benefits this format could afford for all learners—particularly for adults who bring some level of work and life experience to the classroom. We were also aware of how important faculty preparedness would be. Now, nearly two years later, we have learning data and student feedback that confirms this potential and can guide future program development. With this data, we have initiated the process of expanding Flex Choice® CBE to new credential levels, including associate- and graduate-level programs.
(Want to see one of our Flex Choice® CBE courses? Check this out.)
A Rasmussen College learner focus group provided their feedback regarding their CBE experience. Notably, students saw great value in their faculty involvements, as evidenced by the following:
All students identified live faculty classrooms as the most valuable tool in their CBEs.
All students were satisfied with their level of interaction, citing availability of faculty, quality of ONL+ and open discussion space.
All students reported emailing, calling or texting faculty; all generally received responses within 48 hours, and typically within 24 hours. One even said, "Teachers are always available."
An Unbundled Faculty Model
This positive student feedback can be attributed to our amazing faculty, and also to the careful consideration of how the faculty role actually operates day-to-day, combined with continual dialogue, feedback and implementation.
Many CBE programs, including the Flex Choice® programs at Rasmussen College, feature what is typically called an unbundled faculty model. This means the job of instruction and dialogue is held by one faculty member, and the job of assessing student learning and grading assignments is held by another. The reason for this model in CBE is twofold:
Given the self-paced nature of CBE, the instructional faculty will almost certainly spend more time lecturing and facilitating dialogue since students do not follow a prescribed pace. Not being responsible for grading and assessment allows more time for student interaction.
Since assessment faculty don't interact with students beyond feedback on their assignments, the possibility of personality bias is reduced and the objectivity with which learners' projects are graded is increased.
At Rasmussen College, we began this extended dialogue with faculty two years before our CBE programs began enrolling students. To this day, we hold a CBE faculty meeting weekly to discuss CBE in an open and safe space. Attendees may include curious faculty members, and veteran CBE faculty and administrators who are still unsure about this movement. Continuous feedback and implementation has been critical to growing our own CBE model.
We Are Committed to Both Quality and Innovation
As Congress looks to rewrite the federal Higher Education Act, CBE program leaders must recognize the required tenets of these quality programs and advocate for their inclusion in every CBE model. This will help protect current and future academic innovation and ensure that students of all backgrounds receive the faculty interaction they need to be successful.
Now is the time to begin your own dialogue on CBE. Read Amy Laitinen's pivotal "Cracking the Credit Hour" and check out the materials on the Competency-Based Education Network's robust CBE bibliography. Learn more about Journal of Competency-Based Education. The more we understand what CBE is trying to accomplish, the richer the dialogue will become.
CBE is intended to be a high-quality pathway to higher learning for some college students, particularly adult learners. The more we learn and candidly discuss how quality CBE programs change learning and assessment, the better we can guide our students and respect the knowledge they bring to our classrooms.
Brooks Doherty will be speaking at the upcoming CBExchange conference, hosted by the Competency-Based Education Network. The conference runs September 25 to 27 in Orlando, FL and you can learn more by clicking here.
Author Perspective: Administrator
You Might Also Like