Webinars Are Better, But Not Yet Best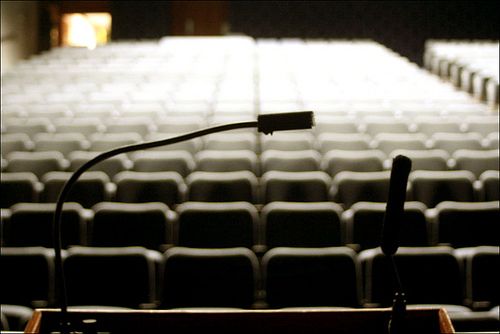 From my sunny office in San Diego, I checked into the happenings at CLO's spring conference in Miami. I did this by tracking the twitter stream, #closym. One tweet grabbed my attention. A researcher reported that the keyword, webinar, was searched more often than the keyword, eLearning. Think about that. People are seeking information about webinars more often than they are drawn to eLearning.
A few years ago, Colleen Cunningham, Antonia Chan and I examined the webinar phenomenon. The article, published in CLO magazine, had this snarky title: What Stinks about Webinars. It traced Colleen and Antonia, graduates of the SDSU EDTEC program, as these new graduates sought to continue their professional development via free webinars. The two webinar addicts worked with me to look at the webinar from an instructional design perspective.
That was the problem we found then. Most webinars paid scant attention to instructional design. Consider what you have seen or done recently. Is this true of webinars today?
Their purpose is sales and marketing, not learning and performance. First and foremost, it's buy our LMS. Appreciate the way we do leader development. Come to our conference. These are not evil purposes. They are fine. And for the audience, it's not a bad way to look into an idea or vendor. But the webinar in and of itself is a skimpy way to develop yourself to be a better decision maker about, for example, alternative approaches to leader development or the pros and cons of mobile learning for your organizational strategy. Expect that, for the most part, the position taken in the webinar is going to be positive. Do it. Buy it. Try it. Go for it.
They succeed by casting a broad net, not focusing on narrow, tailored needs. Webinars are about numbers, big numbers. The offerings for our community are constructed to attract many workplace learning professionals. That leads to Mobile 101, ID Basics and Five Steps to Better Sales Training more often than advanced, textured, targeted or controversial offerings. While savvy learning and development professionals labor to customize programs for particular needs and opportunities, webinarians go large.
They are about telling, not reflecting, doing or collaborating. The visual tells the tale. An authority presents, the audience receives. While polling often transpires, the polls tend to the demographic or superficial. It is the rare webinarian who thinks long and hard about how to help attendees work with these ideas and make them meaningful in their organizations. Some grisly webinar tales involve one-way communication, isolation and inactivity. Although hundreds may be gathered online for the event, only sometimes are you permitted to see who is there and to get in touch. One famous author chastised attendees about not paying sufficient attention, although attendees were never sure how he could be certain of their misbehavior. Projection? Just like face-to-face instruction, if you want attention and engagement, you have to design it in.
They are one and done, not systems that reach into the workplace to educate, support or inform. The webinar is what it is, a scheduled moment in time, sometimes available afterwards as an archived asset. Most webinars are popular because of this very limitation. They make a small promise and demand little or nothing of participants. You want to know about ice breakers or mobile performance support, well, here's 55 minutes about it. You don't have to read prior and you won't have to read afterwards. No homework, collaboration or ongoing relationships. That's a selling point AND a critical weakness. Let's call it a small investment for a puny return.
Antonia Chan, now an experienced Instructional Design Consultant for Amway, responded to my inquiry about what she now thinks about webinars, four years after we wrote the stinky webinar article.
"I feel, overall, that webinars have gotten better (or perhaps I have learned to pick better?) Here is what I am seeing:
Delivery: Organizers are opening up more interactive features! Presenters are talking more to the audience, they read/laugh/comment about what's happening in the chat, they provide contact information so attendees are able to follow up with them.
Content: There is a great variety of topics, and many are of current interest. Not the same old, same old. I have left webinars feeling that i have learned something new that i can share with my team or use in a project.
Marketing: I have found the names/titles of the webinars to be more accurate regarding what will be covered. In the past I was often disappointed with webinars I registered for because they did not meet my expectations . (Advice: Keep webinar's name catchy and be clear about the content. For example, if you use "new approach" in the title make sure it is really a new approach you are going to be talking about.)"
Antonia delivers some good news. Should I recant? I think not quite yet.
Is the situation different today? What is your experience with webinars?
I think that webinars remain, for the most part, as I described them above. They are limited in what they do and deliver. ELearning, on the other hand, is not limited. ELearning is various, with webinars, in fact, serving as one form of eLearning. Jim Marshall and I studied this, asking the question, when workplace learning people are doing eLearning, what are they doing? Are you delivering via scenarios? Assessments? Personalized learning? Mobile? What about performance support? And webinars, too? Are you blending several strategies that boost learning and also provide support, as needed? While webinars typically rely on a single uni-directional experience, and present as the main event, eLearning offers many ways of educating, assessing, guiding, and supporting.
Webinars remain popular with their takers and their makers, and are perhaps now beginning to approach their potential. This will happen when the makers pay intense attention to design, systems, and the value participants take away from the event. The best webinars put the audience first– before, during and after.
What of our expectations? How often do we sign up for one and skip it? What of those who collect snail and email to read while tuning in? Are your moments in webinars perfunctory? Why should webinars deliver more and better when we expect so very little?
Originally posted by Allison Rossett.
Author Perspective: Educator
You Might Also Like