Secrets of Self-Taught Videography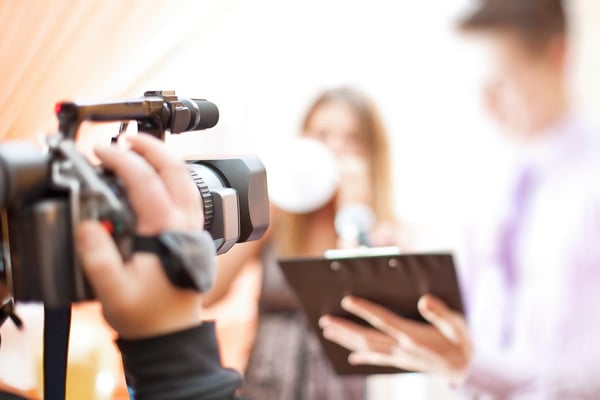 There are a lot of sketchy articles out there on how to produce online video. This is probably one of them.
Like you, we are not professional videographers. We're designers, writers, and marketers who are picking up video as we go along. If you're following that same "self-taught" road, our experience might help you avoid a few potholes.
Is video really that important?
Yeah, I know. We've got a lot on our plates, too, but online video is ubiquitous and expected, particularly for an investment like professional education, which is both complicated and expensive for students.
These stats reflect the media habits and expectations of our current customers
Among online video viewers, 25-34 year-olds are the most voracious viewers of Web videos, averaging more than 31 hours a month (MarketingCharts.com synopsis of Nielsen data, 2012). While this reflects the use of Hulu, streaming Netflix, etc., it clearly shows the desire among members of this demographic for online video.
So why is video so important and effective? It allows you to connect with—and compete for—students in ways that email, AdWords, and brochures can't. Video can add a "human" touch to your school or program. You can demonstrate course content and the student experience. Further, video allows you to convey benefits in a way that's personal, genuine, and convincing. Video provides a unique opportunity to set your school or program apart. With all those advantages, it's hard not to make the investment.
So, how do you get started?
Equipment: The Basics
Producing video requires some investment, but it doesn't have to be crippling. Our initial equipment consisted of:
Basic video camera
Lighting kit (two light stands, an umbrella, and a big piece of white foam core to reflect light)
Tripod
Clip-on lavalier mic (buy extra clips — these get lost more often than my dad's car keys)
Editing software (Final Cut Pro or Premiere)
An extension cord
We've upgraded to a high definition camera (which we share with two other units to split the cost), but other than that we're using the same equipment we started with.
Editing video is an extremely memory-intensive process, so buy the most powerful machine you can beg your boss to fund. The difference between a slow and fast machine is very, very noticeable.
The Six P's: Proper Preparation and Planning Prevent Poor Performance
You can "wing" a lot of things in marketing, but video isn't one of them. A little planning on the front end will be very noticeable in the final production. Key areas to consider include:
Write a project overview

– What are you trying to accomplish? Who is your target audience? What key messages do you want to convey? Is video the right medium for conveying those messages? The answers to these questions will shape the structure of your project.

Prepare for interviews

– Write interview questions that prompt the responses you're looking for. I try to imagine the perfect sound bite – a concise, genuine response that nails a specific point I want the video to make — and ask questions that drive the subject in that direction.

Get to know the people you're shooting

– Before the day of the shoot, spend a little time talking with the subject to learn how they present themselves and develop a comfortable rapport. I don't send questions to the subject in advance because I want their responses to be real, not scripted (some people disagree with this approach, so do what feels right to you).

Location, location, location

– Know where you're shooting and be prepared to light the subject and control sound accordingly. If you're shooting outdoors or in a space with windows, consider how the time of day will impact your lighting, shadows, and ambient noise levels (there's nothing more frustrating than having a great take ruined by a door slam).

Check your gear

– Make sure you have extra batteries! And bring bottled water for the person you're interviewing.

Release forms

– If your campus doesn't already have one, develop a photo/video release form and keep them in your camera bag, back pocket, glove compartment . . . everywhere. Forgetting to secure a signed release form is a huge, preventable inconvenience.

Develop your distribution plan

– Since you're going to all the effort to produce a video, make sure potential students see it. Before you start shooting, draft a quick list of how you'll promote the video. Be as comprehensive as possible (email, website, catalog, direct mail, social media…), including campus media outlets if appropriate.
B-roll and music
If you only take away one thing from this article, let it be this: You can never, ever have too much B-roll.
B-roll—secondary footage used to cover sound edits, illustrate the voiceover or just add visual interest to your video—is often the difference between a compelling promotional piece and a two-and-a-half minute talking head. Interactive classroom footage, stock video, and even animated still photos can all serve as effective B-roll.
Music is another essential tool that adds energy and polish to your video. Tons of royalty-free music is available online or through your video editing software, so it's fairly easy to find a clip that matches the tone and feel of your video. In conjunction with B-roll, music provides a break between content that will improve the overall flow of your video.
Final tips and techniques
Don't interview people in swivel chairs. Nervous subjects tend to fidget and they'll constantly rock back and forth in swivel chairs.
Short is better than long. Work with your subject (particularly academics) to keep things conversational. Don't be afraid of sentence fragments.
Ask subjects to speak slowly and pause between sentences. This will give you the breaks you need to edit out 10 seconds of great footage from 45 seconds of clutter.
Run the camera constantly. The best footage we typically get is when the subject thinks the interview is over and they're just chatting.
If your subject says something you like but it's too long or they stumble, ask them to repeat the key point.
Take advantage of the medium. Look for shots and moments that are emotional and real. Don't just describe your classes—describe the benefits, and the impact they have on students' lives.
Video examples
Your videos won't all be the same. Let the subject matter drive the content you produce.
Tell a story – Kitchak Cellars video
It's a video, not a brochure. So tell a story. In this example, we profiled one of our Winemaking certificate program students, Peter Kitchak, and his winery. Potential students can see their dreams in his story, and our Winemaking program is positioned as a way to help them realize those ambitions.
Sell your brand – "Dream Big" and "Embrace Tomorrow" commercials
Video is a great medium for selling the unique benefits of your brand. These commercials (for our local public television station) promote UC Davis Extension as a source of opportunity and empowerment.
The power of emotion – Autism Certificate Program promo video
Emotions play a significant role in purchasing decisions, and nothing can help you create a connection with potential students like video.
Creative testimonials – UC Irvine Extension Paralegal program video
I'm calling out this example from a sister campus, UC Irvine Extension, because, along with Paralegal student testimonials, they also featured employers discussing the reasons they hire students from the program. This is a simple twist, but one I thought was highly effective.
Demonstrate course content – Brewing short courses and "Educating Your Palate – With John B."
With video, you don't need to tell students what they'll learn in a course. As these short promos for our Brewing Basics and Sensory Evaluation of Wine courses illustrate, they can see for themselves.
The "free sample" – Health Informatics Program course sample
Consider using short course "samples" to allow students to experience the format and content of your online classes.
It's not stealing. It's "paying homage."– International English Program video
We borrowed about 50% of the footage (and 100% of the concept) for this video from our partners in campus undergraduate admissions. We were both targeting international students, so why reinvent the wheel? Whether you work with campus for complete footage or just occasional B-roll, don't overlook the Mothership as a resource.
Final Disclaimer
We're still learning this video thing. I cringe when I watch the videos we produced two years ago and two years from now, I'm sure I'll cringe at the projects we're working on today. Bottom line, there are a thousand ways to do video. This is just how we stumbled into it. Do what works for you, but don't feel you can't produce video because you lack the time or skills or resources. You can do this. Seriously.
Share your videos! Email me, I want to see them! Post links in the comments.
Author Perspective: Administrator
You Might Also Like