Personalization Key to Attracting and Retaining Swirling Students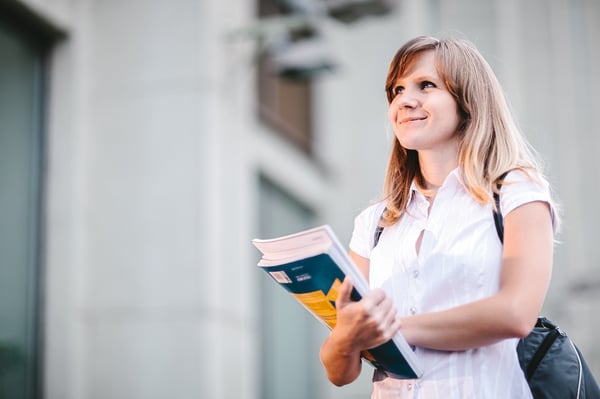 Administrators across the non-traditional educational space have known for years that our demographic has very unique needs and demands. One group that's been growing in numbers over the past 10 years are the so-called "swirling" students: those who stop in and out of institutions, gaining credits as needed, on the way to earning a credential. A 2012 report found that one-third of graduates transfer institutions at some point during their educational career.[1] And, this doesn't even encompass all the students who transferred without earning a credential during the report's research window.
So, what does it take to succeed in an environment where increasing numbers of students are swirling?
The Challenges of Serving Swirling Students
Some of the significant challenges that face schools in seeking to retain swirling students relate to the need to maintain multiple points of contact that provide students with high-touch responsiveness. This means that from the moment they express interest (or renewed interest) in us we want to be sure that they have an experience of personalized attention.
For some this begins before they even know that they are interested in our offerings by attracting them through personalized marketing content. Once they show interest, we need to offer them opportunities for real time connection and then be proactive in communicating with students as they begin an application. Then, once they are accepted, we need to provide multiple means for them to connect with their program and encourage their success through advising and dedicated faculty and staff. This entails having advisors and faculty who are sensitive and responsive to the needs of a diverse student body, which requires flexibility.
Successful schools will be able to evolve their schools' personal and programmatic flexibility. Importantly, students will experience first-hand a customized approach when they interact with staff and faculty who understand student needs and who seek to work with students relative to the many demands on them (for example, full-time and part-time employment, family schedules and obligations, child-care, financial need, health issues, etc.). Students will experience flexibility secondhand through programs that are designed (and, over time, redesigned) with the challenges they often face in mind, e.g., attracting them through credentials and offerings that can be stacked into certificates which can then be rolled into a degree later on.
Having current and emerging technologies at the disposal of faculty and students is also necessary in order to create flexibility. Programs that focus on varied means of program delivery that allow students options for learning—whether on-line, hybrid or in-class—have been shown to aid in retention. However, this can also present a challenge if not carefully thought out, i.e., it is important to get students and faculty comfortable with this mode of learning and equally important to communicate regularly with them to make sure that this means of connecting does not become impersonal. The risk of this a type of alienation and distancing for students and faculty the may contribute to more swirling.
The Impact of Swirling Student Drop-Outs and Transfers on the Institution
One component of the swirling student phenomenon that is not always fully appreciated is the impact they have upon the budget, which ultimately affects many dimensions of the school. Analyzing the bottom line, students who drop out or transfer to another institution affect their former institution's ability to generate the revenue needed to carry out their educational mission. If revenue loss is significant enough it may impact the overall viability of the college or school within which the program is housed.
In a less dramatic fashion, loss of revenue impacts planning and scheduling. The number of courses that can be taught in a given semester are dictated by these courses attracting a minimum number of students per class in order to run a financially sustainable course. If a class is cancelled then the professor is unable to teach and if this happens regularly, it can impact the ability to maintain and retain experienced and strong faculty. Cancelling courses can also have the effect of creating concern in students as to when and if they will be able to fulfill degree or certificate requirements. If the concern is persistent, then other students may opt to drop out or transfer.
In addition, if the swirling students are not replaced by new admits the ability to engage in appropriate planning for the overall program is impacted. Unfortunately, if issues like this continue for a protracted period, then the viability of various programs or majors becomes questionable. These financial concerns can also impact the ability to project appropriate staffing and other resources needed to run a successful and attractive program.
Supporting Retention of Swirling Students
Creating a more robust form of admissions has allowed us to identify students who will be most successful in our programs. For example, identifying students early on in the admissions process who may need extra support allows us to help them chart successful plans of study. If a student is weak in a certain area, they can be directed to appropriate pathway programs. If they are unsure of themselves or the college experience, helping them to choose relevant entry-level courses in various fields can offer them the experience of success that then begets further success and a strong desire for completion.
For those who are in the enrollment funnel and moving toward graduation we have found that it is the high-touch advising—along with encouragement from peers and faculty—that make it much more likely that they will earn their degree from the same institution.
As such, providing opportunities for students to meet with advisors and faculty each semester—both formally and informally—has had an important impact on retention and successful matriculation. In addition, regular benchmarking efforts exploring best practices in the field allow for the consideration of the multiple variables such as appropriate tuition rates, acceptance of transfer credits, number of credits granted per course and so forth that assist schools in remaining competitive in these markets and in student retention.
Finally, working to ensure that students have credentials that employers want is very important to student retention. Thus, initiating and maintaining healthy business-to-business (B2B) relationships is vital. This demonstrates in a practical way that the student's degree has meaning in the workplace. Through these strong B2B relationships—especially ones in which some courses are taught by industry professionals who not only impart knowledge based upon experience but also provide students connections to business—strongly encourages them to see themselves in that industry and inspires them to complete.
Ultimately, institutions that demonstrate the kind of personalized approach that students don't just hear about, but experience, will be most successful in engaging and retaining swirling students. This happens in a variety of ways, from high-touch advising to dedicated and understanding faculty who demonstrate that they appreciate the importance of flexibility to student-centered and responsive programming to staff who are friendly and receptive to the many different needs of the students. Of course, part of this personal approach also includes assisting students in understanding and applying for financial aid as well as providing extra financial support in the form of scholarships, which will have a clear impact on retention. Over and through all of this, open, clear and regular communication with students and faculty from the administration is an essential aspect of personalization that helps students orient and navigate their educational experiences, contributing to a greater investment in completion.
– – – –
References
[1] Jennifer Gonzalez, "A Third of Students Transfer Before Graduating, and Many Head Toward Community Colleges," The Chronicle of Higher Education, February 28, 2012. Accessed at http://chronicle.com/article/A-Third-of-Students-Transfer/130954/
Author Perspective: Administrator
You Might Also Like