How to Thrive as an Education Provider in the Learning Economy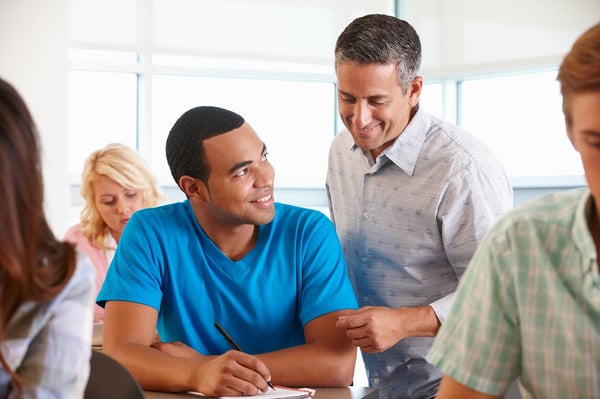 Over the past decade, we have shifted rapidly from what Peter Drucker characterized as a "knowledge economy" to what is more accurately described as a learning economy — a dynamic, evolving environment in which individuals must continually invest in their personal and professional development.
This shift represents a tremendous opportunity for adult education providers, but thriving in the increasingly competitive market for lifelong learning requires that providers embrace three major changes:
1. A move from transactions to relationships
The traditional approach to the lifelong learning market has been to assemble a course or catalog of courses and then sell them to as many students as possible. In the current market, there are some obvious problems with this approach.
First, because of what the Web now enables, it's easy for almost anyone to put together a course and promote it. Competition is growing, and it's as likely to come from the other side of the country or the world as it is from across town; from a solo subject matter expert as from a large organization.
Next, in many cases, very good courses or "course-like" options (think: TED, for example) are available for free or at very low cost. How will you stand out? How will you win the transaction battle in an increasingly competitive and noisy marketplace?
Finally — and most importantly — one-time interventions are rarely enough these days. The learning economy demands that people learn continually. Some of that will happen in classes, but most of it will happen much less formally through, for example, Web searches and social networks.
If you aren't engaging people in these less formal spaces, thinking of the potential fourth or fifth class when you sell the first class or building relationships, then you aren't building a fan base of people eager to participate in your educational offerings. Without relationships, you simply roll the transactional dice every time you put out a catalog.
2. A shift to an extreme focus on value
Yes, extreme. I have a colleague in the blogging world who argues that every post you put onto the Web needs to be "insanely useful." People come to expect that from the best blogs — which are completely free. Imagine what they will expect from the classroom!
A focus on value suggests a need to understand your market and the needs of your learners better and more deeply than ever. (As it happens, building relationships is one of the key ways to do this.)
It also suggests that what gets delivered in the classroom has to really stand out. Not just the content, important as that is, but the also the delivery and overall experience. Remember, free dominates on the Web. Whatever you charge for has to be exceptional.
Ironically, this means you're probably going to have to give a lot away to convince people that what you hope to charge them for is really of exceptional value.
This may mean, for example, blog posts, videos, or Webinars that deliver practical learning value and set the stage for more in-depth experiences. As John Jantsch, creator of the highly-popular Duct Tape Marketing brand argues, organizations need to learn from successful Internet marketers: You have to offer free that is better than most paid.
3. Clear demonstration of impact
Building on the concept of value, I believe it is going to be increasingly important for continuing education and professional development providers to demonstrate impact.
By "impact" I don't mean that "x" number of students attended, or completed, or received a certificate from a particular program. Nor do I mean that they filled out post-session smile sheets that give the course or instructor good ratings.
I mean that the program actually resulted in a meaningful change in their performance over time.
Employers that fund continuing education experiences are increasingly going to expect that these experiences actually "move the dial." Learners who have to invest their own time and money will expect the same.
This means more longitudinal evaluations. It means more controlled studies of retention and application. It also means more monitoring of the Web to see what you customers are saying about the quality of the learning experiences you offer.
Work that is worth it
If all of this sounds challenging, it is. But I also think it means the bar for lifelong learning is being raised dramatically — and that, in my opinion, is great news.
Organizations have more opportunities than ever to build deep, and truly lifelong, relationships with learners. This is an opportunity not only to educate, but also to lead the industries, fields and communities you serve. We are in the midst of what I see as a veritable revolution in the market for lifelong learning. Organizations that embrace the changes I describe here will position themselves well as leaders of that revolution.
To learn more about how institutions can adapt to the new higher education marketplace, check out Cobb's most recent book, Leading the Learning Revolution was published by AMACOM in January 2013.
You Might Also Like