The Power of Partnerships: How to Transform the Future of Work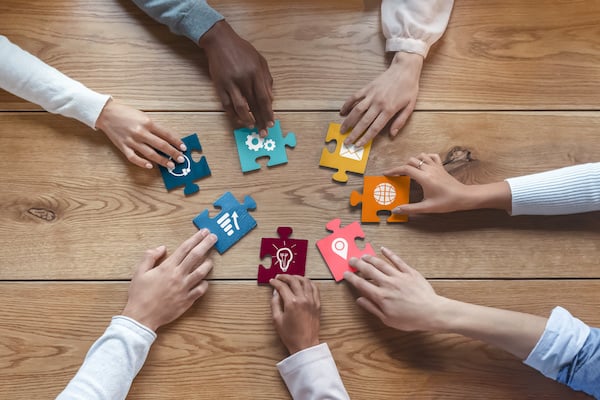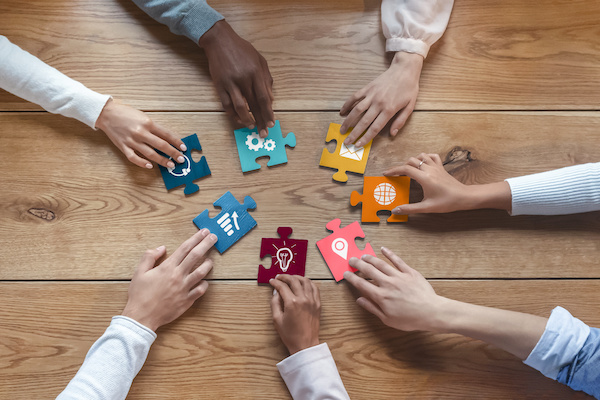 As the talent gap continues to grow, it has to be addressed by higher education. In order for higher ed to meet the needs of workforce, there has to be collaboration. In this interview, Sarah DeMark discusses the importance of preparing for the future of work, how to be innovative in this new era, and how partnerships are key to closing the talent gap.
The EvoLLLution (Evo): How would you describe the current landscape of higher education when it comes to preparing students for that future of work?
Sarah DeMark (SD): There are a lot of opportunities for improvement and innovation. Many universities struggle in terms of what the future of work means and how to translate that directly into programming and credentials. Higher education needs to better partner with employers to dive deeper into the specific competencies and skills that individuals need to be successful in their intended careers, for both the short- and long-term. But some universities are struggling with how to do that.
Western Governors University was created to reimagine traditional educational models to better prepare learners for the workforce. It is part of our overall DNA. Since our founding, we've worked to create programs that are mapped directly to workforce needs. We have built that into our decision-making around programming, portfolios, and design. The current landscape beckons us towards an evolution for higher education and student success.
Evo: Why is it important for higher ed leaders to start focusing on innovation when it comes to the modern learner's journey?
SD: There are several forces in play that will provide a forcing function on innovation in higher education. First is the real and perceived gap between the skills that individuals are learning and the skills that employers are looking for. Higher Ed needs to create stronger partnerships with employers to better understand these needs – either through direct relationships and/or the use of employer data.
In addition, we need to help students better understand and articulate their skills and the value of those skills. We need to help these students speak the skills-based language of employers, as many of their key skills remain hidden. Second is the growing decline in degree attainment due to frustration regarding the return on investment. Clearly tying degrees, and all credentials, to job skills and workforce need will help individuals make the right decisions on credentials that meet their career goals.
In addition, allowing students to surface the validated skills they have been achieving along the path to their credential will help provide early value to those individuals. Additionally, we are seeing that employers are becoming increasingly more open to hiring individuals without a degree into careers that once demanded them. This will push institutions to come up with more innovative models as we see many employers replacing degrees with their own employee training programs or with industry credentials.
Evo: What are the challenges to becoming more strategically initiative when providing skills-based education and hiring ecosystem?
SD: Fortunately, there are some great data sources for understanding the skills that employers need today. And these are a great place to start. However, predictions on future skills trends are a challenge. To create resiliency and sustainability, we need to find the balance of providing the skills that individuals need to be successful today with the needs employers will have in the future. Conversations between education providers and employers are critical. Engaging with employers, councils, industry experts, and alumni is a must to determine these answers.
An additional challenge is that standard definitions around skills, competencies, and credentials do not exist. This is currently causing a lot of confusion in the market for individuals, education providers, and employers. Creating an ecosystem around a common approach to definitions, data, and protocols will be critical in making these skills-based components truly work together.
Evo: How can higher ed leaders start transforming the institution towards the future of work?
SD: Getting involved in the Open Skills Network (OSN) is a great way to start. The OSN is a coalition of nearly 2000 individuals and organizations, comprised of education providers, employers, associations, technology connectors, and workforce development organizations– all committed to creating an open skills-based ecosystem.
Part of the work of the OSN is to promote standardization and best practices around skills to support interoperability across the skills ecosystem. The OSN provides resources for institutions at all points along their skills journey to reduce barriers to adoption of a skills-based ecosystem. For example, as part of the work we have been doing at WGU, we are publishing our entire skills library of over 20 thousand skills and have curated them into job-focused skills collections. (link to OSN and/or skills libraries here)
Evo: What are some of the trends that you expect to see over the next five years when it comes to future of work?
SD: The future of work will move beyond degrees as the main qualification. Skills are becoming the measurement of value for students and employers. Employers are going to compel education providers to better equip individuals to meet their needs and to provide credentials that are more transparent with underlying skills. We continue to see more employers moving away from degree requirements and opening their doors to individuals with validated skills and microcredentials. Higher education needs to continue to deliver value and innovate to meet learner and employer needs.
Right now, the skills-based education and the hiring systems are working in silos, and they must align to maximize effectiveness. We need to create a seamless ecosystem with standards, practices, and a common language around skills. We're going to start to see these places and pieces come together in a fantastic way. It is a skills-based future.
Evo: Is there anything else that you'd like to add about the future of work?
SD: Learners need to know what they're spending their time, effort, and money on. Consider the trend of microcredentials and their proliferation. Microcredentials are a great option to add value as a learner in a new field or to an individual upskilling in their current field, but they are unchecked. We've seen the reports of the credential marketplace ballooning to over a million credentials. How is anyone going to make sense of that chaos?
From a learner perspective, how do they decide between two credentials with the same name? And for employers, how do they decide which credentials to trust? We'll see credentials that will waste time and money and have pathways to nowhere. At WGU, we require that every credential begins with industry value. We believe that "a microcredential with no employer value is a scam." Embedding verified skills into all credentials adds value and transparency to both learner and employer. It is critical to keep in mind our role as servants to the students and the trust and integrity they require. The future of work hinges on transferability, translatability, and transparency.
This interview was edited for length and clarity.
Author Perspective: Administrator
You Might Also Like