Author Profile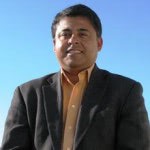 Jose A. Rodriguez | Assistant Dean in the School of Education, American Public University System
Current Position and Past Experience
Jose A. Rodriguez is the Assistant Dean of the School of Education at the American Public University System. He also is also the Director of APUS's Educational Leadership Program

Prior to this, Rodriguez as Senior Program Development Manager at Western Governors University and as district curriculum developer and school administrator in Washington State.

Education, Honors and Achievements
Rodriguez received his B.A. from the University of Texas-Pan American. He earned his Master's Degree from Texas State University in San Marcos. In 2009, he completed his Doctor of Education in Educational Leadership and policy Studies from the University of Washington.

Personal Details and Community Involvement
Rodriguez tries to keep up with many educational trends and tries to involve himself in helping support school teachers and administrators, particularly with the new realities that Common Core brings.
Articles by this author: