Author Profile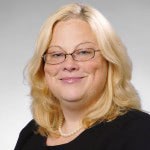 Jo Lobertini | Dean of the Adult and Graduate Studies, Clarke University
Current Position and Past Experience
Jo Lobertini is currently the Dean of Adult and Graduate Studies at Clarke University. This follows her time as Dean of the College of Adult and Professional Studies at Friends University. Prior to this, Lobertini was the Assistant Dean and Chair of the School of Continuing Studies and Academic Outreach at East Tennessee State University.
Education, Honors and Achievements
Lobertini earned her BA from the University of Tennessee, and her MA and EdD from East Tennessee State University. She created the Renaissance Kids Camps summer program at East Tennessee State University, which won the best non-credit program award from the Tennessee Alliance of Continuing Higher Education.
Personal Details and Community Involvement
Lobertini is married to Paul Mareth, and has two children, Leland and Emily Davidson. She is an avid science fiction reader, enjoys opera, and hopes some day to live on a beach. She has served on several community boards, including a women's crisis center, a Head Start preschool, and a youth leadership program.
Connect
Lobertini can be reached on
LinkedIn
or on Twitter
@JoLobertini
.
Articles by this author: