Author Profile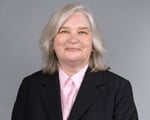 Janine Janosky | President, City Colleges of Chicago Richard J. Daley College
Current Position and Past Experience
Janine Janosky is currently President of City Colleges of Chicago—Richard J. Daley College. She has over 30 years of experience in higher education and biomedical innovation; serving in executive leadership positions in higher education as well as businesses. President Janosky is an expert in developing and implementing programs and initiatives and higher education strategic directions, including leveraging public-private-philanthropic partnerships, specifically workforce and job readiness programs and stackable academic credentials.
Prior to joining Richard J. Daley College, she served in a number of faculty and executive leadership positions at institutions of higher education and non-profits as well as being the founder of a for-profit company. President Janosky's leadership has been broadly impactful. Specifically, her national model for public-private-philanthropic partnerships was recognized in Forbes and earned her a United States White House Champion of Change. She has been honored by a number of other state and national awards throughout her career.
Education, Honors and Achievements
Janosky holds a doctorate in educational research methodology from the University of Pittsburgh, a master's in psychology from Marshall University, and a bachelor's in psychology from Duquesne University.
Personal Details and Community Involvement
President Janosky serves in a number of board leadership roles including the Dispute Resolution Panel for Medical Devices, the United States Food and Drug Administration, and as the Past Chair and member of the board of ATHENA International, and many more. She has authored or co-authored more than 175 biomedical peer-reviewed publications, published a scholarly book, and has secured as a Principal Investigator or as a Co-Investigator on more than 50 federally-funded grants and contracts.
Connect
You can connect with Janine
LinkedIn
Articles by this author: