Staying Top of Mind for Adult Learners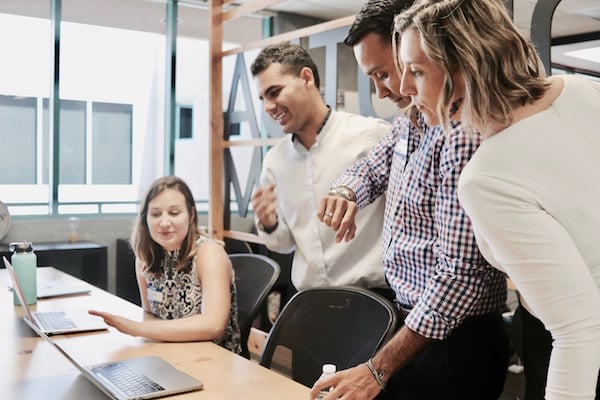 Demographic challenges are changing the face of higher education. With traditional-aged students on the decline across North America, colleges and universities are increasingly turning to adult-focused programming as a means of growing enrollment.
It's an audience that Fielding Graduate University has been serving since its founding in 1974. In this interview, Katrina Rogers discusses growing competition for adult learners, and points to ways adult-serving institutions can stand out from the crowd.
The EvoLLLution (Evo): Why is there so much competition for adult student enrollment nowadays?
Katrina Rogers (KR): There are a number of factors, but the short answer is that it's a demographic shift coupled with a significant change in the nature of work.
If you look at the national data, it's clear that there are fewer high school graduates than there were 10 years ago. That trend is likely to continue, particularly in the Northeast, the Midwest and the Inter-Mountain West. Taking that demographic shift into consideration, institutions are looking for new student populations outside the traditional college-aged student body. We're also seeing increased competition from other postsecondary institutions: community colleges, Research 1's, liberal arts and specialty colleges, and for-profit colleges. They're all looking at the same market reality.
Compounding this, the decline in public funding has made public institutions much more dependent on tuition revenue. When you're heavily dependent on tuition, you obviously have to bolster your enrollment. If your typical population is declining, you can bolster it through international enrollment, adult learning programs, or both.
Finally, the nature of work is changing, which has resulted in a higher demand for continuing education from adult learners. To remain competitive in the workplace, adult learners are demanding course content that will help them upskill in their current job, switch jobs or survive in the gig economy. People are looking to refresh their resumes in order to go where the jobs are. They want to retrain.
Evo: What are a few key differentiators that are helping historically adult-focused institutions stand out to prospective learners as the market for adult students becomes increasingly crowded?
KR: At Fielding and other like-minded institutions, our faculty expertise with adult populations is our key differentiator. Having a faculty that truly understands adult learning populations makes a real difference to prospective students. Here, everything is structured around the adult learner. All our support systems, infrastructure, advising, admissions, mentoring, library services, research functions—everything is geared toward this one population. We have a highly specialized administrative staff and faculty who understand the developmental stages of adults. From a psychological perspective, they are usually moving from stage three to stage four, meaning that they're starting to integrate their life experience with a knowledge base. Understanding that is key to helping adult students learn effectively.
This is not about maturity in the sense of responsibility—18-year olds can be responsible—but the adult learner is at a different psychological stage in terms of synthesis, knowledge and integration. Our faculty understands that, which helps colleges like ours stand out.
Evo: How can you entice adult learners to enroll at institutions that haven't historically served non-traditional students?
KR: Historically, adult learning at more traditionally-minded institutions has been part of Continuing Studies, but I'm starting to see adult-focused offerings show up more broadly at universities that are trying to attract adult learners.
Some institutions are trying to catch up by offering a flexible learning model—something we at Fielding have been offering for 45 years. A flexible learning model, which can be delivered over distance or through low residency programming, can be very enticing to adult learners at any institution. Fielding allows students in some programs to customize the content of what they learn within broader categories, so that they can take advantage of what they already know and what they personally bring to the subject matter.
In our case, another thing that's attractive to adult learners is that we don't require GRE scores for admission to our graduate school. Instead, we take a narrative portfolio approach to admissions. That's an important feature for adult learners because they often feel daunted by the idea of going back and taking tests.
A generous transfer policy is also very popular with this demographic. If you can honor most or all credits earned elsewhere, that's really important.
Finally, diversity of student colleagues can be a differentiator. More so than their younger counterparts, adult learners look to who else is in the room because they're interested in the whole learning environment. They want to know that they are going to be with students who come from diverse professional, ethnic, religious, geographic and intellectual backgrounds.
Evo: What are some of the central challenges that impact the efficient management and operation of an institution that's serving learners who fall outside of the traditional mold?
KR: One of the central challenges for adult-serving institutions is the infrastructure. First, you need to develop an adult-oriented faculty, which can take a lot of time and effort. Second, you need to make sure you have the right supports built into the infrastructure itself, meaning writing supports, research supports and professional development supports. We're not talking about serving students that are looking for their first professional job. They're not there to retool with a course or a badge. What's challenging for a lot of institutions is having a support system that is broad enough to give everyone what they need, but which also has highly personalized elements. Adult learning needs can be highly varied. You need to have an administration that understands the subtleties of what their adult learners are facing.
This movement towards adult learners is going to become the new reality of higher education. I'm happy to see it, because for education to prosper as a sector, we need to find more ways to make education accessible, affordable and relevant to broader communities. This movement shows that the industry understands there are students whose needs have not been properly addressed in the past. That's what our founders at Fielding were trying to say 45 years ago: You've got to rethink, retool and reconceptualize graduate education.
Higher education might be the only sector left that still has a substantial amount of public trust. It's important that we meet that trust by continuing to diversify our own thinking about what education means in the 21st century.
Evo: How do you ensure the institution is designed to meet students where they are, not just in terms of their classroom and educational experience, but in terms of their administrative experience as well?
KR: The key phrase here is scale. Look at some of the models that community colleges have used to create accessible, affordable education that has relevance to the workplace. Their populations have historically been younger, but they've been able to take the same concepts and extend them to adult learners.
Think of Maricopa Community College system in Arizona. One of the ways they have been able to retain a more diverse audience is by using adaptive learning platforms. Institutions are using technology to better understand their students, and then using that information to help guide the faculty in what they need to do to support those students. As just one small example, I'm teaching an online course right now, and my LMS system can tell me if a student hasn't been to class in a number of days. With that information, I can reach out to that particular student, rather than let him or her fall through the cracks. That kind of technology assist is very helpful to faculty, and enables us to get the scale we need to effectively teach while still offering a personalized experience to students who need support. To my mind, it helps make the system adaptive to individual needs while still providing the broad framework to all of our learners. That's what I mean when I talk about the broad frame: The whole curriculum has to be accessible to everyone, but you've got to be able to offer personalization within it.
The key, though, is to train your faculty to philosophically embrace the mission of serving adult learners. And that's harder. That's a cultural shift. You can't be successful if you don't get that cultural shift.
Evo: Do operational and management efficiency make a difference to the student experience?
KR: I think so, because our services are designed to support students as adult learners. For instance, we have transfer students with gaps in their education; we have returning students who may not have educational gaps but who've been out of the postsecondary system for a long time. They all have unique needs, from financial aid to course scheduling. Over time, we've developed a staff that is really experienced at meeting the specific needs of non-traditional students.
Say you recruit 1,000 adult learners for your September class. If your staff doesn't understand what those students are facing, not only will you have a high attrition rate but the students will notice that they're not being heard, understood, seen or acknowledged. That kind of support is critical.
If you're a campus-based program, the importance of providing child care, easy access to transportation or flexible class times is critical if you want adult populations to attend. Over the years, I've seen institutions make some pretty big misses in that regard. Institutions can't attract these learners, and then not serve them properly.
We also have to remember that the non-traditional student desires a return on the investment of his or her time and financial resources. People pursue education for personal and professional growth. Education serves a public good, especially in a highly technological world, because the more we can educate our citizens, the more they can engage in the economy and be happy adults. Surveys tell us that people who go to college tend to have higher life satisfaction.
It's important, from an institutional perspective, to say, "How does that translate to us?" We've got to link our curriculum to some kind of work-related experience. In our case, that's practicums and internships, and offering workshops and clinical experiences so that our students are prepared to be successful after they leave. For our students, time really is money. We always want to be saying, "What is the link between what you're learning and the practice?" Institutions that understand that will be highly distinctive in this market.
Evo: Is there anything you'd like to add about what it takes to differentiate yourself when more and more traditionally focused institutions are beginning to look at non-traditional audiences?
KR: A key advantage for adult learners is being in a class with students from various backgrounds and age groups. I notice this at our institution: Our students bring such a wealth of work experience to the classroom. One might have just retired from the military; another is leading a small non-profit; and a third works in a large healthcare organization.
If you're able to find this diversity of student experience, adult learners will, in essence, co-create the curriculum in the classroom. And that increases learning and educational experiences for all. To me, teaching adult learners versus undergrads is a very different experience. These two learner groups have very different sensibilities. That's really important to keep in mind, and it's not something that I've seen in the literature.
This interview has been edited for length and clarity.
Author Perspective: Administrator
You Might Also Like