Meeting the Needs of the Changing Higher Education Enrollment Landscape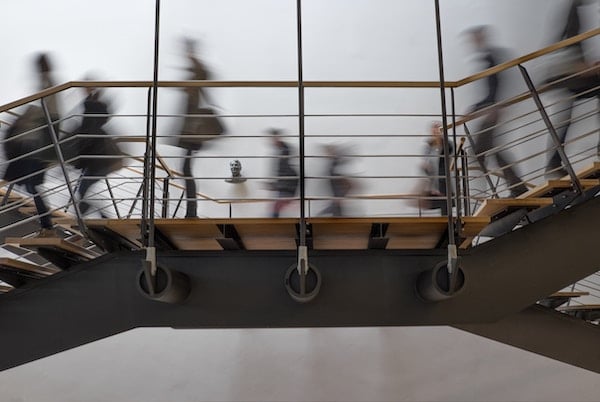 The number of students attending American colleges and universities is projected to rise from 19.9 million in 2018 to 20.5 million by 2027, according to the National Center for Education Statistics. That 20.5 million will be a diverse group of students—not only first-year students graduating from high school, but also those who begin their higher education career at two-year colleges, military veterans, adults returning to higher education to complete degrees or certificates, and adults beginning postsecondary education for the first time.
Underrepresented students face several challenges keeping them from getting to and through college. Adult students or veterans may not be aware that it's possible to transfer to a four-year institution or that there are schools that will allow them to transfer credits from their educational or life experiences. These "non-traditional" students also may fear that they do not belong on a college campus, creating a barrier before the application process begins.
In 2017, the Common App convened an advisory group of two-year and four-year college admissions professionals, alongside education policy and student advocacy groups, to identify key pain points in the transfer application process—particularly for non-traditional students—and brainstormed ways to simplify the college admissions process. Our goal was to understand some of the logistical barriers to transfer for adult and non-traditional student populations.
Simplify the Application
The college application is an opportunity for applicants to share their life experience with an institution and showcase their work experience, military experience or family obligations in a way that shows they can enrich an institution's campus community. But when students see an application process that's daunting and time-consuming, it immediately creates a barrier for them.
Through the Common App's transfer application, we created one place for students to learn about and apply for transfer admission, and tailored the "common" application experience to acknowledge their goals, background and experiences.
It's critical to provide a user-friendly portal for applying to multiple programs with one set of application materials that accommodates returning adult students and students applying from community colleges. The application should also have an interface that adjusts to a student's background and academic goals. For example, a student transferring directly from a community college might need to provide different information as part of their application than a military veteran or a returning adult learner.
While creating a more inclusive application experience is important, we also learned that supporting those who support transfer and adult students is critical to their success. We're continuing to evolve our approach to meeting the needs of transfer advisors and the vast network of organizations that work with non-traditional learners, including The Jack Kent Cooke Foundation, Phi Theta Kappa and College Advising Corp.
Change the Recruitment Model
With this changing landscape, colleges and universities need to develop strategies that are inclusive of all students. As Ithaka S&R found in their 2019 enrollment report, veterans need to feel as if higher education after their service is a great option for them. Ithaka S&R cites programs "that focus on helping veterans attend and succeed at strong four-year colleges and universities, such as the Posse Veterans program, the S2S (Service2School) program and the Warrior-Scholar Project program."
Adult learners and transfer students need clear and concise information on the programs available for them, as well as dedicated advisors who will help them transition back to a higher education environment. First-year students who come from low-income families or might be the first in their family to attend college need to feel as if they belong in a higher education environment.
In response, we partnered with virtual mentoring organizations like Strive for College that help connect students to a network of near-peer mentors online. Resources like Strive give students the opportunity to talk one-on-one with students or recent alumni who are just like them and have successfully applied and enrolled in a higher education institution.
One of the main concerns non-traditional learners face when deciding on where to apply is not only the cost of college but also the cost of applying. At the Common App, our application includes a streamlined "common" need-based fee waiver, enabling low- and middle-income students to apply to college for free. Our streamlined process has saved students more than $65 million in application fees.
We also have a vast number of resources available on our website to help make a college education affordable. Students can access these resources as they're completing their application, linking them to the FASA, federal and state resources and aid directly from colleges and universities. Students can also explore scholarship opportunities through an integration with Scholar Snapp.
Support and Retain Students
Once students have enrolled, institutions need to shift their focus from recruitment to retention by providing specialized support that students need to thrive.
Veterans returning to school after serving their country need a dedicated counselor who will help them pick a degree that compliments their years of specialized experience. They also need help in their transition to civilian life. To address these concerns, we're working on developing resources for veterans and other non-traditional learners so they can hear first-hand accounts from other veterans who have gone through the process, and enable them to best present their record of service with college admissions officers.
We need not look far for institutions that are taking advantage of this changing landscape and rethinking their campus culture to include non-traditional students. According to Ithaka S&R, Columbia University has enrolled roughly 800 veterans in Columbia's School of General Studies. Columbia simplifies the transfer credit process so veterans can earn credit for their military experience.
DePaul University developed an entire program committed to the smooth transition of transfer students from community colleges. Their program helps students map out the courses that will transfer to DePaul, receive guidance from admissions counselors before even transferring, and pay a lower tuition rate.
DePaul also has an enrollment center for adult students with counselors dedicated to serving adult undergraduate students and assisting them with the entire admission process, including transferring existing college credit, applying for financial aid and earning credit for life experience.
Today's workforce demands a highly educated labor pool. In order to meet the needs of the 21st-century economy, college and universities must evaluate new ways to help all students apply, enroll and succeed at their institutions.
Our future relies on expanding the variety of students we serve, and how we serve them.
Author Perspective: Business
You Might Also Like