How Credit for Prior Learning Helps Those Who Served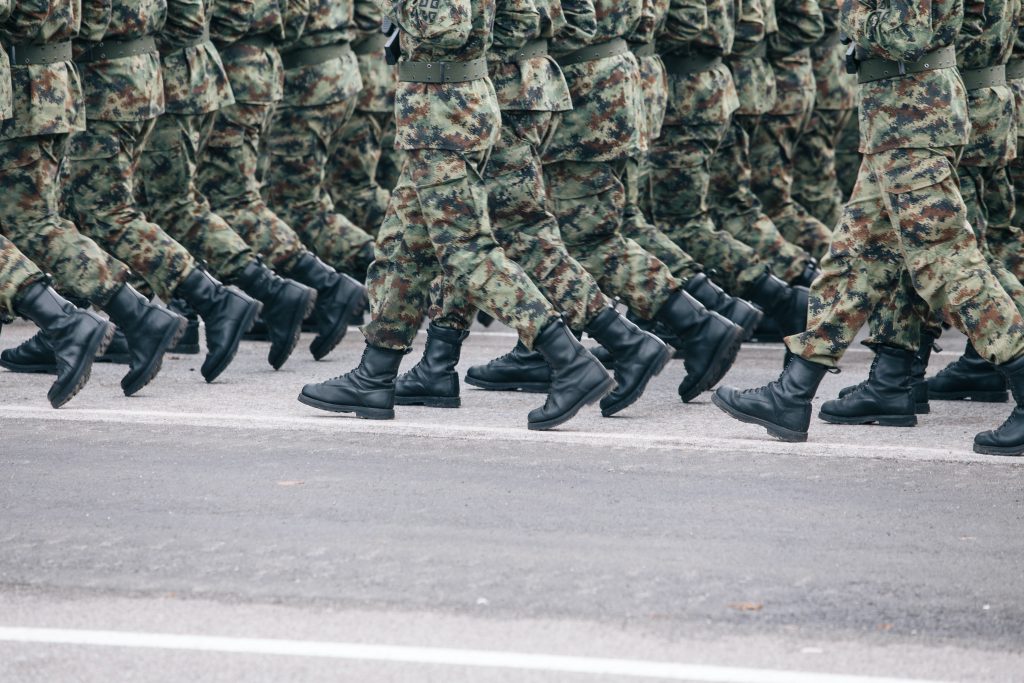 Offering credit for prior learning to those who served in the armed forces in specific, tailor-made programs that suit their skills can quickly get them ready to transition to civilian life.
In programs where courses happen one at a time instead of concurrently, students are able to put more focus and effort into each subject before moving on.
EvoLLLution (Evo): What sparked the development for the credit for prior learning program at Palomar's military leadership program?
Chris Graham (CG): Palomar College and National University have a history with Camp Pendleton, as we both have education sites there. Pendleton offers the Marine Corps Sergeant School on base. So, Palomar took a real initiative to coordinate and collaborate, to build a Certificate of Achievement, Apprenticeship program, and an Associate of Science degree in Military Leadership. Marines who have already completed Marine Corps Sergeant School have the opportunity to use credit for prior learning to obtain their Certificate of Achievement or Associate Degree from Palomar College faster. We had the fortunate opportunity, through our community college pathways partnerships with National University and community colleges, to articulate and develop a bachelor's completion roadmap. In working closely with Palomar's articulation office, and bringing our faculty together to review curriculum and content, we were able to find that our Bachelor of Science and Organizational Leadership was the most aligned. And it was just a great opportunity to partner and roadmap it together to show students the cumulative growth of Marine Corps Sergeant School, earn an associate degree from Palomar College, then come over to National as a junior, fully prepared to step into the upper-division coursework. That's where it evolved. So, although COVID-19 forced us to pivot on campus, we've definitely been able to support our students in the online modality.
Evo: Only about 10% of enlisted military members have an associate degree and even less than that—about 8.5%—have a bachelor's or higher. Why is that number of military personnel with credentials so low considering they're eligible for federal aid for school?
CG: In an effort to be a statistician on this, I did have some research conversations with my veteran center director. She said it comes down to military obligations taking precedence over other things. It's about time, money and availability. And for a lot of people who get deployed, moved or relocated, it's a question of lack of time. Many of the young service members enlisted have young families and kids, and really school gets pushed down the road. We'll probably see more enrollments from older-aged and seasoned enlistment because they're on a base in the States or overseas for longer. You see many of the younger Marines struggle to get the time and the money to prioritize anything beyond their military obligation, which obviously comes first.
Evo: For those who do enroll, what sort of class options are available in terms of flexibility, timing, remote or hybrid opportunities?
CG: Our founder, 50 years ago, was a service member who started the institution to service members who were getting deployed. They were a semester in at San Diego State, and they got a notice—they had 30 days until they were redeployed. So, our model is actually geared toward serving the veteran population, who only has a small window of time before they get a notice and need to move. Our flexibility is provided through online synchronous and asynchronous delivery. We've had multiple sites across the state of California, lots of on-base teaching, and our history and our online modality really make it accessible. The four-week model is desirable for the working student, too. Rather than having four finals at the end of the semester, you have one final every month. You're going through the classes one month at a time, really diving deep into that curriculum and content rather than trying to switch gears between English, then physics, then algebra or calculus. So, our modality has been flexible and well received by the military population for 50 years.
And it's available for each branch of the military. We built the pathway program specifically with Palomar College's Military Leadership program, but our Organizational Leadership program, is partnered with 116 community colleges in California alone. This partnership particularly addresses Marine Corps training and what is involved in that. There's credit for prior learning, credit by exam, lots of different things that the military receive ACE credit for. So, we see service members coming into National and going into a variety of our programs. We have over 75 programs at National. Clinical lab sciences is a very popular program. Students that do a medical lab technician program at a community college can articulate credit for those exams. They take national exams and come over to National to get credit, reducing time to completion for a bachelor's.
Evo: What are some of the other popular programs that military enlisted students are expected to enroll in?
CG: We often see them go into criminal justice administration, homeland security, human biology and organizational leadership. There's a lot of variety, but people change their paths. Maybe you've done something in logistics and say, "But I really want to go into this other field." It's a matter of where they see themselves and making that transition. And that's where we've been successful—helping students make that transition from one role to another, providing guidance and structure. Where do you want to work? What are you passionate about? What are your skills? What gets you excited? Is it something that's totally different from what you've been assigned for maybe the last four or 20 years of your military obligation? We'll see all kinds of things.
Evo: This may be the first time or the first time in a long time that these students are enrolling in higher ed. What sort of support systems are in place for them?
CG: I'll highlight our veteran center, which is staffed by veterans. The center helps students making the transition create a sense of community and belonging, supporting them with other services like career services and career counselling or advising. The students coming in will get a full audit of the credit they've earned from other institutions. And many have four, five, six transcripts because they've attended community colleges in different locations. The advising staff will actually sit down with them and do a degree audit to show them which courses remain on their degree roadmap. We give them that structure they're familiar with and allow them to see the finish line.
It's very empowering for someone to see the steps. Because I, myself, as a community college student, had no direction. I spent three years at a two-year institution, and I never got an associate degree, but my sister came into my life and said I need to go to a four-year school. And I asked, what does that mean? She helped me understand what that pathway looked like. So, now in my role as Director of Community College Pathways, I have the privilege of serving students just like myself and saying, "Let's build the pathways, show the roadmaps and help you find that structure that points toward the finish line." Otherwise, there's the risk of taking classes that may or may not pay toward the degree and that therefore don't allow you to progress academically.
Evo: What plans do you have to expand to military bases around the country and the world?
CG: The on-site component has some logistics that I don't know we're in a position to pursue yet, but we've taught across states anyway on different bases, at different locations from the East Coast to California. The opportunity is there for us to collaborate, to be partners on base and to teach additional courses. But we're seeing a lot of interest in the online modality because of the flexibility it allows. So, I'll be curious to see what the future holds for the online modality. Right now, we're having a conversation—you said you're in Toronto, and I'm San Diego. Our ability to have this conversation and our ability to share ideas is incredibly empowered by technology. And I think we're going to leverage more of those tools to make it more engaging and more supportive as the technology evolves. Selfishly, this is something that really interests me because my dissertation was on online faculty behavior and student persistence. So, I know the value of the student experience and how it's supported by online faculty and tools.
I've done things to create validation, the sense of belonging, the marginality mattering, which are all critical for student persistence for students success. And I've done things in my career like regional community service events, where you take the opportunity to invite students from a geographic area to do maybe a Boys and Girls Club beautification project or maybe a beach cleanup, pulling weeds at a park, or any other event that brings people together. And there's so much value in meeting a classmate who maybe lived down the street but whom you never knew and who belongs to the same community. It creates that sense of belonging that leads to motivation and encouragement during stressful times like finals.
You can create that in a digital space but a tangible way, like a regional community service event. There's a lot of opportunity to bring people together to make a difference. Education is very empowering, and people who have participated in higher education look back on their own journey and think, "Oh, I can't believe I made it here." And they want to give back, we as an institution can be a catalyst for those opportunities. That's why I love our veteran center. It's a place where people feel comfortable asking for help and guidance and showing vulnerability, especially our military population. Anything we can do as an institution to foster an environment that encourages questions that are common, frequent by maybe unfamiliar for the very competent and capable enlisted member. We want to create a safe and inclusive environment in which they are comfortable seeking help
Evo: Are there any community partnerships or employers that intertwine with the pathways at the end of the program and are specifically willing to look at what students can offer?
CG: They would probably be more on the faculty side. Our advisory boards, industry partners and employers have advisory boards that understand the curriculum, the content and the delivery materials being taught in the class. I'm more in academic mapping, but absolutely there are industries and saying, "Thank you for this class. Maybe you need to update this. This is what we're looking for." And they know the graduates coming from our programs are well prepared for the role they're hiring for.
This interview was edited for length and clarity.
Author Perspective: Administrator
You Might Also Like