Engaging Employers to Forge Clear Pathways to Sustainable Careers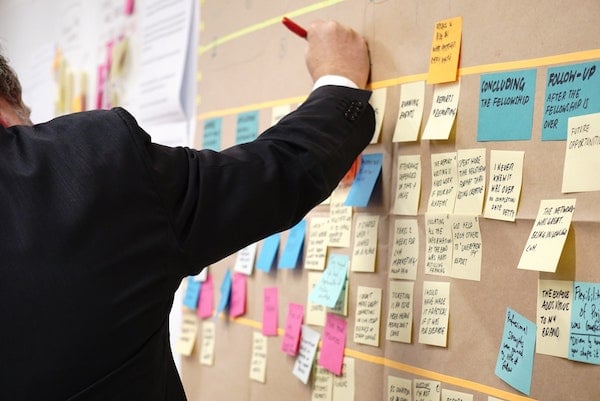 Manufacturing jobs have been hit hard, with a diminishing workforce and gaps in knowledge necessary to the work. In Bucks County, Pennsylvania, people began turning to the local college for help. But how do you create not just an education program that will help fill these jobs, but one that concurrently provides meaningful work to its students? In this interview, Stephanie Wenger discusses how Bucks County Community College created their Metalwork Training Program and how it has been able to maintain a high success rate.
The EvoLLLution (Evo): What was the catalyst behind launching the metalwork training program?
Stephanie Wenger (SW): In 2014, there were an estimated 3,000 jobs in manufacturing that would go unfilled within the next three years. Because of this, the County of Bucks approached the college saying they wanted to fund an entry-level Metalwork Training Program. It was a win-win for everyone. Students received free training and job placement services, and employers found qualified people with a vested interest in a career in manufacturing.
I was involved with the program from the beginning. My initial thought was that there was no way that all of these people were going to find jobs, but they did! Having the employers involved from the beginning has been crucial to the program's success. They were involved in developing the curriculum, vetting students and hiring them once they graduated. When we started the program, we had 30 employer partners. Now, we have well over 90.
The Metalwork Program was so successful that in 2016 we were thinking of what else we could within this model. Our executive director Susan Herring went back to our manufacturing partners and asked what additional trainings would be helpful. In 2016, we developed the Industrial Maintenance Training Program and are still running it to this day, sustaining the same 90+ percent placement rate. It usually hovers between 91 and 94 percent, and it's been terrific. We have graduated 86 students out of the industrial maintenance pre-apprenticeship with twelve cohorts of students and currently have industrial maintenance and metalwork programs in session. We've graduated 22 cohorts and 206 metalwork students for a combined total of 292 students from both programs.
Evo: Who are some of the other stakeholders that need to be involved in the success of the program?
SW: Since we provide the program for free to students, it often depends on the funding stream. Generally speaking, financing usually comes from either the Bucks County Workforce Development Board, Bucks County CareerLink, or the Pennsylvania Department Education or Labor and Industry. We work with the Workforce Development Board and the PA CareerLink to access Individual Training Account (ITA) funding to sustain the program when we do not have a particular grant. Different grants have funded programs in the past, and PAsmart will be funding the next industrial maintenance program — now a registered pre-apprenticeship program. We just received a grant through the PA Department of Labor and Industry, which will fund the next three cohorts of our metalwork program. As part of the grant, we are now going to be able to offer job shadowing, which is very exciting.
Evo: What role is the college playing in making sure that everyone's pulling in the same direction?
SW: The biggest thing is that everybody needs to have the same goal, same objective. An employer's objective is to obtain good employees, and our objective is to get our students jobs and give them a life-changing opportunity. We're training these students, getting them to work. The employers are getting someone that has an interest and an entry-level understanding of manufacturing, but has also been vetted over 12 weeks.
So, the employer knows that the student they are hiring has shown up to class every single day, worked with a career coach and a job developer and had twelve weeks of full-day education. At that point, they can be confident that the student will understand their new position, show up to work every single day and do a good job. This is the shared goal between us and the employer.
The funder has the same goal, supporting these students through graduation so they can have a fulfilling career with a self-sustaining wage. That's the biggest thing: we're not training these people to go out and get a $10-an-hour job. We're training these people to have a job that starts at $15-an-hour and above, so that they have the opportunity to make $45 000 over their first year. They will go on to have the opportunity to make $60 000 and above, in the future, without any debt.
For me, the idea that we can train someone in 12 weeks to have a self-sustaining career and a pathway to advancement is amazing.
Evo: Is there a possibility to start developing a stackable-credential model within the metalwork training framework, where you might bring students back for career advancement training?
SW: Actually, through the PA Governor's office, PAsmart recently came out with a round two of funding, and we're trying to fund a Manufacturing Operations Apprenticeship, where we place the people that went through our pre-apprenticeship programs in positions that will give them a career pathway into an apprenticeship
When we got the first round of PAsmart funding last year, our goal for the end of 2019 was to register both the industrial maintenance and the metalwork programs as pre-apprenticeships, which we did. Now, our team is ready for the next project. We convene all of our manufacturers once or twice a year to get feedback on how our programs are doing, how our students are doing, and what else we can be doing to keep our stakeholders happy. The biggest thing, they said, was more training: "We need more soft skills, we need more employability skills." [They asked] if we could teach our students Lean Six Sigma or offer them the OSHA 30 certification." And we said, "Okay, well let's do it."
Evo: The Metalwork Training Program has a 92 percent completion rate, and a high retention rate. How do you guys maintain this level of success?
It's the one-on-one connection. Each student that goes through the program has access to two instructors. Between the five instructors we have, there are 167 years of experience. They're retired professionals from the industry and their dedication to the students is tremendous. We would be lost without them.
In addition to instructors, all of our students are matched with a job developer/career coach who works one-on-one with them on their resumes, interviewing skills and financial literacy, and then that person works to place the students. We function like a placement agency.
We also counsel students on a whole host of things: things going on at home, how to talk about some of the things that you might not be most proud of on your resume. We then place the students by working with the instructors to see who's going to be a good fit where. All of the instructors go on company tours with the students and have an understanding as to who will excel where. One of us is always meeting with the owner or the hiring manager of a company, so we can have a pretty good idea its personalityy. From there, we match up the company's personality with that of the student and find the right fit.
Evo: How do you manage scalability of the number of students coming through, with everyone's interests, personalities, various skills and cultures?
SW: We have a director of workforce development who handles structural issues, scheduling and so forth. She keeps everything moving seamlessly with the help of a coordinator. But we also have a vetting process for the students before being accepted into the programs. We interview every candidate and also give them a mechanical aptitude test. There are different aptitude tests foreach program, but it's still the same framework. We then average the score of the interview and the aptitude test. If the potential student does well, we accept them into the program and do a criminal background check, which is on a case-by-case basis, and a drug test as well, which is pass-fail.
Once the student goes through all of that, they are officially accepted. If the student's going to jump through all three or four of those hoops and make it, they're going to be pretty dedicated to the program.
Evo: How has achieving the pre-apprenticeship status change the way that you guys manage and administer the program?
SW: To be honest, it hasn't really. Our first cohort of students going through the pre-apprenticeship just started.
The program has always been structured as work-ready career pathway model since its goal is to find students financially lucrative careers. I think aligning it with the pre-apprenticeship makes us focus even more and say, "Okay, how are we getting these people ready for work? What else can we be doing?" How are we preparing students for that next stage of the job? All of that works towards our ultimate goal.
This interview has been edited for length and clarity.
Author Perspective: Administrator
You Might Also Like