How Alumni Can Help Drive Student Enrollment and Retention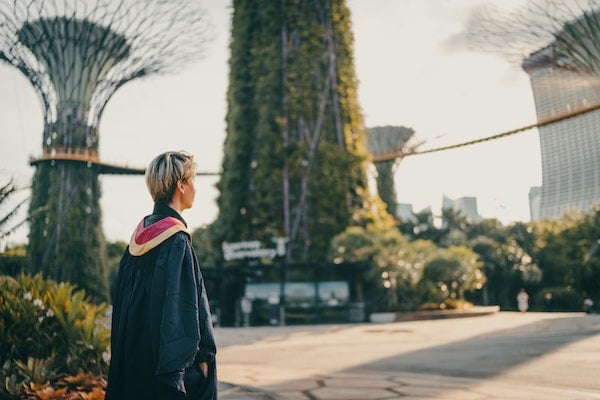 Alumni are more than just donors to an institution. As institutions look for innovative ways to drive their student enrollment and retention, they might be missing the answer right in front of them. Engaging alumni provides the perfect opportunity to foster the lifelong learning culture while driving retention rates. In this interview, Jodie Sperico discusses the importance of alumni, the challenges that come with engaging your alumni and how alumni can influence prospective learners' decision-making.
The EvoLLLution (Evo): Why is it important for institutions to focus on re-engaging alumni?
Jodie Sperico (JS): Building and maintaining relationships with alumni is crucial to the growth of any institution. As higher education today is faced with limited budget and staff resources, eager graduates can often be an untapped resource. Alumni can help with global admissions and recruitment efforts, career and professional development, local and state advocacy or lobbying and through their generous philanthropic support. They also provide counsel and valuable feedback on an institution's direction, curriculum, career readiness and reputation, by serving on campus leadership boards, councils and task forces.
To be successful, alumni need to trust the institution's commitment to their evolving needs and this mutually beneficial relationship.
Evo: What are the challenges involved in engaging alumni?
JS: Creating a lifelong relationship with alumni starts when they are students. Students can see their relationship with their institution as transactional. This is especially true for non-residential campuses or online programs that do not have the resources to create a dynamic interactive experience for their community.
With the enrollment boom in recent years, institutions are graduating some of the largest and most diverse classes in history, leaving Alumni and Engagement Officers with staggering numbers of constituents to engage in meaningful ways. Alumni are no longer looking to institutions solely for social gatherings like reunions and homecomings. They are now expecting phased career counselling, impactful volunteer experiences and access to lifelong Continuing Education programs—all of which are important opportunities to strengthen the relationship alumni have with their institution—though they require significant collaboration on campus.
There is also so much more to compete with for attention. Our alumni are not only oversaturated and overwhelmed with university outreach (news, invites and fundraising) but in life in general. According to the 2020 report from the Voluntary Alumni Engagement in Support of Education (VAESE), there was a 15% increase in the number of alumni asking their alma mater to be added to the "do not contact" list since 2015. Breaking through is a significant challenge–and the reason why targeted, personalized communications and engagement are necessary. Institutions should treat alumni as insiders by bringing news to them first.
Evo: What impact do alumni outcomes have on prospective learners' decision-making process?
JS: Ever wonder why institutions and mass media publish famous or lists of notable alumni? It's all about name recognition, branding and reputation, aspiration and goals. Alumni serve as historical markers of success and have tremendous sway on prospective learners and their circle of influence.
Alumni can be incredibly helpful to campus recruitment, retention and career preparation efforts. Every institution should create the opportunity to showcase alumni accomplishments and position prominent alumni as engaged leaders. Whether through events or mentoring, these interactions provide learners with accessible role models and visible career paths to complement classroom curriculum.
Prospective learners are also keenly aware of the outcomes of new college graduates, as they enter the job market. Data collected by National Association of Colleges and Employers (NACE), such as post-graduation employment rates and average annual salaries, provide transparency and informed decision-making for all.
Evo: What are some best practices to help highlight relevant alumni stories and experiences to prospective students?
JS: Students and alumni alike are seeking greater personalization in an institution's outreach and engagement. With generation Z, we have seen some strong examples of what current students value and what truly resonates with them. It is crucial to share authentic alumni stories; they should also be tangible and timely. Stories and interactions should always support the campus culture and reflect current demographics.
Students should be granted access to alumni. That is what both constituents are looking for. Students want inside information about industries and real-world resources. Alumni want to share their trajectory and offer advice. Whether through formal programming or intentional pairings, allow your alumni to serve as ambassadors and promote the institution in a way no professional staff or communications can. To be effective, allow students to meet alumni where they are—digitally. Make introductions on social media and on professional networking sites like LinkedIn.
At Adelphi University in New York, we are making gains in our alumni relations program and its activities across the globe, but like just about every college and university, we still have room to grow and improve. We are so thankful to our alumni community of 118,000 Panthers and all that they do to support their alma mater.
This interview was edited for length and clarity.
Disclaimer: Embedded links in articles don't represent author endorsement, but aim to provide readers with additional context and service.
Author Perspective: Administrator
You Might Also Like