Blended Classrooms Around the Corner for Higher Education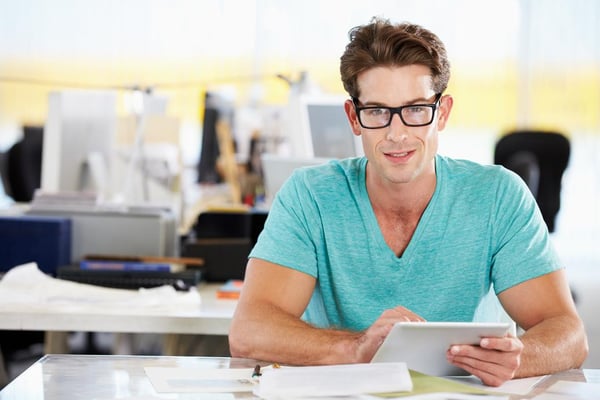 The following interview is with Anant Agarwal, president of Massive Open Online Course (MOOC) provider edX and electrical engineering and computer science professor at the Massachusetts Institute of Technology. Agarwal is a leader in the field of online learning and eLearning innovation, and in this interview, he explains his vision for how technology will impact and reshape the higher education industry and postsecondary classrooms of the future.
1. You've said the ideal model for education is the hybrid model, like the one practiced at San Jose State University. What will the hybrid model look in 10 years' time and how prevalent will it be?
In blended classrooms, the on-campus university course includes an online component, usually the lecture portion that the student watches outside the classroom. Classroom time is then freed up for interactive discussion, testing and problem solving. EdX is committed to on-campus education by applying its research results to help create and refine blended models of learning for on-campus students.
We believe that the hybrid model will become increasingly prevalent as traditional learning institutions become more comfortable with online courses, and more and more schools see the benefits of them to students, faculty and administration. As colleges and universities see the impact of MOOCs on learning, we'll see more blended classrooms incorporated into the curriculum. We'll see student satisfaction levels escalate, along with professors', who will be freed up to spend more time on research. We'll also see the costs of education decrease. The explosion of popularity of MOOCs is an indication that the world is ready for big change in education.
Hybrid courses can increase student success rates. For example, edX and San Jose State University (SJSU) have been engaged in a collaborative experiment in a blended course using 6.002x, where SJSU implemented the experimental course in one of its three sessions of its EE98 Circuits Analysis course. Initial results were just released, which showed a dramatic decrease in failure rates from previous semesters. The percentage of students required to retake the course dropped from 41 percent under the traditional format to 9 percent for those taking the edX blended course.
Ultimately, online learning is like a rising tide that lifts all boats.
2. In-class learning is coming under increasing scrutiny when compared to online education because it lacks features such as instant feedback and self-paced learning, which are available online. What technology do you see evolving over the next 10 years to improve the classroom experience in this regard?
Technology has changed rapidly in a very brief amount of time — with advances in areas like cloud computing and social media — and will continue to impact the way edX can deliver information and teach on a global level. We envision that information delivery speed and capacity will continue to increase while costs decrease. Colleges and universities will be able to incorporate sophisticated blended courses into their curriculum.
Social media outlets will continue to become more prevalent worldwide. Information (and therefore education delivery) will become increasingly portable, with more complex applications being able to be used on devices such as cell phones and tablets. This will make it easier for colleges and universities to increase their use of features like self-paced learning because they can deliver portions of their course through a handheld device.
3. As online learning continues to improve and increase in popularity, what value will there be to learning in-class (or partially in-class) as opposed to online in 10 years' time?
EdX does not envision MOOCs replacing universities, but rather enhancing the quality of education through incorporating blended classrooms, as discussed above. In fact, edX is the only leading MOOC provider that is a non-profit that was founded by universities.
There will always be value to the on-campus learning experience, including small face-to-face discussion groups with professors, and important social aspects. Additionally, institutions that conduct research need brick-and-mortar laboratories and on-campus students to assist in conducting research. These things cannot be replaced, only improved.
4. How will increased collaboration between prestigious universities on projects such as edX change postsecondary classrooms in 10 years' time?
At edX, our focus is on quality and access. Because we are non-profit, people, not profits, are most important. We foresee a time when quality education will be accessible globally, regardless of social status or geography. And remember, our platform will be made available open source, so that anyone can utilize it. In 10 years, we hope that postsecondary classrooms will be populated with blended courses, or portions of them, from the best professors at the best schools.
5. EdX seems to be focused more on mastery of concepts than on time to completion, a trend becoming more common with the growth of competency-based institutions and other open-learning providers. How will technological advances help transition the focus of post-secondary classrooms more toward subject mastery in a decade?
One area where we envision technological advances re-focusing post-secondary classrooms on mastery is through instant feedback, a key component of online courses now. When a student is tested on a concept and can know immediately if his or her answer is correct, the student knows he or she has mastered it; if it's incorrect, there is another chance (or several or unlimited tries) to figure it out and get it right, rather than move on with a misconception that can proliferate. Again, as blended classrooms become more widespread, this technology will become incorporated into higher education pedagogy.
Author Perspective: Business
You Might Also Like