Working to Create Quality Learning: Humanizing the Online Experience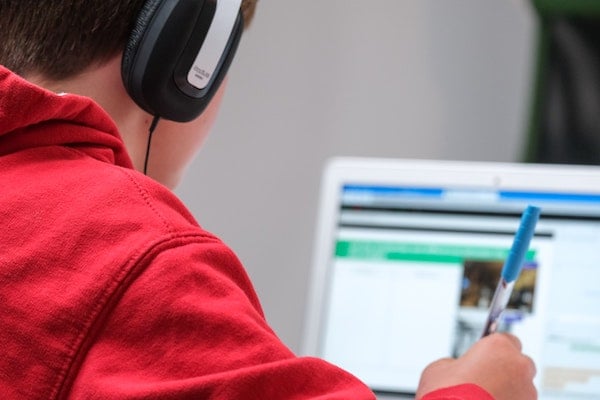 For years, those committed to learning and access have been working on creating high-quality online learning experiences, helping transform learning from a broadcast-based format, focusing on information delivery, to an engagement-based format, focusing on creation and collaboration. This past year, all students became online students. Overnight, universities realized that designing the whole student experience online was important.
For those not in the field, online learning had a reputation of being dry or unengaging, in which students had to teach themselves. The sudden digital dependence has forced ongoing conversations between a remote delivery experience and one designed for online learning, which has shone a brighter light on quality online education, enabling the advantages of engaging online courses to be highlighted. Digital dependence for learning and teaching has become the norm rather than the exception.
A fully digital, engaging student experience incorporates a deep and coordinated culture and a workforce aligned with technology. It requires commitment inside and outside of the virtual classroom and design thinking focused on the student first. By adopting and utilizing change models, designing a digital transformation strategy, and focusing on designing around the student experience, higher education institutions have an opportunity to leap into a better, more digitally integrated future.
Focus on the student: different needs, different impact
Humanizing online learning looks different for various student populations. For example, for traditional students (age 18-23), learning is only one reason why they're attending college. The coming-of-age experience that most traditional students are seeking is only partially academic. There is an exploration of subject areas instead of targeted progression. Social experiences are as important as academic support.
The experience for fully or partially, post-traditional online students looks very different and was far less disrupted by the pandemic. Post-traditional students tend to be career advancers, career changers, or degree completers. Typically, post-traditional students want the fastest, most targeted and affordable path to finish their degree. Social engagement is more about academic support.
The impact of transitioning or continuing to humanize the digital experience is diverse and needs to be considered carefully; it looks and feels different for these different audiences.
For traditional students, it's more about mimicking the face-to-face environment, creating engaging online experiences to be as analogous and comfortable as the known processes while understanding that traditional student technology expectations are generally much higher in our social media-influenced world. Post-traditional students often need the connections of peer support, like virtual study groups, but both asynchronously and synchronously.
This year, the pandemic rapidly impacted the traditional student experience including the fall 2020 recruitment cycle. All of a sudden, everyone on campus was highly motivated to move things online. Traditional students' need for coming-of-age experiences meant a greater need for video and synchronous interactions.
Design for the learner experience
Many aging models have been resurrected to support the mass migration of learning to online. Not all faculty members can become experts over a single term. Therefore the heavy reliance on broadcast-based online learning, which is probably less humanizing than a giant lecture, has been a go-to model. Good online learning requires intention. There's no room for improvisation in online classes. The online course experience needs to be focused on clear, concise, and complete learning objectives and meaningful feedback loops. Student-to-student interaction around content needs to be intentional, with less focus on rote discussion boards. The closed forum prompts that enable students to respond to each other with things like "Good point, Susan, that was an important thing to note", lacks value and disengages students.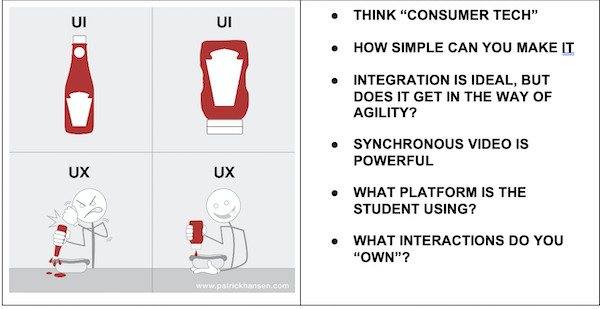 Humanizing means thinking how students are interacting with processes and technologies outside the classroom. For example, what do learners do to connect with other learners? Why are they using Venmo and Paypal to process payment? Why do they read Amazon product reviews? Why do they view what customers like them purchase? By thinking about consumer technology, we can learn the following:
Use of video and photographs – Good for all students, but encourage the use of small bites for interactions rather than planned live lectures.
Frequent interactions & feedback loops are needed – Be quick to reply
Respond to student complaints – Assume that there is basis for them.
Communication in the online classroom – Reread what you write. What is the tone?
Be clear with instructions – When do you need APA, when do you need a conversation? This is important for discussion boards and assignments.
Choice of media for communication – Consider GIFs or memes, infographics
Make sure you're highlighting the use of both causal conversation and formal responses.
All comes back to culture change
There are many challenges and barriers to promoting humanizing the college learning experience inside and outside the classroom, mainly because it persists beyond our current crisis. There are many different change models—the one below first introduced to us by Beth Rubin, Kim Siegenthaler, and Julie Uranis at a UPCEA 2020 presentation. Loosely based on Kotter's model, it has all the ingredients to create a lasting change in culture.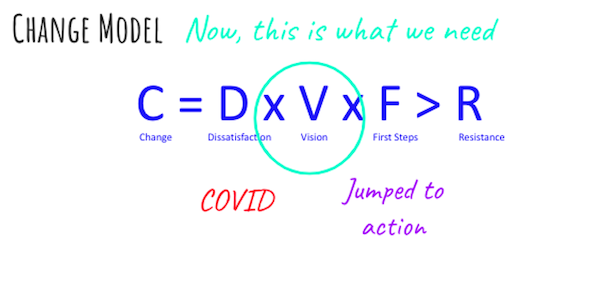 When COVID-19 hit, most of our institutions jumped directly to action, successfully migrating things online that would have previously taken years of committee meetings. LSU transformed the drop/add process into an improved online solution. USU changed the academic calendar and academic student affairs, student services, and student well-being, combining communication and marketing campaigns to help students be ready and prepared for a successful transition into the fall.
But by jumping to action for traditional student needs, many universities focused on simply moving face-to-face processes and services online rather than rethinking them entirely. Now we need a coherent version for a path forward—one that makes the long-term financial case for the efficiencies of better processes and services that can be scaled without losing the human factor. Digital learning includes a broad range of content and communication tools, curricular models, design strategies, and services that personalize (humanize) instruction for students in a blended and online learning environment. By focusing on the student experience, we can begin to create a digital learning strategy based on shared student insights, influence culture, and build more humanized learning environments.
Disclaimer: Embedded links in articles don't represent author endorsement, but aim to provide readers with additional context and service.
Author Perspective: Administrator
You Might Also Like