Personalized Service is Key to Winning Training Contracts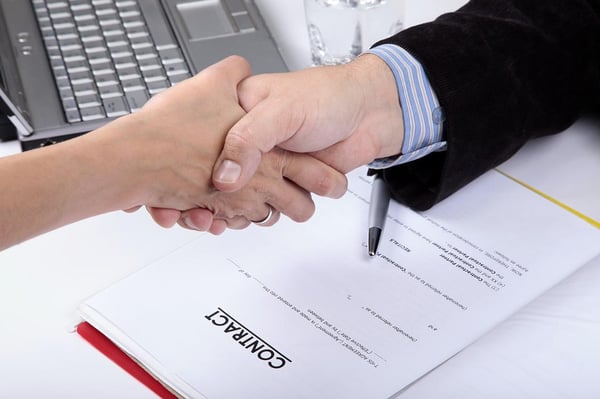 Community and Continuing Education (CCE) at Utah Valley University provides customized training solutions for interested companies. In the summer of 2008 a local aerospace manufacturer needed both specific and generalized trainings because the company was at a crucial point of business survival.
Here are the actions I took, and they taught me that the key to winning corporate training contracts was to provide outstanding personalized service at every point.
1. Establish rapport with the potential client
I was introduced to my contact at Klune Industries, Inc. because a university leader had not been able to establish a positive relationship. I did not know about this at the time, but in our first meeting I sensed he was holding back because of his prior meeting and I said, "Just because someone has a PhD doesn't mean they are better than we are."
This established instant rapport and aligned me with the business and their needs while acknowledging that people who work at universities can sometimes be elitists.
2. Ask client for training goals and desired timing
I discovered that Klune needed to have training sessions begin as soon as possible and finish in under a year. All trainings were scheduled to coincide with the company's unique timing needs and primarily took place the first part of each month when business was usually slower. In addition to training needs, I also asked what the dream trainings for the company were. The client had previously approached all of the major local universities, as well as others including MIT, for some specialized training for engineers (CATIA) and none of them were able or willing to help.
3. Rapidly prepare proposal to match training goals
Within three weeks of meeting with the representative from Klune, I had a contract proposal prepared that met all training goals and most of the dream training desires while remaining within budget. This included five classes for between 15 and 80 employees and 9 courses that filled 4 separate weeks for the engineers.
I was able to schedule the engineer trainings that other universities could not do. I found companies that would bring the training to Klune including trainers and a mobile computer lab for set fees. This was highly personalized service and saved the company time and money. The engineers could train onsite, did not need to travel, and production kept pace. If there was an issue on the production floor, an engineer could slip out of training, fix the machine, and then return to the training.
4. Immediately set up training following contract approval
Within two weeks after the contract was signed a specialized trainer had arrived with a mobile lab and begun to train the engineers. The time from my introduction to the company to the beginning of the first class was only five weeks. To prepare the proposal so rapidly I needed to work 3 days of my vacation with very limited internet access. However because I completed the proposal so fast, we won the contract. I later found out that others had been asked to bid on Klune's training needs, yet because my proposal included everything that was expected plus more, and the other entities had taken much longer than five weeks with no proposal in sight, my service and speed clinched the deal.
5. Focus on results, follow through, and build relationships
As in every area of life, follow through on the contract and details. Keep your word and do what you say you will do. If costs have increased since the contract was signed and the delay was your responsibility, absorb the increase, don't pass it on. Build strong relationships with your satisfied clients and they will help you build relationships including business referrals and advisory board members and introductions to community and economic development leaders.
Klune Industries' VP and General Manager Bob Ballantyne attributes over $700 million in contracts to the training sessions we did.
"The one thing you did for me that blew me away—I've never seen from any academia. You were able to understand my needs, find state-of-the-art aerospace technology, bring it to my doorstep and certify my team—I don't know how you did it," he said. "You brought us training that wasn't available at any other universities or accessible to businesses. The training enabled us to compete head to head with Fortune 500 aerospace companies and ultimately we have been absorbed by a Fortune 500 company."
To sum up everything we did to help Klune succeed: provide outstanding personalized service at every point.
Author Perspective: Administrator
You Might Also Like