Managing Statewide Noncredit Education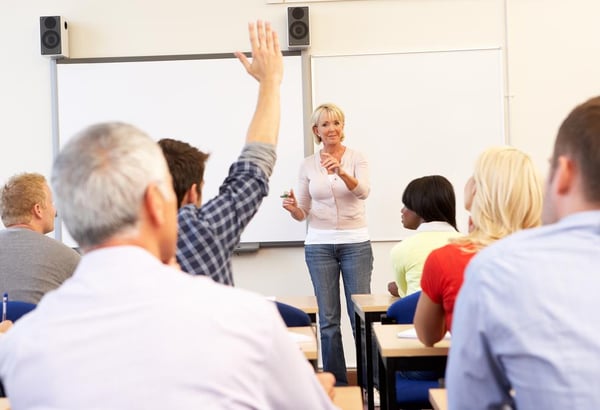 The following interview is with Fred Pawlicki and Jim Peters of the continuing education unit at the University of Kansas (KU). In 2004, the University of Kansas gained jurisdiction for all Osher programming across the state of Kansas. In this interview, Pawlicki and Peters discuss the challenges of managing such a diverse program across such a large geographic space.
1. Is it common for a single institution to be granted managing jurisdiction for Osher programming across such a large region?
Jim Peters (JP): I think it's more common what they do in large regions. When the foundation, in 2000, started endowing Osher Institutes, I think they gave to a small geographic area and many of them were competing with each other for the same audiences and so to rectify that … they've been giving larger geographic to institutes so we don't compete with one another.
Fred Pawlicki (FP): When we looked at the size of the state of Kansas and how rural this state is … it made sense to see if the Osher Foundation would give us the entire state of Kansas so there wouldn't be any competing Osher Institutes in our state, and when we did that we also asked for the greater Kansas City metro area — which is geographically within 30 miles of us — to the border that Kansas City, Missouri and Kansas City, Kansas overlap. So, we have the Kansas City, Missouri and Kansas City, Kansas jurisdiction also in our area. … It's probably close to 380 miles from one end of our jurisdiction to the other across the state, but the Osher Institute saw that it probably made sense for us to have that much territory because of the limited population in some of the state.
2. How are you managing the program across such a large area?
JP: We're partnering with a lot of different organizations: residential communities, retirement communities, other academic institutions and some governmental agencies and area agencies on aging, which help us do the programming. At this time, we've got three different regions of the state that we have set up and put a regional manager in charge of each of those areas. … And they help us with the programming as well as with managing the marketing and other activities.
There are still areas of the state where we are not programming, but our long-term strategic plan is to provide some programming in conjunction with our partners across the state. What we've been able to do, like in Manhattan, we work with the continuing education division at Kansas State University and they provide staff to help us recruit instructors and work on the ground there to set up the classes and the programming. …
We do all of the marketing for those areas through our offices here as well as registration services and the business management of the whole operation.
3. How is the University's Osher Institute funded?
JP: We are very fortunate. The Osher Foundation, when we were first chartered, gave us some initial funding to get the program started; that was matched by continuing education. Fred [Pawlicki] and the administration here at KU knew that there was some commitment on their part to support the program. And, so, initially the funding came from the Osher Foundation and continuing education. As the program grew, we then started getting registration fees — we were making revenues through our fees — and, in addition to that, now we have donations from individuals and we have corporate sponsors that help us.
FP: When we got to the number of 500 dues-paying members, the Osher Foundation at that point in time endowed a million-dollar grant to the KU Osher Institute, which our endowment association gives us an annual interest that we can spend on our program. So, that grant funding is also a source of ongoing revenue.
The continuing education unit also supplies funding as needed to fill in the gaps, because this is a tremendous outreach program for the University of Kansas and it deserves the funding that it needs from the University to spread the word that KU is really serving the 50 and over communities across the state.
4. How does the University, and the continuing education unit specifically, benefit from providing Osher programming?
JP: I would say that the Osher Institute is probably the primary outreach program the University has for seniors across Kansas, outside of research programs. There may be some research studies on aging other academic units are doing, but as far as enrichment programming for seniors, the Osher Institute is by far its most popular program, the largest program. We've gotten a lot of support from the administration at KU; the Chancellor and the provost have both participated in Osher activities to across the state … to promote the Osher Institute. … As part of the continuing education, which is itself the primary outreach arm of the University, it is providing outreach to senior citizens. The University benefits from that because … seniors don't get on our campus much for academic reasons other than our non-credit programs.
FP: We also work closely with the KU alumni association, and they can help us identify KU [alumni] in some of the rural areas in the smaller communities that we do work in. So, it's a nice relationship and it really does connect the campus with some of the folks who have graduated years ago from KU.
JP: Much of the outreach activity the university does has been for younger audiences — I don't mean just traditional undergraduates — people who are still working in their professions, needing continuing education to upgrade their skills. Once those people retire, there has not been a lot of programming for seniors, and that's where the Osher Institute has filled a gap and not just for KU but also for all of our other academic partners, … they all look upon our KU Osher Institute as their primary program and outreach for their seniors as well. …
5. What is the process of registering new members for Osher — tracking memberships, making sure students know when their memberships may have expired, etc.? Is it very similar to the registration program built into non-credit programming in continuing education?
JP: Yeah it is; in fact, it's the same system. We've been very fortunate. We have a pretty good sophisticated registration system and we have a great registration staff. In fact, many of our Osher members know our registration staff on a first-name basis, so that when they call up to register they can ask for particular people to help them with their registration, and our folks are very good at troubleshooting any problems our seniors may have as they try to sign up for programs.
All of our … distance sites register through our system here at continuing education. And they can do that online, they can do that by mail, they can do that by phone. … Then we track all of our members and obviously they get into our database and they look forward to receiving our catalog every semester, and [are] eager to register. I can tell you that the phones light up like a Christmas tree when the first registration opens.
FP: I might add that our registration unit is really a sophisticated unit. Really, we annually have between 50- and 70,000 participants in our various continuing education activities. I would say the greatest percentage of those register through our in-house registration system. So, it's a rather sophisticated system and it's a real-time credit card operation so somebody can just go online with their credit card, register for their class and be accepted into the class all in one shot. So it really works well for the people who like the online registration concept.
JP: And we've also been fortunate enough to, with all of our academic partners and all of our residential community partners, they are always willing to share with us their mailing lists so that we can combine that with our own past participant list to recruit new members, and we do some pretty aggressive marketing. I'm proud to say that in the last two years we have tripled our membership. And I think that's because we've done two things: number one, we've done some aggressive marketing and, number two, we've taken advantage of the loyalty of our current members to go out and help recruit new members. Because, as we all know, word of mouth is one of the most powerful marketing tools you can have. And, in those residential communities, they see each other often and recruit each other regularly.
6. Is there anything you'd like to add about creation and management of an Osher program across such a large space and how that experience has been?
JP: I think what we've talked about in terms of long term is to look at the state of Kansas and say, "Okay, where are the population centers now that we can build on?"
What we learned was that … when you move instructors around from those cities, and that we can let them teach the same course semester after semester without repeating it to the same audience, that helped us leverage the resources that we have. … Now we're looking at the rest of the state and saying, "Okay, where can we take several population centers and create a region out of them where they can leverage resources as well?"
Instructors at some community college or another one of the region's institutions can develop a course and teach it in two or three different sites so they feel they can invest the time to do it because they are getting a return on that investment by being able to teach.
So, that's the long-term plan is to cover every region in the state in terms of providing Osher programming. We know that the format works. We know that we can give them a turnkey structure, both in terms of marketing and registration and management. What we need from [our regional partners] is the help to recruit instructors and participants.
Author Perspective: Administrator
You Might Also Like