Author Profile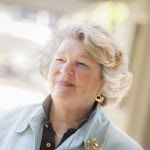 Mary Walshok | Associate Vice Chancellor and Dean of Extension, UC San Diego
Current Position and Past Experience
Mary Walshok is currently the Associate Vice Chancellor of Public Programs at UC San Diego, a position she has held since 1987. She is also Dean of UC San Diego Extension. Since 1981, she has also held the role of Dean of Extended Studies. She concurrently serves as an Adjunct Professor in the Department of Sociology.

Walshok has held a number of visiting professorships during her career, including a one-year term in Oxford University's Department of Continuing Education, and ten years at the Stockholm School of Economics.

Walshok's first professorship was at CSU Fullerton, where she served as a tenured Assistant Professor of Sociology for three years. In 1975, Walshok moved to UC San Diego to serve as the Assistant Dean of University Extension.

Education, Honors and Achievements
Walshok earned her BA from Pomona College in 1964. In 1967 she earned her MA from Indiana University, and two years later she earned her PhD from the same institution.

Walshok is the recipient of numerous awards including the Kellogg Foundation's Leadership Fellowship and induction into Sweden's Royal Order of the Polar Star. In 2002, she was recognized by the City of San Diego for her work in Sweden and the United States on entrepreneurship, leadership and community service; May 2, 2002 was named Dr. Mary Walshok Day in her honor.

Personal Details and Community Involvement
Walshok serves on the editorial board of Continuing Higher Education Review and Industry and Higher Education. She also serves on the Board of Directors for the U.S.-Mexico Foundation for Science, and as the US Member on the International Advisory Board for the Science and Technology Council of Oman.

At the state level, Walshok is Chair of the Board for Olivewood Gardens and serves on the Advisory Board for University of California Television (UCTV). Regionally, she is an Executive Committee Member of San Diego CONNECT and on the Board of Trustees for the Girard Foundation and the Szekely Family Foundation.
Articles by this author: