Author Profile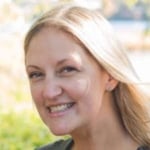 Lisa Slavin | Assistant Vice President of Enrollment Management, Massachusetts Bay Community College
Current Position and Past Experience
Since 2015, Lisa Slavin has served as the Assistant Vice President of Enrollment Management at Massachusetts Bay Community College. Before stepping into her current role, Slavin was the Director of Admissions at MassBay. Early on in her career Slavin joined Wheelock College and held several leadership roles including Associate Director of Undergraduate Admissions, Dean of Enrollment and Financial Aid, Special Assistant to the Vice President of Enrollment and Director of Undergraduate Admissions. Slavin also worked at Framingham State University and took on the role of President of the Alumni Board of Directors and an Alumni Board member.
As the Assistant Vice President of Enrollment Management, Lisa oversees the areas of Admissions, Financial Aid, and Registration. Lisa has over 17 years of higher education experience, which ranges from admissions and financial aid to strategic planning and transfer recruitment. Lisa is an active member of various professional organizations within higher education and currently serves on the New England Regional Council for the College Board as the Massachusetts state representative. Lisa has presented at many annual conferences on a variety of topics, including access and affordability, first generation college students, 2-year and 4-year college partnerships, marketing and admissions, and customer service for higher education.
Education, Honors and Achievements
Lisa was a first generation college student and attended Framingham State, where she received her M.A. in Public Administration and her B.A. in Psychology. Reflective of her own personal college search process and experience as an Orientation Leader and Graduate Assistant, Lisa is passionate about access and affordability, specifically working with first-generation college students and their families on understanding the college search and financial aid process. Lisa's motto is simple – "everyone owns enrollment".
Personal Details and Community Involvement
Lisa lives in the community in which she serves. She lives with her husband Tim and three children Jack (9), Ellie (7), and Tommy (4) in Framingham, Massachusetts. Lisa is an active member of her children's school PTO and is often found at the MetroWest YMCA – sometimes with her kids, and for her mental sanity, sometimes without. Lisa and her family love the beach, playing soccer, and eating ice cream! Lisa really enjoyed training and running the annual MassBay Community College 5K this past fall with her oldest son, Jack.
Connect
You can connect with Slavin through
LinkedIn
and on Twitter
@ADM_lisaslavin
. e-mail her at
mailto:lslavin@massbay.edu
.
Articles by this author: