Author Profile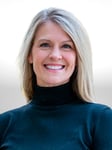 Kristi Wold-McCormick | Assistant Vice Provost & University Registrar, University of Colorado Boulder
Current Position and Past Experience
Kristi Wold-McCormick is currently Assistant Vice Provost and University Registrar at the University of Colorado Boulder and has been in this position since 2014. Prior, she worked at North Dakota State University as registrar for 12 years, and before that as an Associate Director of Admission .

Education, Honors and Achievements
Wold-McCormick holds a Doctor of Philosophy in Educational Leadership from the University of North Dakota, a Master of Arts in Mass Communication and Media Studies, as well as a Bachelor of Science in Communication and Spanish from North Dakota State University. She has held various leadership positions within her professional associations at both the regional and national levels, and most recently was elected to the American Association of Collegiate Registrars and Admissions Officers' (AACRAO) board of directors as president-elect.

Personal Details and Community Involvement
In her free time, Kristi enjoys traveling, running, doing yoga, hiking, reading, cooking and watching sports (especially collegiate). She and her husband have two college-aged sons, and live in Longmont, Colorado.

Articles by this author: