Author Profile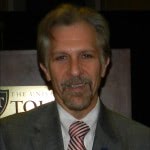 Dennis S. Lettman | Dean of the College of Adult and Lifelong Learning, University of Toledo
Current Position and Past Experience
Dennis S. Lettman is the founding and current Dean of the College of Adult and Lifelong Learning at the University of Toledo. Previously he served as Dean of University College, a position he has held since 2008. Lettman has been with the University of Toledo since 1989, where he began as the Associate Dean for Student Services. Lettman also holds tenure as an associate professor at Toledo.

Lettman began his 30-year higher education career at the University of Cincinnati and then moved on to Sinclair Community College and finally joined the ranks at The University of Toledo.

Education, Honors and Achievements
Lettman received his Bachelor of Arts in Psychology from State University of New York, his Master of Education in Counseling and Guidance and his Doctor of Education, both, from the University of Cincinnati.

Personal Details and Community Involvement
Lettman is actively involved in community activities promoting adult degree completion opportunities and lifelong learning to organizations such as the YMCA, Area Office on Aging and the Lucas County Job and Family Services. Lettman is co-founder of the Toledo Early College High School and currently serves on its Board of Governors. Lettman is married with two children and enjoys cooking, music and gardening.
Articles by this author: