Author Profile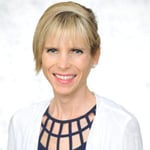 Beth Romanski | Director of Professional and Continuing Education, Maryland University of Integrative Health
Current Position and Past Experience
Beth Romanski is currently Director of Professional and Continuing Education (PCE) at Maryland University of Integrative Health (MUIH). Prior, she was Director of Professional Studies at Lebanon Valley College. Beth has also served as Corporate and Community Outreach Coordinator and Enrollment Counselor for Continuing Education at Central Penn College.
Beth began her higher ed career in admissions after making a shift from marketing, sales and event planning in the hospitality field. Beth serves as adjunct faculty at MUIH in the Integrative Health Management program and she acts as a subject matter expert to develop professional continuing education online courses for PCE learners.
Education, Honors and Achievements
Romanski holds a Master of Science in Higher Education Administration and Leadership from Capella University, and a Bachelor of Science from the University of Delaware. An avid lifelong learner and adult student herself, Beth is currently pursuing her second Master's in Health Promotion at Maryland University of Integrative Health. Beth currently serves on the Board of the Association for Continuing Higher Education (ACHE) as the Maryland State representative, is involved with the University Professional in Continuing Education Association (UPCEA) and is a member of Quality Matters (QM).
As an advocate for health and wellness, Beth earned a certification as an Integrative Nutrition Health Coach from the Institute of Integrative Nutrition (IIN) and is founder of MyHealthyTransitions Health Coaching and Co-Creater and Co-Host of the Wellness Warriors Radio podcast.
Personal Details and Community Involvement
Beth is passionate about learning and enjoys listening to podcasts (podcasting herself) and listening to audio books on a variety of topics. In addition to her professional and educational pursuits, Beth provides health and wellness workshops and programs in the community and online and writes blogs for various wellness companies.
Connect
You can connect with on
LinkedIn
,
Maryland University of Integrative Health Professional and Continuing Education
or
MyHealthyTransitions Health Coaching
.
Articles by this author: