Responding to Students' Needs During Crisis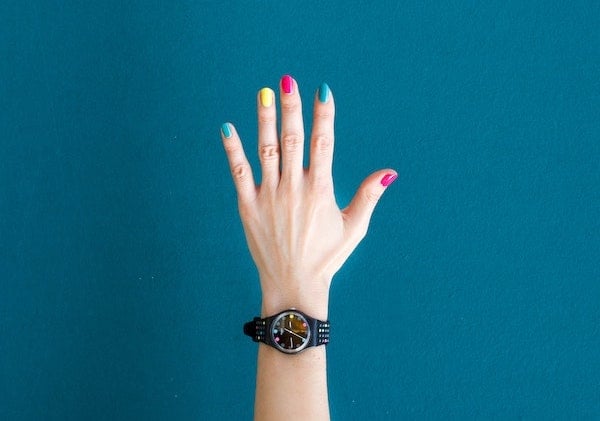 Students were abruptly sent home. Classes were rapidly converted to remote instruction. Fears and anxiety abound. Hopefully the spring of 2020 will be remembered as an aberration in the annals of higher education. Although there is much left to do to guide students through these rough waters, we must also take stock of what we've learned that could help colleges, faculty, and students weather the next storm, whatever it may be.
At Persistence Plus, we've learned a lot in the past month about supporting students and staff in crisis, and we're thinking about how those lessons play into the larger story unfolding in higher education today. In that spirit, we want to share the steps we've taken to help others during COVID-19, so we can all be better prepared for the future. We're also hearing from students every day about what they're experiencing and how they keep going despite extreme circumstances. Students' voices must be paramount in deciding the path we take from here, and I want to share some of their voices with you.
Understanding partners' needs
The most important step in adapting to COVID-19 was, as always, communication. We appreciate the importance of communications alignment and avoiding information overload during an emergency, so the first thing we did was pause our mobile nudge platform and reach out to partners about next steps. Colleges were eager to leverage Persistence Plus to not only provide students with information and guidance, but to help them maintain a sense of connection and caring during this difficult transition. We listened carefully to what each college wanted to say and infused that messaging with our behavioral science expertise. For example, we've used nudges to:
Amplify colleges' communications about virtual support services available during campus closures
Gather data about students' access to technology and ability to afford reliable internet service in order to facilitate coordinated reach out
Connect students to the help desk, academic advisors and other online resources for adapting to remote learning
We also knew that several colleges, especially those early in their partnerships with us, had not made Persistence Plus available to all their students. As both our partners and ourselves settled into this new reality, we wanted to do more for them. We've been so thankful this month to welcome over 40,000 new students to our platform at no additional cost and sincerely hope that we can help guide them through these stressful times.
Listening to students' needs
With new challenges arising for students each day and old challenges only exacerbated by this pandemic, we knew that our approach to support needed to be specially tailored for this moment. Before returning from our brief hiatus, we fully audited our nudge library to ensure that messages reflected students' emerging realities. First, nudges directing students to in-person campus supports had to be scrubbed and replaced with online information. Second, colleges had reshaped their academic calendars and deadlines to account for this disruption, so our nudges had to adjust accordingly. Finally, several of our nudges just required a different tone. Although we always nudge from a place of caring and support, extra sensitivity seemed appropriate given the current upheaval in students' lives.
Colleges expressed concern to us about students' willingness and ability to shift to remote learning. One partner shared that some students were so worried that they were withdrawing from online courses before they even began. We weren't surprised given the palpable anxiety students were sharing with us:

In response, we crafted nudges to address common challenges with online courses. We've asked students to gauge their self-confidence for remote learning, given their current circumstances, so we can target advice to students feeling anxious. We're also nudging guidance for establishing a new learning-from-home routine and staying connected with professors and classmates while physically distancing.
Another area of immediate need was students' mental health. Students have shared how COVID-19 has elevated their stress and anxiety in a time when support services are not easily accessible. Moreover, some students and/or their family members have contracted COVID-19, and some have suffered the tragic loss of loved ones. We've collaborated for years with The Steve Fund to make student wellbeing one of our mobile support system's central goals, but COVID-19 has pushed us to further consider how to help students struggling with the unique stressors and barriers presented by the pandemic.

Looking ahead
While the situation facing many of our students is heartbreaking, they have shown uncanny resiliency through unprecedented obstacles, and many are determined to succeed despite it all.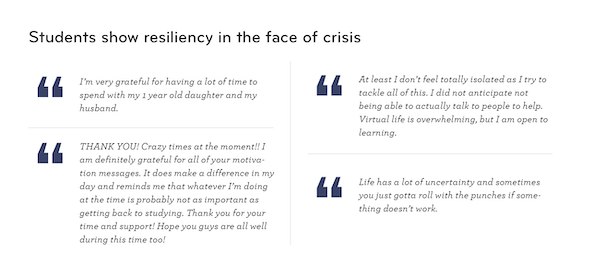 Through our partnerships, we can get through this crisis together and minimize the damage done to students—educationally, economically, and psychologically. We don't know when we'll return to "normal," or what the world will look like when we do, but how we support and learn from students must be central to how we reshape higher education in the wake of COVID-19. Like you, we look forward to the day when the next big challenge arises and we can confidently say, "Well, we dealt with COVID-19, we can deal with this."
Author Perspective: Administrator
You Might Also Like