Professional Development Webinar Series Offered Virtually by ACHE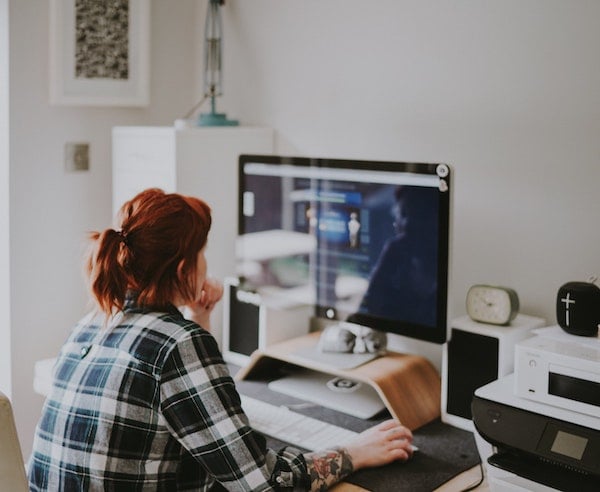 In the spring of 2020, the world was reeling from the pandemic and the Association of Continuing Higher Education (ACHE) regional conferences were cancelled to protect the health and safety of members. I remember saying to ACHE President, Dr. Amy Johnson, "Now is the time for me to develop the webinar series I've been talking about for years. We need to bring our professional community together."
As we were continuing to writhe through the personal and professional effects of the pandemic, I knew it was time to stand up and be there for our professional community. Professional development budgets at most institutions of higher education were eliminated due to pandemic impacts on institutional budgets. Creating a no cost professional development opportunity, while also cultivating a space for our colleagues to present their expertise virtually was a win-win for all. Most importantly, during those challenging times, it filled a gap for our membership and professional community by providing engagement, networking, and connection.
I am excited to share that the ACHE webinar series is now streaming its third series each Wednesday through October 6, 2021, at Noon EST. Individuals can register to join each webinar virtually. Even more exciting, there is no cost to join the ACHE 2021 summer webinar series, thanks to the sponsorship of ACHE business partner, CampusCE. The upcoming webinars represent dynamic and engaging topics for all. Specifically, a list of the remaining upcoming sessions are listed below:
9.1.21: Justice, Equity, Diversity and Inclusion: Moving from Education to Organizational Assessment (Dr. Warren Hilton, Vice President for Enrollment Management and Student Affairs, Kutztown University)

9.8.21: Would You Be Mine? Could You Be Mine? Won't You Be My Mentor? (Dr. Terry Ratcliff, Provost for Distance and Extended Education, Antioch University)

9.15.21: Encouraging Students to Connect & Engage I Virtual Learning Environments (Arielle Norment, Assistant Dean of Business & Technology, Community College of Philadelphia)

9.22.21: Avoiding Professional Burnout: How to Stay Engaged and Motivated! (Colleen Reaney, Director of Executive & Professional Education, Loyola University)

9.29.21: Creating a Culture of Inclusion: Planning, Developing, and Sustaining an LGBT Inclusive Campus (Dr. Giuseppe Salomone, Assistant Vice President and University Registrar, Drexel University)

10.6.21: Hybrid Event Solutions: A True Alliance (Patti Spaniola, Director of Conferences and Events, University of West Florida)
To provide a bit of history about the ACHE webinar series, it may be helpful to start by describing the first webinar series, which was facilitated in the summer of 2020 and consisted of ten live webinars in July 2020. The webinars were facilitated by seasoned professionals sharing their content expertise in an engaged and experiential format. The webinars were scheduled consistently on Wednesday at Noon so attendees can easily remember and attend future sessions. The topics ranged from "Best Practices for Planning Virtual Events" (Patti Spaniola, West Florida University), "Don't Let Zoom Slow You Down: Being Productive When Working Remote" (Dr. Tina Marie Coolidge, Drexel University and Andrea Guy, Drexel University), "Grit: When it Matters Most" (Nick Emerita, University of Maryland Global Campus), "Managing Teams from a Distance" (Dr. Susan Elkins, Palmetto College at the University of South Carolina), "Leading Sustainable Change in Higher Education" (Dr. Valerie Delleville), "Online Advising: The Art of Advising From a Distance" (Amanda Colburn, Drexel University and Alyson Demas, Drexel University), "The Art of Integrating Mindfulness as a Form of Self-Care" (Kyra Dukes, Drexel University), "Learning at the Intersection of Industry and Continuing Education" (Dr. Bill Boozang, Emmanuel College and Dr. Leah Ben-Ami), "Remote Leadership: The Necessity of Agility in a Volatile World" (Dr. Michael Edmondson, New Jersey City University), and "Feedback and Coaching: In person and Online" (Dr. Amy Johnson, East Tennessee State University).
At the culmination of the webinar series, my email exploded with queries from attendees of the webinar series inquiring if ACHE would continue to facilitate webinars. ACHE President, Dr. Amy Johnson, and I immediately knew that I would continue to spearhead this important initiative for ACHE members and our professional community. We established the official webinar series schedule to continue each winter and summer. This schedule was strategic to ensure consistent professional development opportunities throughout the year. ACHE regional leadership, during non-pandemic times, offers regional conferences in the spring and ACHE national runs the national conference each year in the fall. By facilitating the ACHE webinar series in the winter and summer, ACHE would be offering professional development opportunity throughout the year in diverse formats, which was very exciting. In addition, a critical concern for me was equity and access. Developing a schedule for the webinar series and making it a priority for the Association aligned with the Association's commitment to equity and access to professional development for all.
Many have inquired how the topics and presenters are selected for each series. Dr. Amy Johnson and I, who are close colleagues and personal friends, met and carefully discuss the current state of continuing education, the world and then utilize the great breadth of our professional network to outreach experts to present. "One of the most important components of the webinar series is that we have diversity represented. Diversity is critical in the topics that are selected; however, it is even more important to ensure we are reflecting with our presenters, the diversity that is embodied in our membership and with our professional colleagues", Dr. Tina Marie Coolidge.
The webinar series continued in the winter of 2021 with great anticipation from ACHE members and faithful non-member attendees, as well. The winter 2021 webinar series consisted of six webinars that were facilitated from early February through mid-March. Drs. Johnson and Coolidge's excitement continued to mount with the opportunity of being able to provide no cost professional development to their professional community. The sessions offered in the winter 2021 webinar series were "Pandemic, Perils, and Possibilities: The Best of Both Worlds in Higher Education" (Dr. Brian VanHorn, President, Mayville State University), "Continuing Education and the Role of Diversity, Equity, Inclusion and Belonging" (Elizabeth Leiba), "The Perfectly Imperfect Leader" (Nicolette Aduama, Northeastern University), "Accessibility in Remote Instruction: Accommodation, Engagement & Connection for Student Success" (Dr. Amy Johnson, East Tennessee State University), "Transitioning an Organization for 2021 and Beyond" (Dr. Meni Saris), and "Building Your Leadership Brand and Leadership Presence!" (Sheila Boysen-Rotelli, Lewis University).
Summer 2021 webinar streaming is an exciting time for ACHE leadership; however, they are also very excited about the upcoming 2021 virtual national conference, Liberty & Graduation for All: Redesigning Higher Education for Social Justice (October 11-13, 2021, Click here for registration information). There's still time to register for upcoming ACHE Summer 2021 webinar sessions streaming live each Wednesday at Noon EST by clicking here!
Author Perspective: Association
You Might Also Like