Increasing Recognition for Global Learning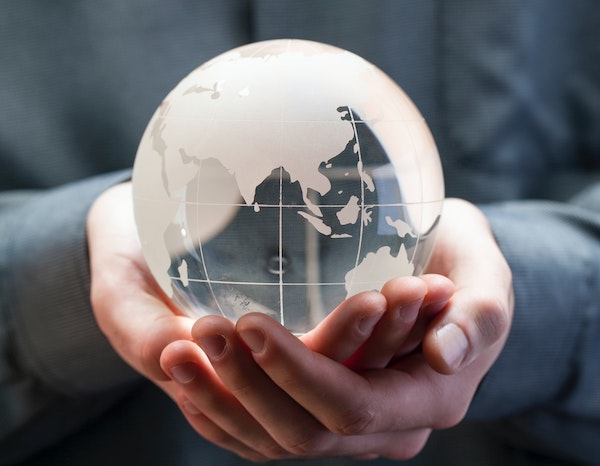 International and global learning have often sat in their own silo, away from mainstream institution. As the pandemic set off a wave of disruption in higher ed, it also highlighted the importance of the diverse group of learners global learning provides. In this interview, Susan Jagendorf-Sobierajski discusses how the approach to global learning, the challenges to recruiting students in the online environment, and the trends we're expected to see going forward.
The EvoLLLution (Evo): How have institutional approaches to global learning shifted as a result of the pandemic?
Susan Jagendorf-Sobierajski (SJS): For the longest time, educators and non-educators have thought about anything international as the process of bringing students to campus from other countries or sending domestic students abroad to study for a semester or a year.
We've learned that number one, international education is not simply a question of transportation. Rather, it involves bringing diverse perspectives into the general education curriculum. As we look at workforce needs in the next century, we see that employers are really looking for people who are able to communicate across culturally diverse communities and work in teams with people who may have very different perspectives on issues because of their differing cultural backgrounds.
It is very important to have some kind of recognition of the world around us. Different topics are going to be of interest to different people. Individual cultural groups will approach those topics differently, and the contexts will change. Therefore, the students we are educating today need to be flexible and broad enough in their knowledge to work effectively in these different environments.
At SUNY Cobleskill, we are realigning our institutional learning outcomes and our general education curriculum to bring in global and diverse perspectives. These tasks can be accomplished in many different ways to positively influence the core academic and co-curricular structures. Using collaborative online education or virtual exchange with overseas peers, we can bring different perspectives into project-based learning.
Evo: Do you see this as a space where microcredentialing or badging can start to play a role in more consciously highlighting the skills development happening in global learning experiences?
SJS: Absolutely. Just a few years ago, I was part of a team across SUNY that involved our collaborative online international learning folks and representatives from different institutions. We built a set of badges for global learning that could lead to a microcredential. Students would develop portfolios to demonstrate global skills achievement, and there were certain competencies they would have to demonstrate to earn a badge.
We created three different types of badges. One was called Intercultural Communication, the second was created for Cross-cultural Teamwork and the third was titled Global Awareness. Badges can lead to a microcredential, and both badges and microcredentials can be tied to curricular or co-curricular activities. Global learning skills development can appear on a transcript or as an addendum to a transcript. What's most important is showing that students have been able to achieve specific global learning skills.
Evo: What have been some of the key challenges in engaging and recruiting students within this online environment?
SJS: Students are Zoomed out, and they're really tired of only communicating virtually, which has been one challenge. Another challenge is that, although there are many study abroad providers that arrange overseas opportunities for students, some companies have switched to a virtual environment to stay in business. However, many students don't recognize that virtual cross-cultural engagement can still lead to eye-opening experiences and exposure to new perspectives. They don't easily recognize the potential for growth and the acquisition of global learning skills in the virtual environment. They don't realize that partnerships can develop and cultures can engage effectively even when meetings take place virtually.
Conducting student recruitment from campus, especially when the target audience is international, has been another challenge. There are several platforms that facilitate recruitment abroad. They foster connections between international students and admissions counselors so students can learn something about a school and consider applying there. But still, meeting potential students virtually does not produce the same results as meeting them in person does.
Evo: How do we drive international learner engagement and interest in coming to an American campus when most learning is still happening online?
SJS: A lot of international students are drawn to the U.S. post-secondary experience. During COVID we lost some of that key differentiator, but we've seen students engage with the institution, even remotely. Nevertheless, some students have either deferred admission or changed their plans and remained in their country because they know the online environment won't give them that campus experience.
We have also faced an additional challenge when laboratory work is required for course credit. Completing assignments requires students be hands-on in the lab. If students cannot be present in the lab or take the courses they need to further their education toward a degree, they must take an academic leave during that semester. We have witnessed several instances when students started their academic program remotely but were forced to sit out the following semester because they could not attend laboratory classes.
The campus experience is extremely important to international students. Throughout the years that wehave been involved in international education, we've seen how the actual physical experience changes each individual. Not only do these students mature, but as they adapt to their new environment in the U.S., their cultural perspectives change as well.
Evo: What are some best practices to delivering and engaging learner experience remotely?
SJS: Some international education staff have been pretty successful working closely with their student affairs or student development people. The staff members who consistently set up virtual activities that engage domestic students and international students often receive positive feedback when there is some degree of cross-cultural interaction. If there is a coffee hour at the end of the week where students and staff meet on Zoom to discuss recent experiences, different cultural perspectives may rise to the surface and provide material for stimulating conversation. Even emailing students to keep them up to date on campus activities and acting as a liaison so students can approach professors when they are reluctant to ask questions, can significantly enhance the learning experience.
There is a sizeable learning curve to master when working on a new online platform. Getting students used to the software and making sure they can connect with the IT people or instructional designers when there are glitches can be time-consuming and distracting. But it is important to do what is necessary to keep students as involved with the institution as possible.
Our wellness center also sets up mental health hours and physical yoga exercises that students can participate in. There are challenges, of course, but there are ways to try to bring people together.
Evo: What are the trends you expect to see in global learning, maybe over the next five to ten years?
SJS: It is really the concept of global and diverse perspectives that needs to be infused within and across the curriculum, and there has to be more interdisciplinary work. We are trying to work on that now so students get to see different perspectives on issues, even within their own campus community.
Our focus is on integrating more global learning into both curricular and co-curricular activities, and we are targeting a few different environments right now. Together with national organizations and colleagues across our State University of New York, we are working to build toolkits that will help faculty access effective strategies to bring global learning into the curriculum.
There is more emphasis now on applied education and the interdisciplinary nature of academic concepts. A solely theoretical approach to a discipline is no longer sufficient. We are finding ways for students to actually put some of their academic skills to work, and that can occur in fairly local environments. Students can do service-learning projects, internships or volunteer in situations where they can demonstrate the skills they have acquired. The data they provide can be assessed, leading to the awarding of badges or microcredentials. Badging and microcredentialing will likely become better-recognized attributes of global learning as well.
Going forward, we can see that there will be more work among teams of faculty and staff in international education to build better resources to construct and assess global learning activities in their programs. With an array of available resources, instructors can tap into their toolkits and bring global and diverse perspectives into their classrooms and the broader curriculum.
For many years, any activity with an international dimension was a siloed endeavor. In the next few years, however, we might get away from using the term "international education", which is limited in scope, and focus more on global learning for all. Fostering global learning with an appreciation for diverse perspectives will become integral to the education experience itself.
Evo: Does your office handle intensive English language programming as well, or does that run elsewhere in the institution?
SJS: We provide strong support for international students. We have an English as a second language tutor who works with students who seem to be borderline in English language proficiency or aren't doing particularly well in some courses because of a language barrier. The ESL tutor can meet one-on-one with students or with small groups. We also have a pathway program that has been approved by the federal Student Exchange and Visitor Program. The pathway program enables students to take several language training courses together to make sure that they are ready to handle all of the work they will need to complete as they move forward toward earning a degree. But the pathway program only operates when a group or cohort enrolls together.
We don't have a separate intensive English training center, but we do work with other SUNY schools and even some non-SUNY organizations that only provide language training opportunities. We have some agreements that allow for conditional admission if the students have met all of the academic and financial requirements for admission. The only failure to meet admission standards would be the lack of English language proficiency. Once these conditionally admitted students improve their language skills and have met the requirements that we have set, they can be fully admitted to our institution without having to take other language proficiency exams.
Evo: Have you seen a drop in international enrollment, and how has that demand evolved?
SJS: Our sister campuses with full intensive English language training programs have seen a drop- off in ESL student enrollment because many international students do not want to pay to study online if they are not getting a degree. Community colleges have really struggled; even some liberal arts campuses in SUNY with ESL programs have had difficulty filling seats in their ESL programs. In fact, a number of stand-alone intensive English language training agencies have had to close. Students who were already enrolled in a program have had to move to other ESL programs that remain functional. Of course, our campus has seen a decrease in international student enrollment during COVID, too. Unfortunately, the whole sector has really suffered.
Evo: Is there anything you'd like to add about the foundational shifts happening in the global learning space and how you see the space continuing to evolve?
SJS: I am excited about the future; I have always thought that international education and global learning in general were unfairly siloed from mainstream education. The broader community did not recognize that so many of the elements that are critical to our participation were being left out of the education experience. Suddenly, eyes are opening and there is much greater recognition of the roles that global learning and an understanding of diverse perspectives play in the student educational experience. In fact, our whole public education system in the State University of New York is beginning to shift according to student expectations of learning outcomes. We are looking once again at the entire general education curriculum and expect global learning to be an important competency that students will have to demonstrate to achieve an undergraduate degree. That skill competency was not getting the recognition it deserved in the past. Fortunately, there is a silver lining after all.
This interview is edited for length and clarity.
Disclaimer: Embedded links in articles don't represent author endorsement, but aim to provide readers with additional context and service.
Author Perspective: Administrator
You Might Also Like