Embedding Industry Certifications in Degrees Critical to Maintaining Long-Term Relevance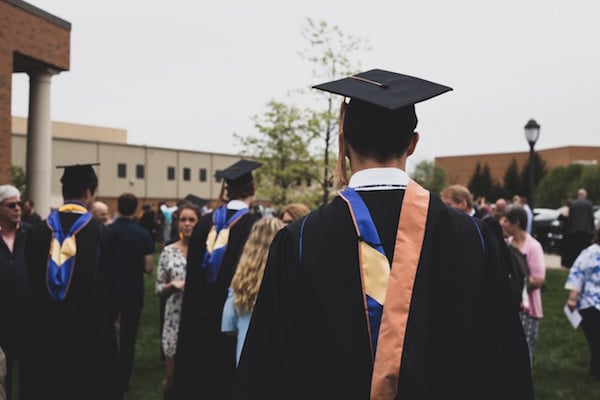 The argument that college degrees aren't worth the time and money no longer shocks the education policy crowd. But when my team at New America asked a couple of students at Broward College in Fort Lauderdale whether they were happy with their investment, they were dismayed by the question.
"It's beyond me that you would choose not to go for a degree, that you would choose not to go for certifications," said Oscar Romo, a recent associate degree graduate.
Just one facet of Americans' declining confidence in higher education is skepticism about the economic value of college degrees, which is closely tied to the popular concept of the skills gap (or, as President Trump put it in a recent executive order, the skills crisis). American employers have available jobs aplenty but, so the thinking goes, workers don't have the skills to fill them. It follows that educational institutions, from college down, are failing to prepare people for work.
There are a couple of problems with the skills gap narrative. It lumps distinct skills problems such as skills shortages and skills mismatches together, situates the value of education in short-term business needs rather than in long-term economic vitality, and absolves employers of responsibility for supporting the workforce they depend on. Moreover, the corollary that degrees must not be worth it simply doesn't square with available evidence. Though he cautions that degree payoff varies significantly by institution, program and student, a recent report by Douglas Webber still found the median bachelor's degree holder earns $900,000 more by age 65 than the median high school graduate.
The skills gap narrative also ignores colleges' longstanding efforts to better align higher education with employer demands. One such effort at alignment led to our meeting with Oscar Romo and his peers at Broward College.
Like approximately a quarter of college graduates, Oscar Romo didn't earn his degree at the first institution he tried. An engineering scholarship at the University of Texas at Austin fell through, and so did a stint in an associate program at another college in Florida. At 22 years old, he found the right fit in an aviation maintenance program at Broward. A classic hands-on learner, Romo thrived on his program's focus on applied learning and career preparation—characteristics reflected in its inclusion of certifications from the Federal Aviation Administration (FAA).
Without FAA certifications, it is practically impossible to find work as an aircraft mechanic. Romo earned two during his degree program. He was able to start working as a mechanic after his first school year. SCPro Fundamentals certifications, which Romo will earn if he goes on to pursue Broward's accelerated bachelor's in supply chain management, are not expressly required for most jobs in the field. On top of a degree, however, they could make it much easier for Romo to find a job that will offer him pay and opportunity commensurate with his training and skills.
Embedding industry certifications into degree programs—the subject of our team's recently published research—is just one strategy that institutions are using to respond to students' career goals and to prospective employers' skills complaints. For students, embedding certifications proactively addresses later credentialing needs: the roughly one in five Americans who have a professional certification or license are typically older, suggesting they've earned these credentials on top of others while moving up through jobs. Certifications are also correlated with higher earnings over other workers of the same education level—up to 40 percent for workers with a professional degree, according to a 2014 report from the Census Bureau. For straight-out-of-high-school college-goers, working adult learners and people like Oscar Romo who fall somewhere in between, combining the gold-standard degree with the job-readiness signaled by certifications makes sense in a skills-conscious economy.
Outside of a few innovative one-offs and well-established embedding traditions in fields like welding, automotive service and entry-level IT occupations, however, relatively few degree programs make certifications available. Embedding certifications is neither easy nor a guaranteed success for institutions or students. With at least 6,000 industry certifications available, careful selection is crucial. Equitable financing is important too, as fees range from $100 to more than $1,000 per certification. Finally, even when prudently chosen and paid for, embedded certifications come with a host of implementation challenges regarding student preparation, testing facilities and faculty buy-in.
When it comes to addressing the challenges of certification use in degree programs, we found no more successful example than Broward College, where a concerted institutional strategy functions under a generous but well-targeted state policy framework. Since 2013, Florida's Department of Education has published a list of over 300 vetted credentials; institutions receive incentive money from a pool of dedicated state funds for each eligible certification earned by its credit students. These reimbursements have allowed Broward to offer certifications at no cost to most students, expand its testing centers and hire a full-time specialist who researches demand for certifications and helps instructors use them in their curricula. In the five years since the incentive was first offered, Broward has increased its students' eligible certification attainment from 148 in the 2013–14 school year to 1,349 in the 2017–18 school year. Colleges across Florida now draw on its practices.
Embedding certifications in degree programs is hard, but not impossible. Done well, they can record and demonstrate skills not communicated by degrees alone. Still, employers, institutions and students know very little overall about what certifications mean. The first national survey of institutions using embedded certifications, which served as the springboard for our research, found that 71 percent of institutions believed students benefited from combined academic and industry credentials. In a telling contradiction, nearly half of respondents also reported that local employers didn't highly value certifications.
Institutions that embed high-quality industry certifications support their labor market currency. Ultimately, though, true national scale will require more significant contributions from employers and the organizations that issue certifications. Certifying bodies must collect and share exam data in a format that can be matched with institutional and state records; employers must send clearer signals to institutions, governments and learners about which credentials they value. Whether or not you believe the skills gap narrative or put faith in the value of academic degrees, the burgeoning use of embedded certifications shows that institutions are responding to employer concerns. Their responses have already helped career-driven students like Oscar Romo; now, it's up to employers and certifying bodies to help them do even better.
Author Perspective: Analyst
You Might Also Like