Developing Digital Badging and Microcredential Strategies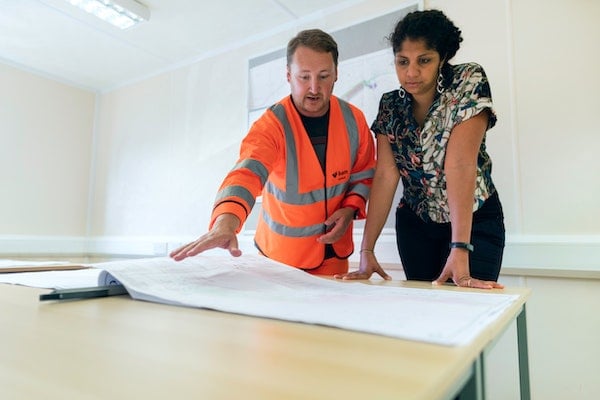 Many Americans are faced with the issue of having some college education but no degree or credential to show for it. Microcredentials and microbadges are a way to capture the education these adults have and illustrate their value to employers. Their stackability also allows them to build upon their current education and get them closer to earning a degree. In this interview, Claire Sullivan discusses the importance of microcredentialling and digital badging, how CE divisions come into play, and some best practices for institutions to develop strategies to deliver the best education and career pathways for these learners.
The EvoLLLution (Evo): Why is it so important for higher ed institutions to focus on digital badging and microcredentialing strategies, especially today?
Claire Sullivan (CS): First, we need better ways to recognize non-institutional learning and accommodate more underserved learners. The U.S. has 36 million people with some college education but no credential to show for it. Microcredentials in the form of stacked digital badges can capture and validate the learning occurring outside of our higher ed institutions. We will need to further embrace all learners to meet growing economic needs for a skilled workforce. Reports are indicating that adults have a strong preference for skills-based, short-term, affordable, non-degree programs. When academic credits are attached or granted through prior learning assessment, value is given to those educational experiences, which can help to move a learner along a continuous pathway toward a certificate or degree. With the high costs of degrees and student loan debt, affordability is a key concern. Granular modules can help a learner build confidence in their knowledge and abilities. Even changing the language from "dropping out" to "stopping in and out" can positively change the relationship these learners have with the institution. Foundational skill badges can be developed to meet learners' personal needs.
Meeting learners where they are and providing multiple entry and exit points are powerful benefits of microcredentials. As the workforce changes and new types of jobs are created, we need nimble learning opportunities to help people upskill and reskill throughout their lives.
The pandemic has aggravated existing inequity, disproportionately harming low-income and underserved populations. Additional financial stressors, mental health challenges, and increased family demands make it even more challenging to pursue educational opportunities. For microcredentials to fulfill the promise of democratizing learning, providing improved access and equity, we need to communicate their value as an onboarding tool for previously underserved learners.
Microcredentials can also help employers locate talent and verify that a potential employee has the competencies and skills they need, cutting hiring costs. Current employees can earn badges and microcredentials to add to their skill sets. And microcredentials could help displaced workers re-enter the job market and contribute to economic recovery. The meta-data in each badge provides rich information beyond what a self-reported resume or a traditional transcript shows.
Evo: As this mentality around microcredentialing, badging and the working adult starts to evolve, do you see a new role for continuing education?
CS: Yes. Continuing education is often on the periphery. We can do a better job at resourcing and including professional development and continuing education units in strategic planning. There is a great need to collect enrollment data and track learners who enter higher education through this door. Continuing education hubs can play a vital role in boosting revenue and providing onramps into degree programs. CAEL reported that learners receiving PLA credits are 2.5 times more likely to graduate than those without PLA credits. Offering microcredentials with credits attached may increase revenue through improved degree completion rates and produce new revenue streams with additional, diverse offerings. Emphasizing this point could aid in getting buy-in. I understand the objections surrounding governance and accreditation, but I also see the great potential.
When designed carefully, with quality assurance playing a central role in development, I am a firm believer that microcredentials can be counted as credentials of value. I also believe that if we don't act now to meet adult learners and employer needs, higher ed will be left behind. Large employers are heavily investing in short-term, non-degree credentials. The degree as a proxy is being questioned, and skills-based hiring is on the rise. Today's employees will typically have a new job every five years or so and can expect about twelve different jobs in a lifetime.
Continuing education hubs have the expertise to deliver high-quality, rigorous short-term microcredentials to meet the ever-evolving workforce's needs. It would benefit many if we prioritized a new, inclusive structure in a post-pandemic world. We can take the 60-year curriculum to heart and develop competency-based microcredentials as well as portable comprehensive learner records that can meet multiple stakeholder needs. Higher education can benefit from stepping back and developing strategic plans that recognize evolving changes and anticipate tomorrow's societal, economic, and workforce realities. Many across the nation and the world are working towards this vision.
Evo: What is currently being done in Maine to help strengthen pathways that led learners to employment?
CS: In Maine, we are attempting to build a statewide ecosystem. We have strong partnerships throughout the state working to align our microcredentialling initiatives. The Maine Community College System adopted our framework and selected the same badging platform. We are focusing on the adult learner as well as workforce development needs during our pilot phase. Our traditional students can also earn microcredentials tied to building and articulating their employability skills. We have connected with Maine Adult Education and Maine Public Libraries among others. This work has focused on low-income adult learners, incarcerated, immigrants, refugees, and Native American populations. Adult education divisions understand the immense barriers adult learners face and how the pandemic has disrupted their lives. They offer contextualized learning, support, and advising to aid these learners. Working with Adult Education can offer a starting point to build digital literacy and foundational skills, putting them on a path on to degree attainment or higher-paying jobs. We want to avoid creating a two-tiered educational system, so we are working to assess microcredentials for academic credits, learning a lot in the process. We are also discussing the best ways to offer microcredentials for youth to build a pipeline into our universities while increasing aspirations.
The University of Maine System developed a unifying framework and embedded quality assurance standards into the design. Each microcredential pathway consists of three-leveled badges that are then stacked into a macrobadge. Our level one is the foundational work needed to be successful when completing the rigorous training that occurs at level two. Our level three requires the learner to apply their learning in a real-world setting. They also receive a performance evaluation, and their competencies are assessed against a quality standard. All three levels are stacked into a macrobadge, representing the completion of the microcredential. A report from Hart Research Associates stated that 86% of hiring managers say it's very important for learners to apply their knowledge and skills in real-world settings, but only 39% think recent graduates are well-prepared to do so. Our framework builds trust in the process, so when employers see that final, branded macrobadge, they will know that that learner has successfully completed rigorous training and can apply their skills in a work-based setting. Microbadges and industry-recognized credentials can be stacked into the pathway as well, offering further value. Microbadges are more granular badges that recognize the competencies and skills employers are demanding. Once one microcredential is completed, we wish to link it to the next opportunity. We are embracing a model of continuous lifelong learning.
Collaboration across the University of Maine System and the state is a key component of our work. We do not want seven versions of the same thing but one microcredential with one set of competencies. We have also been working with the Education Design Lab to integrate 21st-century badges into our co-curricular and training programs and academic courses. We believe it is important to utilize a set of nationally vetted badges instead of adding to badging confusion by developing our own set of similar badges. We are mindful of creating stackable, portable microcredentials that have meaning beyond a single context.
The goal was to have employers in key industry sectors involved in developing and implementing microcredentials, but this has been a challenge during the pandemic. We want to increase level three internships, apprenticeships, and other work-based opportunities across the state. Maine is a rural state, and I believe that its connected approach will bring about positive outcomes for our learners and set the stage for their future success. We are fortunate in Maine to have strong partnerships and a history of collaboration. We share the same vision.
Evo: What are some best practices for higher ed leaders to create a stronger ecosystem when it comes to digital badging and credentials?
CS: Trusted partnerships and alignment are essential to this work. You must all be on the same page, working towards the same goals. I would say foremost, understand your purpose and your values. Why are you interested in developing microcredentials? Who are you serving? What outcomes are you after? And be sure that your structure is developed through an equity lens. You must be intentional in creating an ecosystem that will provide access to all learners. Be mindful of any unintentional biases in your design. Creating a collaborative ecosystem takes thoughtful consideration and deep listening. There will be various levels of understanding of microcredentials from different stakeholders. Learn from each other, and draw on each other's strengths. Refer back to the goals you established as a team, and appreciate all the various contributions made. The voices of employers, as well as those of learners, are essential. Take the time to reflect and learn from your pilots. Iterate and keep moving forward.
I do think we need a standard strategic approach before we can think about scaling microcredentials. For me, scaling is more about getting the design and framework right and setting up the infrastructure than it is about issuing a certain number of badges, but we tend to be impressed by numbers. It has, in some ways, become the de facto marker of a successful program. We are asking what the value is, who the microcredential is targeting, which competencies are being assessed, how the learner and the workforce are being positively impacted. Think carefully about your markers of success.
Thoughtful design is crucial in decreasing the confusion around the value and quality of microcredentials. The learner must know where the microcredential can lead them. Not every short-term microcredential will lead a person to a high-paying job or admission into a degree program, but we can build their confidence and show them the next steps on their journey. We certainly do not want to discourage learners who click on a labor market resource and discover that there are no jobs in their region or that the jobs linked to that credential are low-paying. Maine is a rural state with few large employers. Perhaps providing a clear trajectory and some creative thinking around job sharing could help: "you are starting here, but you can get there." Machine-readable badges and a learner-controlled, portable, comprehensive learner record could help locate and match talent to tomorrow's jobs. I feel fortunate to be part of the digital credential community, learning as we experiment and reimagine together.
This interview was edited for length and clarity.
Claire Sullivan presented this topic at the IMS Global Consortium Digital Credentials Summit. To learn more about IMS Global, click here. To learn more about the 2022 Digital Credential Summit, click here.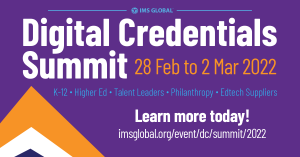 Disclaimer: Embedded links in articles don't represent author endorsement, but aim to provide readers with additional context and service.
Author Perspective: Administrator
You Might Also Like