Using Project-Driven Learning Formats in a Team-Based Environment (Part 2)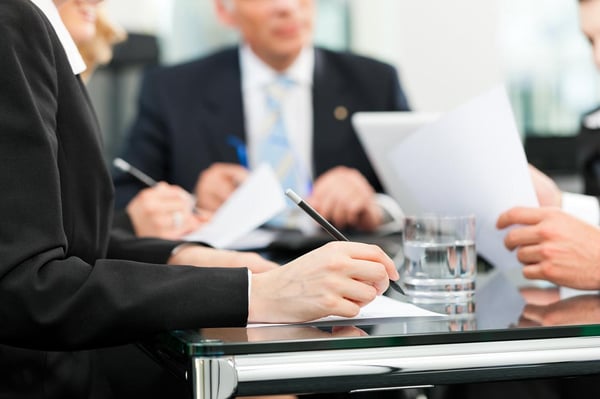 In the second article of this three-part series, Wysocki takes a deeper look into the Workforce and Business Development Center (WBDC) model, discussing how its uniqueness classifies it as a disruptive innovation. In the first part of the series, published last week, the model was introduced as an effective learning model comprising a project/problem-driven format and team-based learning environment.
Introduction
We have established the fact that effective learning models are designed using two critically important components:
Project/Problem-Driven Delivery Format
Team-Based Learning Environment
Let us take a closer look at the WBDC model (Figure 1, below) and its components.
Learning Environment
In the WBDC model, the classroom is not what you might think it is. The WBDC is designed using the concept of a "classroom without walls." That is, the classroom is any place where learning needs to, can and will occur. Under the guidance and advice of faculty and business advisors, the team of students will identify several learning objectives to solve their problem or execute their project and it is then their responsibility to develop the needed project plan. They will have to acquire learning on their own. It might take place in the traditional classroom, but it might also be at a local business, on the internet, or through courses at another university, a short lecture, a museum, an expert located anywhere in the world, independent study or even attendance at a conference or professional society meeting.
Business & Entrepreneur Environment
Local businesses contribute to the WBDC in a variety of ways. Their roles may include:
Being a resource to the learning environment through guest lectures, panels, etc.
Inviting students to visit their company for tours and attendance at business meetings, problem solving sessions and a host of other situations.
Contributing equipment and other in-kind services.
Mentoring and advising the teams as they work in their WBDC-owned businesses.
Student & Worker Environment
WBDC students are a diverse population. They are:
High school students at the junior and senior levels
High school graduates who are not college bound
College and university students
College graduates
Experienced workers
New workers
Unemployed/underemployed workers
Potential entrepreneurs
They are looking for career direction, skill development and employment in new or existing businesses. They are not interested in programs that waste their time.
Business Incubation Center (BIC)
The BIC is the heart of the WBDC model. Most activities that take place in the WBDC leverage the resources of the BIC. The BIC will house a number of non-profit businesses at all stages of the business life cycle. These businesses will be managed by student teams under the mentorship of a faculty member and a business manager. Many of these WBDC businesses will provide income opportunities for students.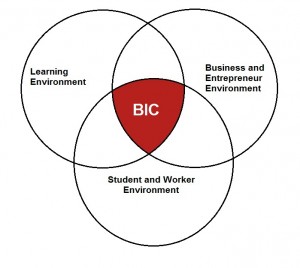 The BIC as a Microcosm of the Real Business World
Teams will apply the principles and concepts delivered in class to actual business situations. Conversely, business projects and problems will arise that can be used in courses to drive and motivate the process of learning and discovery.
The BIC will also be the depository of business process design and improvement projects and unsolved business problems. These are the stimuli for learning and discovery that will drive course content. The projects will be a community asset — available to any team for inclusion in their course(s).
The WBDC model also encompasses business formation of any kind. While a technology base is the common thread of many businesses, it is not the only common thread. For example, there has also been interest expressed in a family business focus and that could also be supported by the WBDC model.
In summary, at any point in time, the BIC would be populated with:
Team-based business formation ideas
New product/service development projects
Operating team-based, non-profit businesses
Member business process design/improvement projects
Member business problem-solving projects
Contract work for member businesses
In the third part of this series, the WBDC will be discussed in greater depth to show how it works and how it meets the project/problem-driven delivery format and team-based learning environment.
To see the first part of this series, please click here. Come back next week for the third and final article.
This article has been excerpted from: Wysocki, Robert K., PhD. 2010, Workforce & Business Development Center: A Disruptive Innovation for Sustainable Economic Recovery, 176 pages, Worcester, MA: EII Publications.
Author Perspective: Business
You Might Also Like