Collaboration Critical for System-Level Online Aggregators
—
Co-written with Marie Barber | Executive Director of Online and Distance Education, University of Nebraska-Lincoln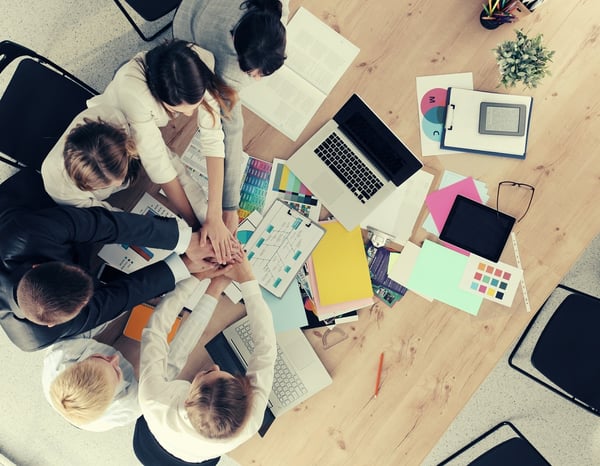 Colleges, universities and systems across the United States are looking to online education as a way of attracting a wider audience of students. Some systems have even launched online aggregators as a way of leveraging the content produced by their constituent campuses, but these projects don't always go to plan. The University of California (UC) Online project has been widely panned as a failure, having failed to deliver on its core mission while losing $7 million. In Nebraska, however, the University of Nebraska (NU) Online Worldwide is widely heralded as a success. The system-level online aggregator works with the campuses of the NU system to deliver online programs to a wider audience, within Nebraska, across the United States and across the world. In this interview, Mary Niemiec, Marie Barber and Lanyce Keel discuss the elements of the NU Online Worldwide project that have made it so successful and share some insights into what it takes to maintain such a strong partnership.
The EvoLLLution (Evo): What makes the relationship between an online aggregator and the campuses across the system mutually beneficial?
Mary Niemiec (MN): The relationship is one of partnership. By working collectively, we maximize access and choice for students. Together we can offer a large portfolio of programs, maximize market resources and work in collaboration for the benefit of students. This opportunity results from the strength of the experience and academic commitment that comes from each of our campuses supported by the facilitating role at the system level.
This partnership provides an opportunity for an efficiency of resources, especially in a marketing arena where we're able to have a much larger market footprint and visibility impact together than separately.
Marie Barber (MB): Also from my perspective, the best opportunities are for discussion and sharing on a myriad of topics, a chance to look at the bigger picture, and the ability to bring five heads to the table. There is added benefit in layering as well; no one group needs to be all things to all people. Instead, together we can be all things.
Lanyce Keel (LK): An example of the benefit of this collective effort is the development of effective practices for serving online students. From a strategic point of view, this is very important given today's competitive environment.
Evo: What does it take to maintain this mutually beneficial relationship as conditions change over time?
MN: A common commitment to the university's mission, a consensus on the goals for the collaborative effort and ongoing communication are all central to keeping this partnership successful. We work diligently to proactively address issues as they surface, rather than letting them evolve into situations that have negative consequences and adversely affect our goals.
LK: In our role as campus directors, we bring each campus' strategic direction and goals into the discussion around planning and decision-making, thus creating a true partnership between the campuses and NU Online initiative.
Evo: What differentiates NU Online Worldwide from other system-level experiments with online learning provision, like UC Online?
MN: NU Online Worldwide is the strategic initiative of the NU system created to serve as a mechanism to internally, collectively organize the efforts and externally market the online programs offered by the campuses. It comes out of a long-standing commitment to providing access to quality education for students regardless of geographic proximity to a campus. Approaching this initiative as a partnership and not as a separate entity has been, in my opinion, the key to its success.
LK: From the campus perspective, we focus on better serving students by extending access through online programs. This pedagogically driven approach is more closely aligned with faculty commitment to providing quality education, making it easier for them to recognize the potential benefits of the partnership.
MB: One of the differences of Nebraska's system-level approach is that there's a strong recognition that the faculty on each campus are in charge of the academic curriculum. The campuses are the accredited bodies, they're the ones that offer the courses, the ones that select and support the faculty that teach distance courses. As Mary mentioned, NU Online Worldwide is not set up as a separate entity, but as a partnership. Mary and her team's role is to support and leverage the strengths and uniqueness of our campuses within the state, nationally and internationally.
Evo: What are some of the considerations that need to be made for students that want to register for programs that are marketed by the NU Online Worldwide but offered by the campuses?
MB: We've worked hard together to ensure that our messaging is very clear. Students apply to, and are admitted to, the campus because they are students of the campus offering the program.
LK: The focus of University of Nebraska Online Worldwide has been on national/international awareness. As such, the marketing and communication directs prospective students to campuses for program specific information, application and registration.
Evo: In the instance of a collaborative degree program, where students take courses at different NU campuses, how do you define the single institution who "owns" the student?
MB: According to our Board of Regents bylaws, there are two ways to offer a collaborative program. We can offer a joint program where students could be admitted to either institution, receiving their degree from the admitting institution but taking courses from both institutions. We can also offer a cooperative program where one institution is the lead with students admitted to that campus; both campuses still provide courses for that program.
Evo: What are a few of the challenges you all have had to overcome in establishing and maintaining the distance learning relationship that currently exists between the campus and system levels?
MN: There were challenges in the beginning involving processes and roles and responsibilities, as expected. Issues continue to come up because we are in a constantly changing environment. Realistically, there will always be a policy, process or new effort that needs clarification, reconsideration or recalibrating because of the nature of the online education environment and the needs of our students. The critical factor is that we address the issues keeping our mission and goals in mind.
MB: The most significant challenge, "and opportunity," was—and continues to be—that we have four distinct campuses with four missions, four strategies and four senses of culture. Building good relationships within a partnership is really about working together through challenges that come up, seeking common ground on how we can best support students.
LK: From the beginning, our four campuses were not necessarily competing over the same program or the same students because each campus had different strengths and strategic goals.
Evo: With the faculty governance model in place, and given the larger structure under which the distance learning programs operate, how difficult is it to be agile and responsive to changes in the marketplace when there are so many different layers that each campus needs to navigate when developing a new online program?
MN: Responsiveness is important, however, agility and speed to market is not a driver. The quality and the rigor of our academic programs—whether they're taught fully online, on campus or blended—is our priority. We won't sacrifice the process to get to a new market faster. The process keeps us core to our mission.
LK: Collaboration is a strong component of our campus' culture. This had benefited our ability to develop and offer new online programs. For example, interdisciplinary programs have been or are being developed that address the emerging career needs of students.
MB: Another key is that campus directors share information about market demands and assist academic departments with addressing programmatic needs aligned with campus academic priorities.
Evo: Is there anything you'd like to add about what it takes to create a really strong relationship between an online aggregator and the various campuses within the system?
MN: Good leadership is key across all aspects of the institution: senior administration, professional staff and faculty. The success of a university-wide initiative is ensured when the organizational structure at the system level and on the campuses is in place to allow for ongoing communication and strategic decision-making.
LK: Because the role of campus director is integrated into campus academic administration, the director has the opportunity to serve as the primary communication link between NU Online Worldwide, campus administration and faculty so that there is a shared vision by which the partnership operates.
MB: The relationship also works because there's a lot of goodwill behind it and willingness to look at issues objectively. There's also a willingness to bring to the table all of the concerns that are expressed on the different campuses. Being flexible on finding an approach that works for all is critical to this type of partnership.
– – – –
Key Takeaways
By banding together and creating NU Online Worldwide, the campuses of the University of Nebraska system can generate interest in their distance education offerings among a much wider audience.
Though bureaucratic processes can slow a new programs time to market, those processes are critical to ensuring the quality of a new program.
The difference between NU Online Worldwide and other system-level online campuses is the willingness to allow the individual campuses to drive program development, rather than the system.
You Might Also Like