Author Profile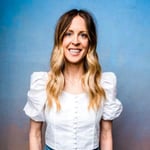 Renee Pilbeam | Manager of Online Learning, Special Projects and Strategic Initatives, Arizona State University
Current Position and Past Experience
Dr. Renee Pilbeam, Ph.D., is currently Manager of Online Learning, Special Projects and Strategic Initiatives at Arizona State University. Previously, she was an Instructional Designer for seven years as well as a Faculty Associate for four years at ASU.
Education, Honors and Achievements
Pilbeam holds a Doctor of Philosophy in Educational Technology from Arizona State University. She also has a Masters of Education and a Bachelor of Arts and Science from the University of Minnesota Duluth.
Personal Details and Community Involvement
Renee is a lifelong learner, a mother, a learning designer and firm believer in the power of education to transform lives. She is invested in anti-racism work and loves a good craft project.
Connect
You can connect with Renee on
LinkedIn
Articles by this author:
As higher education institutions plan for their upcoming semesters; they need to prioritize quality...