Author Profile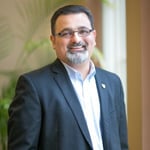 Melik Khoury | President and Chief Executive Officer, Unity Environmental University
Current Position and Past Experience
Dr. Melik Peter Khoury is the President and Chief Executive Officer of Unity Environmental University and has been with the institution since 2012. Dr. Khoury has dedicated his career to creating accessible, affordable, and flexible higher education opportunities for people from all walks of life. He thrives in pushing the status quo and implementing innovative strategic initatives, with the needs of new audiences in mind. Dr. Khoury's vision for accessible higher education includes the use of new modalities and emerging technologies to create immersive academic and seamless administrative experiences for students.
In his time at Unity College, Dr. Khoury has served as Senior Vice President for External Affairs, Executive Liasion to the Board of Trustees, Executive Vice President, Chief Financial Officer, and Chief Academic Officer before moving into his current role. Dr. Khoury is also a Professor of Sustainable Business Enterprises at Unity College.
Prior to joining Unity Environmental University, Dr. Khoury was Senior Vice President for Strategic Positioning: Chief Strategic Enrollment and Makreting Officer at Upper Iowa University from 2009-2013. Dr. Khoury previously served as the Vice President for Enrollment Management and College Marketing from 2006-2009 at Culver Stockton College.
Education, Honors and Achievements
Dr. Khoury completed a Doctor of Business Administration from the University of Phoenix in 2011, and a Master of Business Adminstration from the University of Maine in 2001. In 1999, Dr. Khoury graduated with a Bachelor of Arts in Business Management from the University of Maine at Fort Kent.
Personal Details and Community Involvement
Outside of work, Dr. Khoury can be found whipping up delicious multinational cuisines. Cooking is a way to reconnect with his passion for travel and connecting with different cultures. Two of his other guilty pleasures include gaming on the playstation or streaming the latest scifi saga.
Connect
You can connect with Melik on
LinkedIn
where he frequently shares his insights on the current and future state of higher education.
Articles by this author: