Author Profile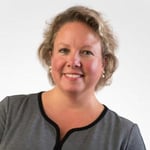 Laurie Quinn | Interim President, Champlain College
Current Position and Past Experience
Dr. Laurie Quinn has served as Provost and Senior Vice President for Academics at Champlain College since 2014 and was appointed Interim President in June 2019. Dr. Quinn provides leadership focused on academic excellence and supports students, faculty, and academic staff as Champlain's Chief Academic Officer. Her faculty background is in writing and literature. Before her arrival at Champlain in 2014, Dr. Quinn served as Provost and Vice President for Academic Affairs at Granite State College, New Hampshire's innovative public college focused on access to quality higher education for working adults. She has also held professional roles in public humanities programming and as a grants officer.

Her academic interests include issues of social class, both in literary studies and in higher education; higher education trends, including online education and innovative curricula that connect theory to practice; cultural and feminist theory; British literature; and poetry. She views her career in higher education leadership as opportunity to support the flourishing of teaching and learning and to advance the transformations that college makes possible.

Education, Honors and Achievements
Dr. Quinn earned her PhD in English Literature at the University of New Hampshire. She holds a BA in English and Psychology with a minor in Women's Studies and an MA in English, both from Boston College.

Personal Details and Community Involvement
Laurie enjoys cooking, reading, and family time at the lake and the ocean, and has served as a public program scholar leading community and workplace book discussions, including the Literature & Medicine health care and humanities program sponsoring hospital-based discussion series, and the New Books, New Readers adult literacy initiative.
Articles by this author: