Author Profile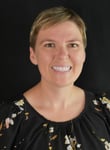 Kristin Malek | Behavior Change Designer, University of Nebraska—Lincoln
Current Position and Past Experience
Dr. Kristin Malek, or Dr. K as she is known by her students, has over ten years in hospitality and event management experience. She began her career in the restaurant industry where she developed a love for hospitality. After moving quickly into an assistant store manager role, she switched over to retail and then eventually into hotels.
While working for an architectural engineering firm as a designer, she was put in charge of planning all of the office trainings and company social events. She quickly realized her love of event planning and decided to go back to school. After completing internships and contract work in event management, she went on to receive her Master's Degree in International Hospitality and Tourism Management from the University of South Carolina and her PhD in Hospitality Administration from the University of Nevada Las Vegas.
Dr. K served as the Executive Director of Events for a third-party planning company in Las Vegas where she was in charge of the medical association meeting market. In this role she managed association events greater than one million dollars and led a team of staff and interns.

Education, Honors and Achievements
Malek holds a Doctor of Philosophy in Event Design and Marketing from the University of Nevada. She also has a Master of International Hospitality and Tourism Management from the University of South Carolina.

Personal Details and Community Involvement
She was recognized by the Las Vegas Convention and Visitors Authority (LVCVA) as a Hospitality Hero during National Travel and Tourism week for both 2014 and 2015, by Meetings Today Magazine as a Top 20 Meetings Industry Trendsetter for 2016, served as the Professional Convention Management Association (PCMA) faculty chair for 2017 and 2018, and was recognized as an Emerging Leader of the Year for PCMA Heartland Chapter in 2018. She has achieved designations as a Certified Meeting Professional (CMP), Digital Event Strategist (DES), and Certified Hospitality Educator (CHE).

Articles by this author: